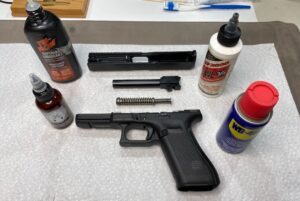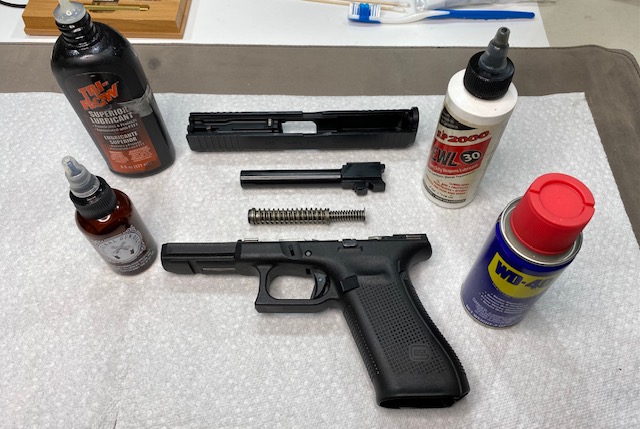 How to Lubricate a Glock 19, Glock 17 or any Glock Pistol with Lubrication Points diagram
If you browse around the Internet and YouTube looking at information on Glock pistols, you will find that they are regarded as highly reliable firearms that put up with a ton of abuse and still work as designed. It may make you think that you do not have to maintain clean or lubricate a Glock pistol for it to work.
While these reports may be true in some circumstances and indeed some extreme conditions, you do need to care for your Glock just like any other firearm. Whether you own a Glock 19, 17, 22 or any other of the many models, your Glock pistol should be treated with care and maintained. Same as any other tool or piece of fine machinery that you may own. After all, it likely cost you $500 or $600, and you may be relying on it to save your life one day so why wouldn't you take great care of it?
Proper Glock Lubrication
This article is your Glock Lubrication guide to help you care for your Glock as the manufacturer recommends. The information in this article was derived from the Glock User Manual for a Glock 17 Gen 5 Pistol, and applies to Glock 19, Glock 22 and every other Glock Model out there.
Related Glock Articles:
How to Install a Glock Backstrap
How to Field Strip & Clean a Glock Pistol
Glock pistols are designed to work with minimal lubrication and as such, the lubrication instructions are relatively short and easy. After field stripping (disassembling) your Glock 19, Glock 17 or other model Glock and cleaning it, certain parts need to be oiled or lubricated before reassembly. These parts include the slide, barrel and frame.
Here are the detailed steps to lubricate your pistol.
Glock Barrel Lubrication
Take a patch or cotton cloth and slightly dampen it with lubricant. Wipe the entire outside of the barrel with the dampened cloth. Be sure to get the barrel lugs & hood (see Glock Lubrication Diagram below).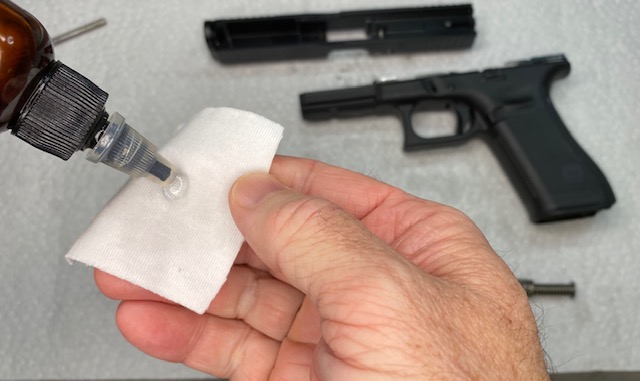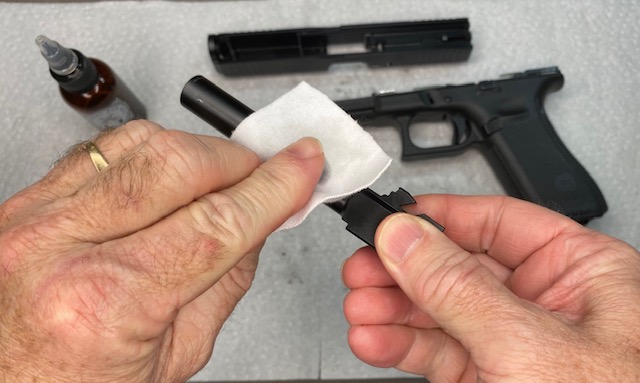 Glock Slide Lubrication
Apply a couple drops of lubricant on a cotton cloth or patch and wipe the inside of the slide in front of the ejection port.
Wipe the the opening that the barrel slides through in the front of the slide.
Wipe the outside of the slide with the cloth. Wipe it well enough that the slide exterior is not slippery so you can still get a good grip on it. The slide is oiled mostly to prevent rust & corrosion.
Lubricate the Slide Rail Cuts by applying 1 drop of oil to the slide cut on each side on the inside of the slide. This is the notch that the frame rails fit into and allow the slide to cycle back and forth. You can use a gun brush or a finger to help spread it all the way from one end to the other. Wipe off any excess oil from all parts of the slide.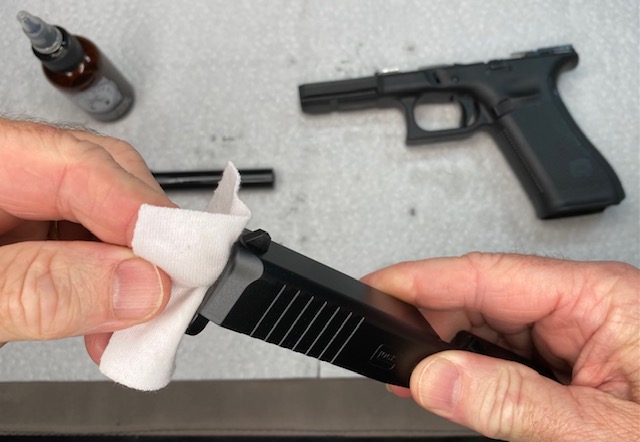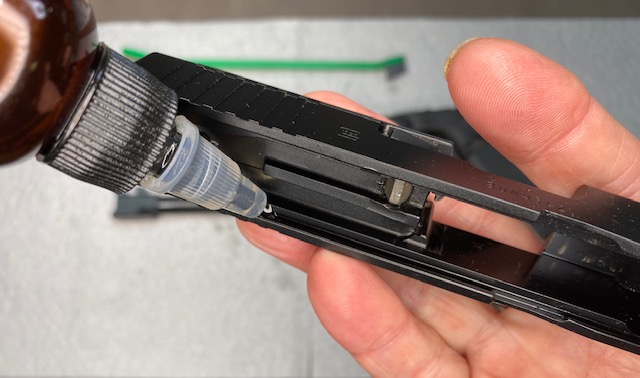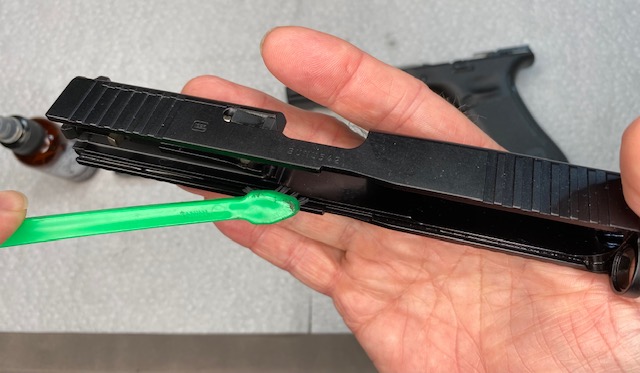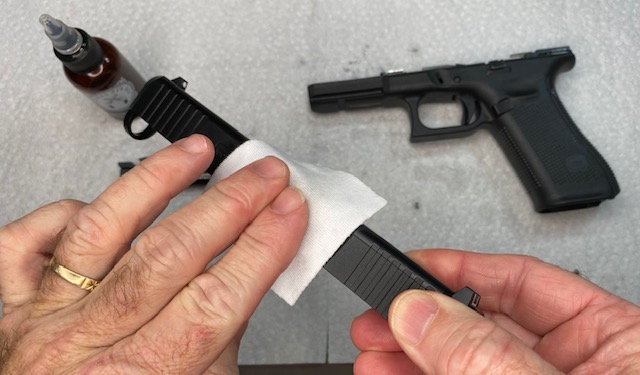 Glock Frame Lubrication
The Glock manual that only 1 drop of oil is needed to lube the frame. This drop is in the rear of the frame where the rear end of the trigger bar comes into contact with the connector (see picture below).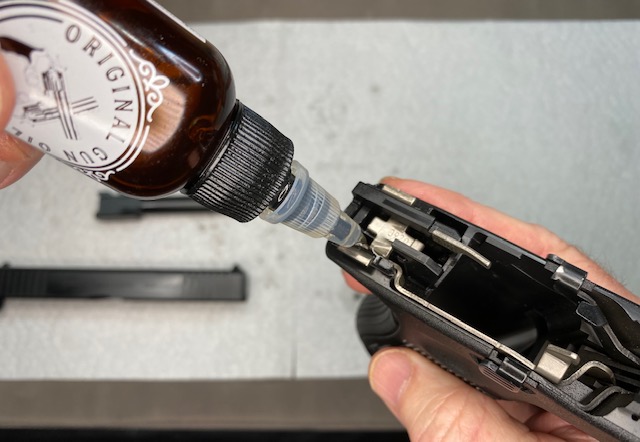 That's it for the lubrication. Before reassembling the Glock pistol, there are several recommended function and safety checks to perform.
Glock Lubrication Points Diagram
The following detailed pictures will serve as a diagram for the points on your Glock that need to be oiled or lubricated.
Glock Barrel Lubrication Points diagram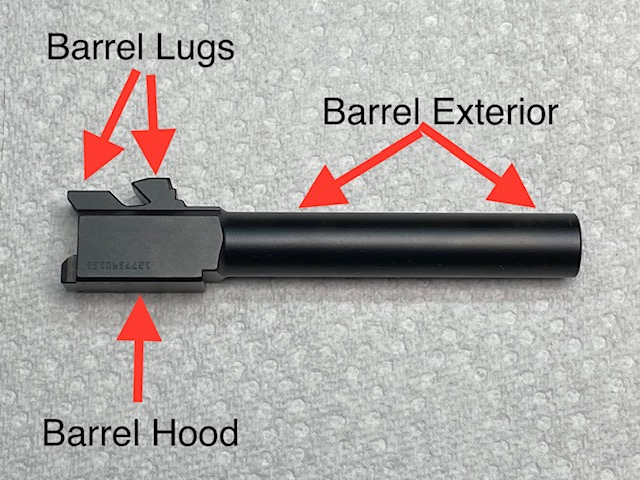 Glock Slide Lubrication Points diagrams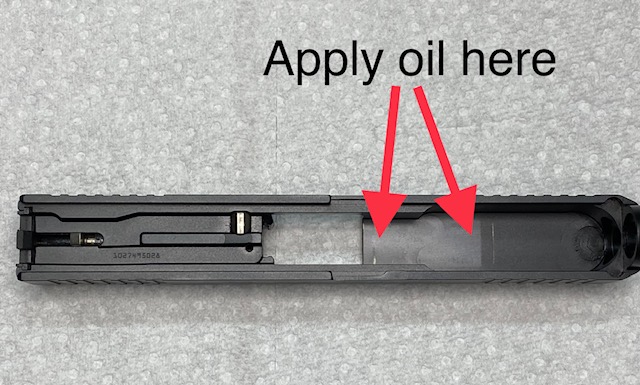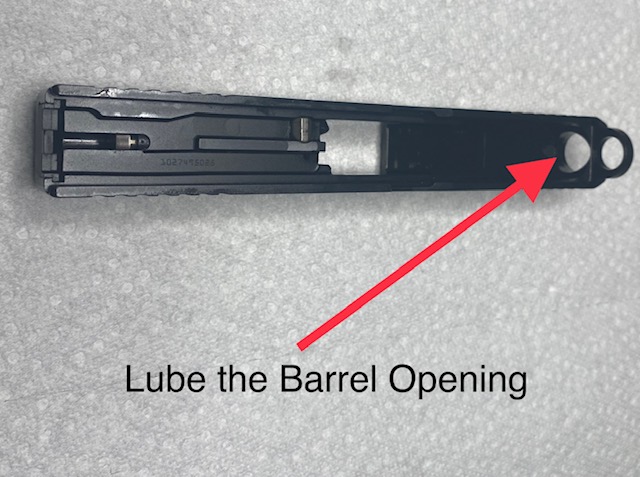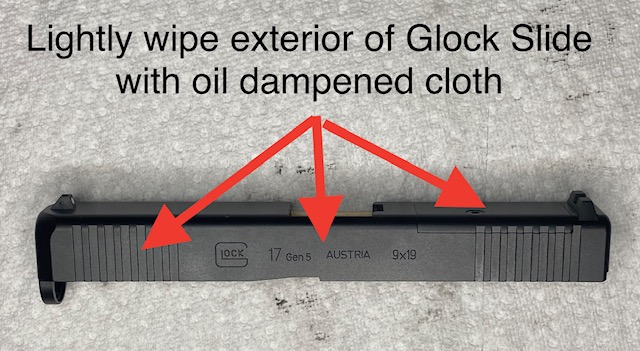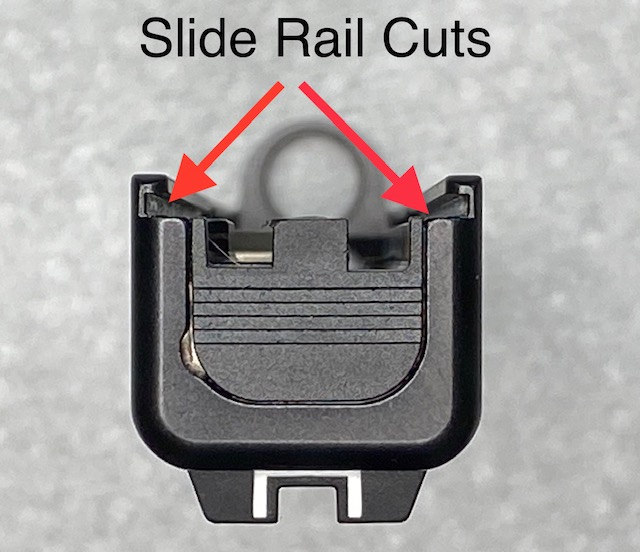 Glock Frame Lubrication Points diagram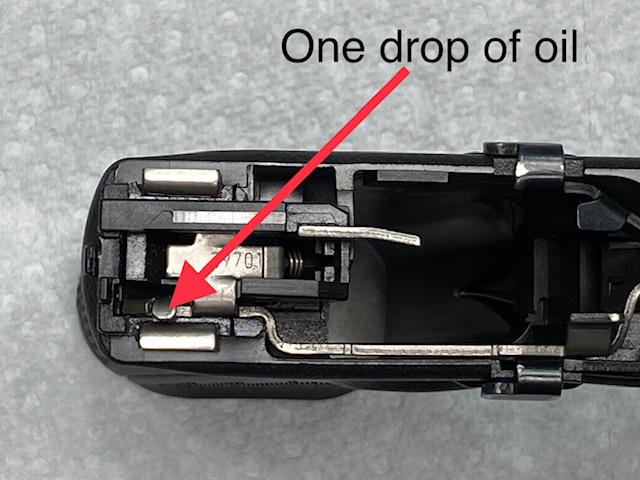 Glock Lubrication Oil
The Glock User Manual does not recommend a specific product or lubricant. The manual refers to using a cleaning oil, but you can also use any of the many popular gun oils available on the market.
Be sure the product you choose is safe for synthetic or polymer guns!
Below is a short list of quality gun oils from Amazon that indicate they are safe to use on polymer & synthetic guns. You can also pick up some good products at a local gun store. I have provided Amazon affiliate links below that will provide kydexowbholsters.com a small commission at no cost to you.
My preferred product is Veteran-Owned Original Gun Oil which is a cleaner and a lubricant in one. Safe to use with polymer and synthetic materials, it is Non-toxic, Non-scented which means I can use it safely in the house! I use this for all my firearms and have had great results.
Original Gun Oil (Use Code SAVEWITHDAVE to save 10% and always FREE shipping)
Glock Lubrication FAQ
Here are some questions on proper Glock lubrication that I have seen and heard recently.
Q: Does a Glock even need to be lubricated or oiled?
A: YES! There are plenty of websites and videos on the internet that make it seem like a Glock is indestructible and does not need to be cleaned or lubricated in order to function. While Glock pistols are known for their durability and reliability, they need to be cared for properly if you expect them to deliver the expected performance.
Q: How much lube or oil do I use on my Glock?
A: Glock pistols are designed to work with small amounts of lubricant. Over-lubrication will attract dirt and carbon deposits which can adversely affect the proper operation of your Glock. Follow the instructions in this article.
Q: How often should a Glock be cleaned & lubricated?
A: A Glock pistol should be cleaned & lubricated:
When brand new, before first use.
After each time it is fired.
After exposure to rain, snow, sweat, lint, dirt, mud, salt water, extreme temperatures, etc.
At least once per year
See this article for the complete cleaning process: How to Field Strip, Clean & Lubricate a Glock
Q: Should you oil the firing pin or firing pin channel of a Glock?
A: No. Oil or lubricant on the firing pin or in the firing pin channel can make it more difficult for the firing pin to move freely which could negatively affect the reliability of your Glock. The Glock user manual specifically cautions against lubricating this area.
Q: Should I oil my brand new Glock before I shoot it?
A: Yes. The Glock user manual states that you should field strip, clean, and lubricate your Glock before firing it for the first time.
Q: What is the recommended gun oil to use on a Glock?
A: Glock does not specify what products you should use to clean and lubricate your pistol. It is recommended to use a high quality polymer-safe Gun Cleaning product. Glock user manual cleaning instructions actually calls for a cleaning "oil" for cleaning a firearm as well as lubricating the parts. Here again I recommend Original Gun Oil because this is the exact type of product Glock recommends and it is safe to use on polymer and synthetic parts of the firearm.

Q: Can I use WD-40 to lubricate my Glock?
A: No! WD-40 is not a lubricant. The WD stands for Water Displacing and that is why it is great for loosening rusted parts. WD-40 is also great for breaking down old, gummed-up parts and removing dried up grease, etc. WD-40 seems like it lubricates, but this is a SHORT TERM result. There are 2 problems with using WD-40 on your Glock: 
Over time, WD-40 will gum up your gun.
It's not safe to use on the polymer parts of a Glock.
Q: Can I use Motor Oil to Lubricate my Glock?
A: Maybe. Motor oil is a superb lubricant and will definitely work on the moving parts of your Glock. However, it does not have any rust inhibiting properties, so it will NOT protect your gun from rust or corrosion. Also, motor oil is made for metal parts and the potential damage to the polymer parts of your gun are unknown. So, in a pinch, it will work, but not recommended.
Q: Do I lube the inside of a Glock barrel?
A: It depends on what you are going to do with your Glock pistol. If you are going to store it somewhere long term or get it out on occasion to shoot, then yes. However, you should run a couple dry patches through the barrel to remove the oil before you fire the pistol.
Glock Lubrication Video
Hopefully all your questions regarding the proper lubrication of your Glock 19 or Glock 17 pistol have been answered in the article. If you have questions or comments, please leave them below in the comment section!