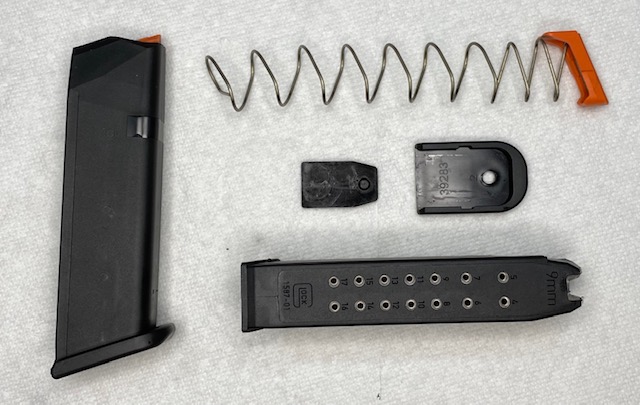 How to Remove A Glock Magazine Base Plate, Disassemble & Clean A Glock magazine
This article will explain in detail how to remove a Glock Magazine base plate (floor plate), take apart (disassemble) and clean your Glock magazines. All Glock magazines are constructed the same way, regardless of capacity or caliber. Glock magazines require a certain type of tool to remove the base plate and disassemble, unlike the vast majority of other magazine brands that come apart with a bit less effort.
I hope to help by making it easier by showing that Glock magazine disassembly and cleaning can be quick and easy!
Related Glock Articles:
How to Install a Glock Backstrap
How to Field Strip and Clean a Glock 17 Pistol
Why do I need to clean my Glock magazines?
Semiautomatic pistol magazines cause the majority of malfunctions and this is why they need to be cared for as much as the gun itself. Unfortunately, a lot of gun owners tend to neglect their magazines (myself included) when cleaning their guns.
Since the magazine is solely responsible for making sure that a fresh round is available and in the correct position at all times, it makes sense that a flaw here can cause issues. A dirty magazine, binding magazine spring, corrosion or other damage will invariably cause a malfunction sooner or later.
How often should I clean my Glock magazines?
A good practice is to examine and clean each of your magazines on a regular basis. This is especially true if you have dropped any magazines on the ground, in the dirt or gravel or gotten them wet or muddy.
It would be a good idea to clean your magazines each time you clean your guns, that way you can be sure you will not forget. Just make it a part of your gun cleaning process.
If you take a training class such as Front Sight's 4-Day Defensive Handgun Course, you will be dropping magazines to the ground while practicing malfunction drills. It is highly likely under these circumstances that gravel and dirt will get into your magazines. This would be a great time to disassemble and clean your magazines.
Glock Magazine Disassembly
Among all the magazines I own from other manufacturers, I will say that Glock magazines are the most difficult to disassemble. It took me a little while to figure out how they come apart. This is due to a pair of "locking tabs" that keep the Glock base plate securely fastened. The base plate is called a "floor plate" in the Glock User manual.
Base plates are on the bottom of the magazine and can vary in size and style.
Some base plates are flat while others have additional grip surfaces that effectively extend the length of the grip. These are popular and common on small pistols that do not already have a full sized grip. Regardless of Glock base plate type, they all attach to the magazine the same way.
See Upgraded Glock Base Plates
Once you see and understand how the magazine is constructed, it is easy to take apart for cleaning. You just need to have the correct tool to create the right amount of leverage to remove the Glock base plate. Once the base plate is removed, the rest of the parts pretty much fall out.
Glock magazines consist of 5 parts:
Magazine Tube
Base Plate (or Floor Plate)
Spring
Insert
Follower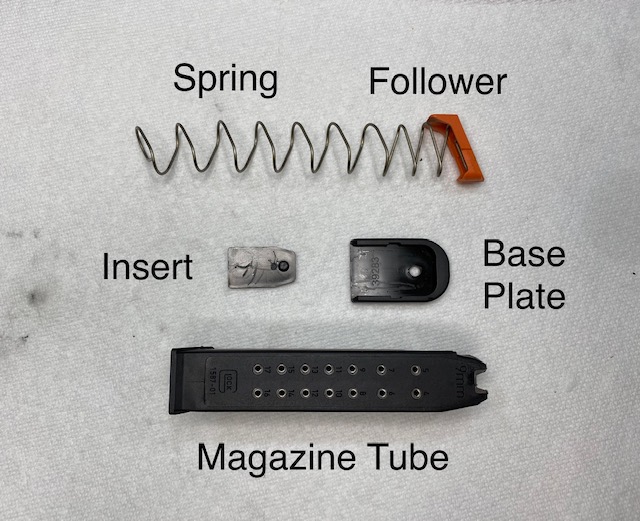 How to Remove the Glock Magazine Base Plate & Take Apart the Magazine
**Please wear eye protection any time you are working with springs!! Parts may launch into your face & eyes!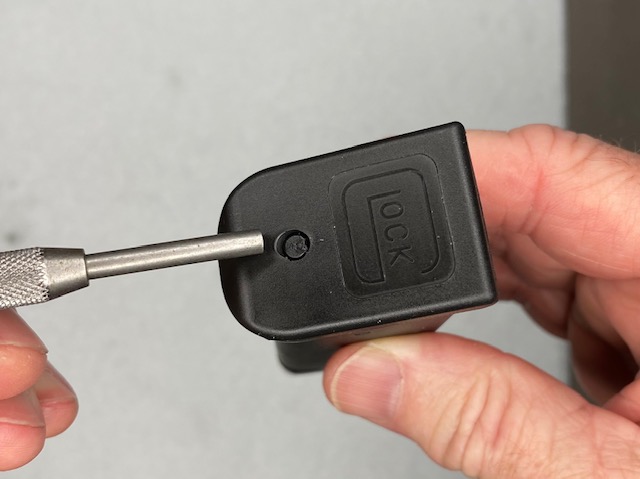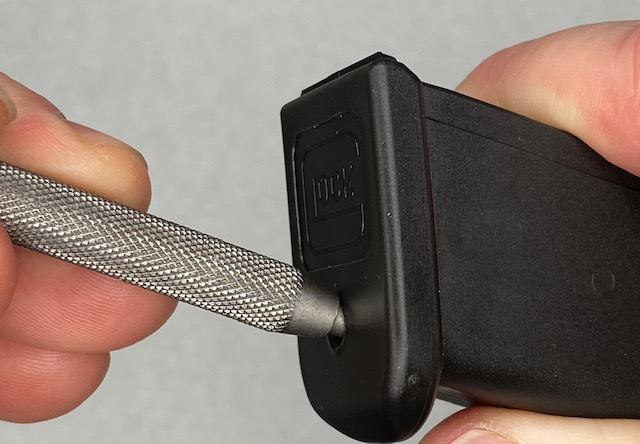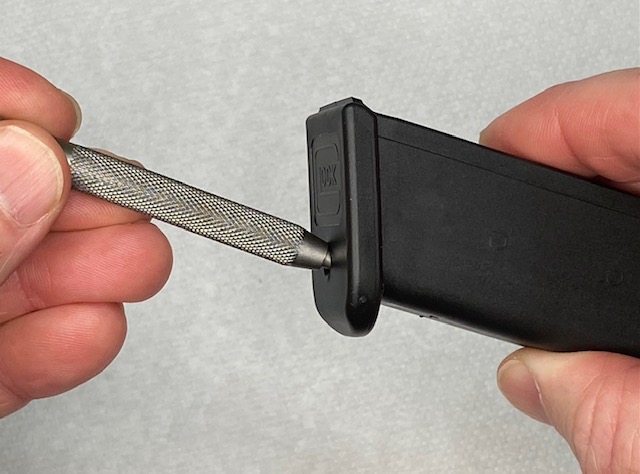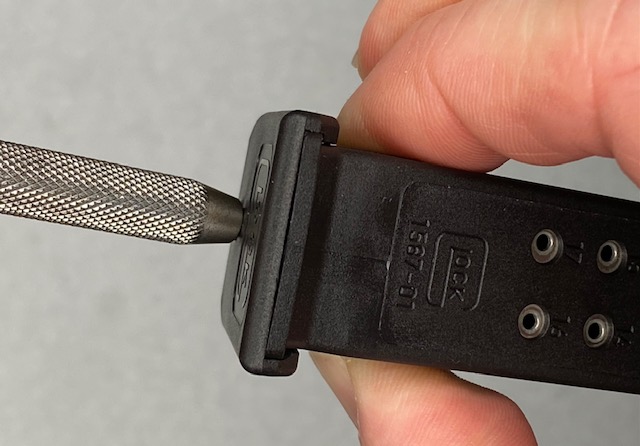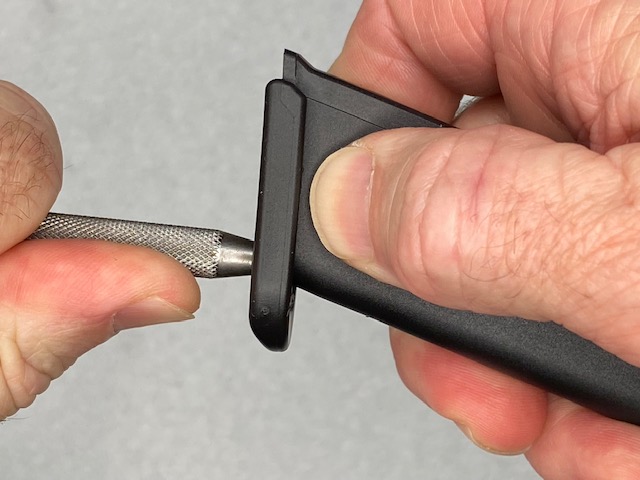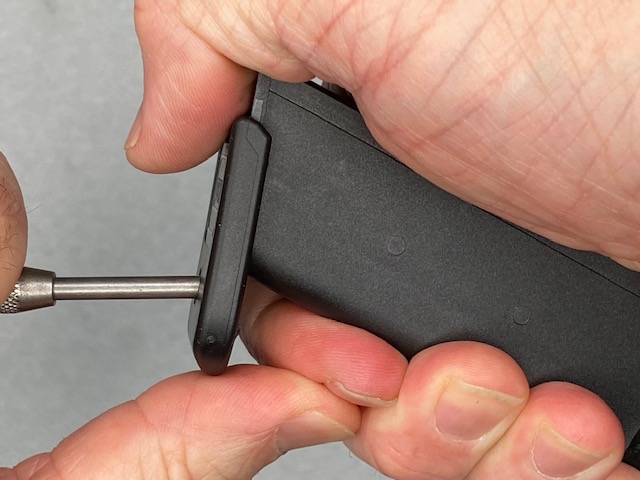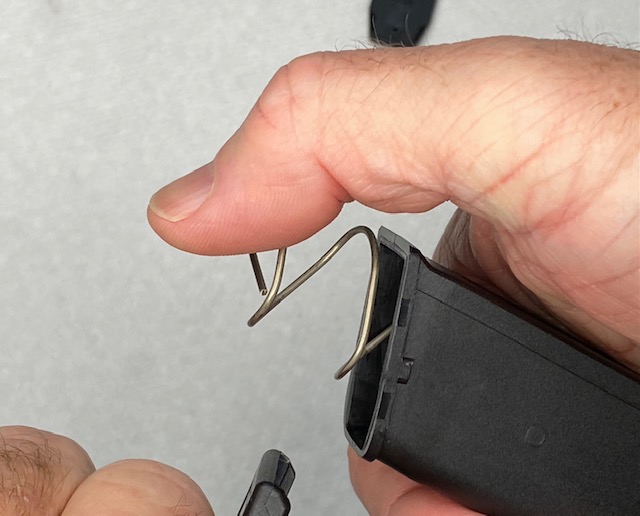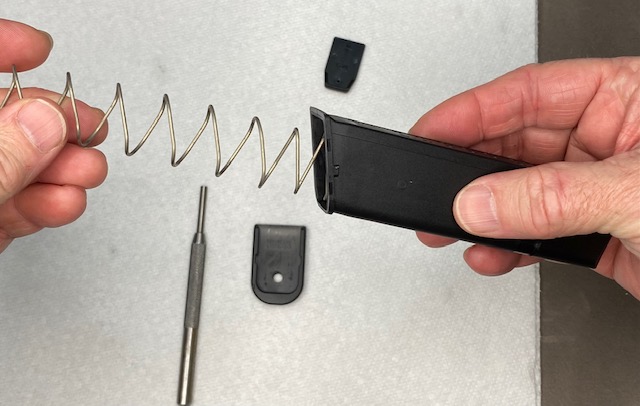 Glock Magazine Cleaning Steps
Basically we are going to disassemble the magazine and then wipe down each piece with a cloth that is slightly dampened with a good quality CLP oil such as Original Gun Oil. This oil is safe to use on polymer guns and components such as your Glock and Glock magazine.
Take a slightly oil-dampened cloth and clean the inside of the magazine tube. If you fingers are too short or too large to get inside the tube, take a punch, pen or pencil and push the cloth through a few times. This will  get the entire interior of the magazine tube clean.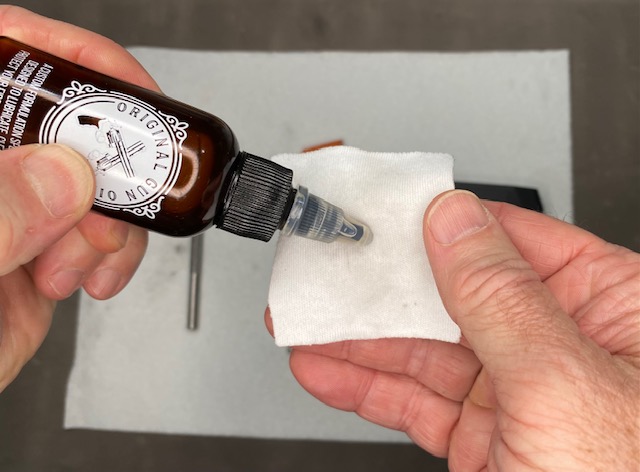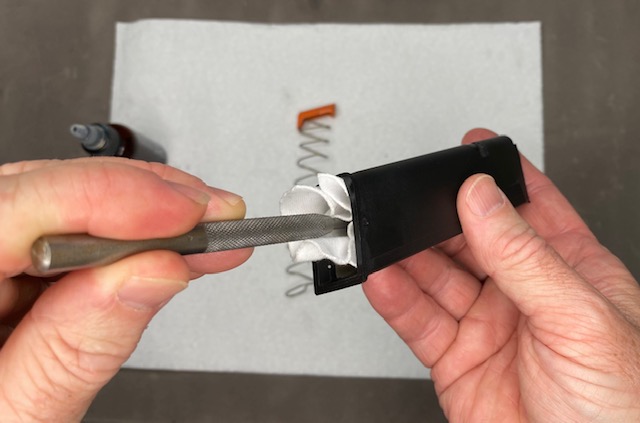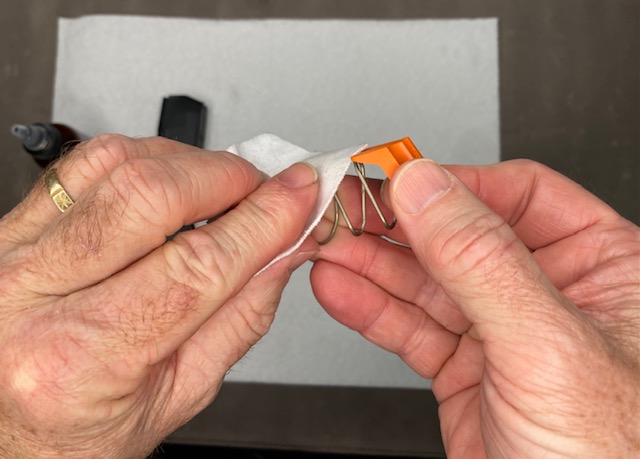 Use the oil- dampened cloth to wipe down the length of the magazine spring and also wipe down the follower. Next, wipe clean the base plate and spring plate. Now you are ready to reassemble your Glock magazine.
Glock Magazine Reassembly
Insert the follower and spring into the magazine tube as shown, be sure the follower is oriented properly.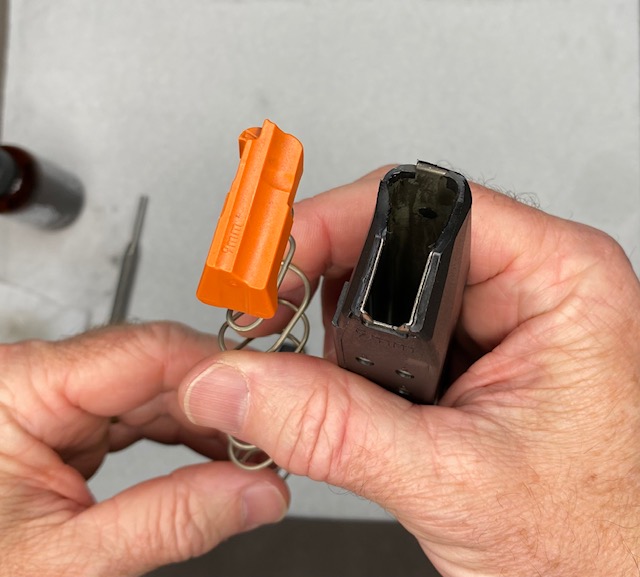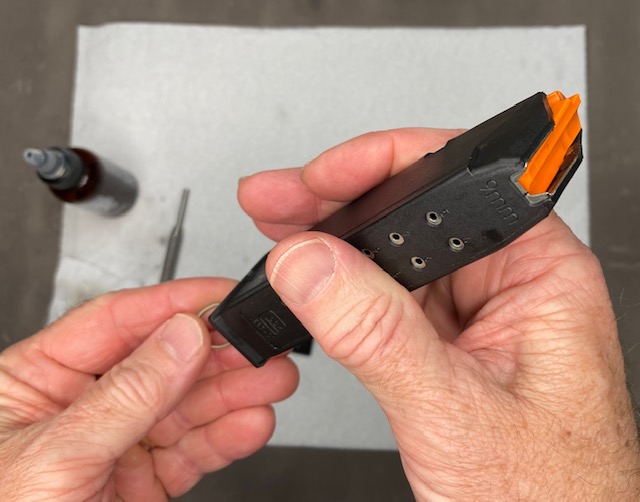 Next, place the bottom insert onto the spring and press the spring into the tube to be sure it is aligned correctly.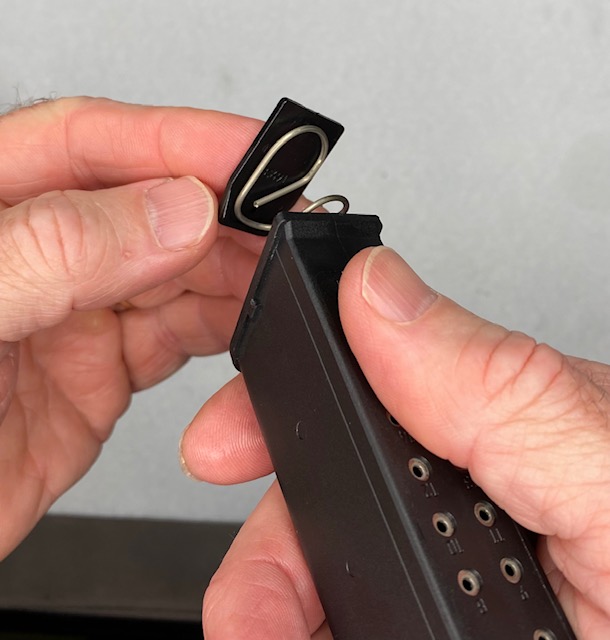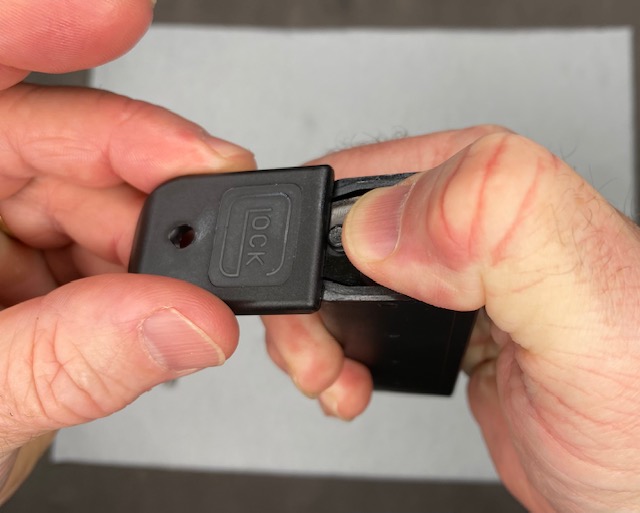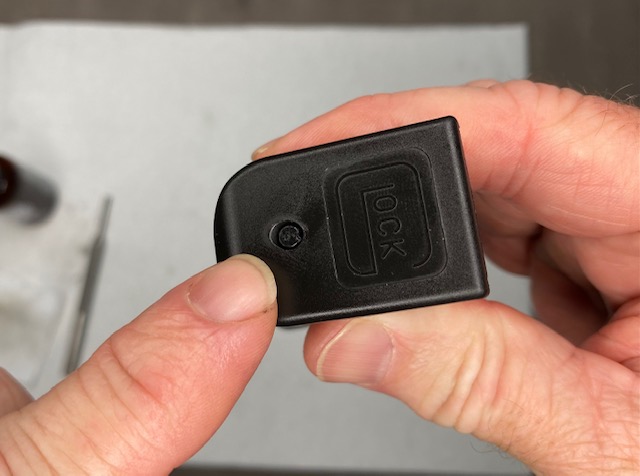 Glock Magazine Function Check
Now that the Glock Magazine is back together and the Glock base plate is properly installed, it is time to test the magazine. this is optional, but it will allow you to verify that the magazine and the gun are feeding, extracting and ejecting rounds properly.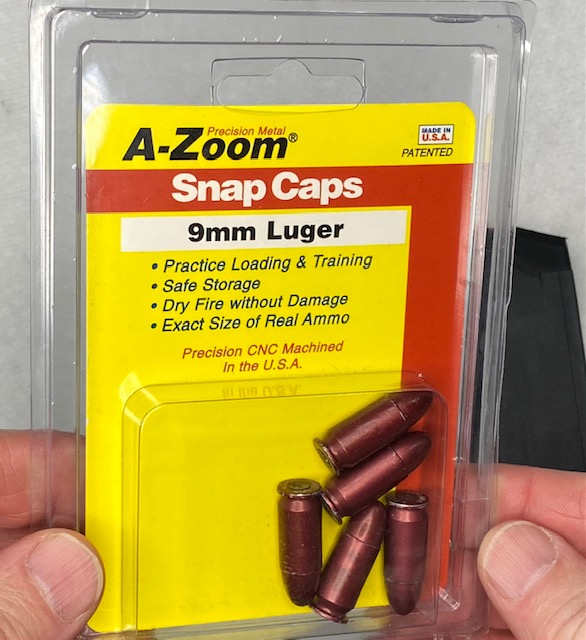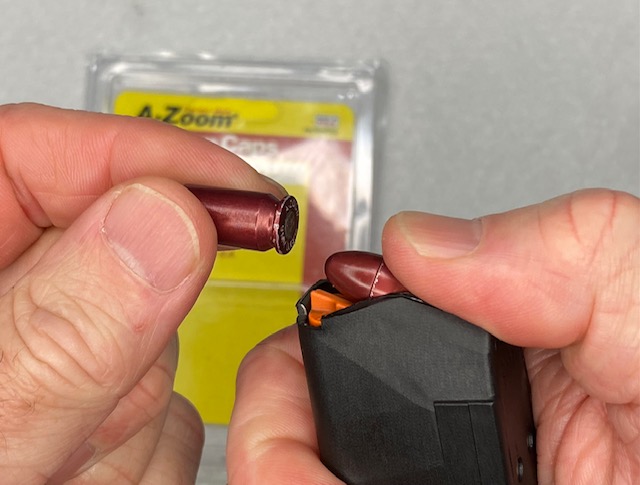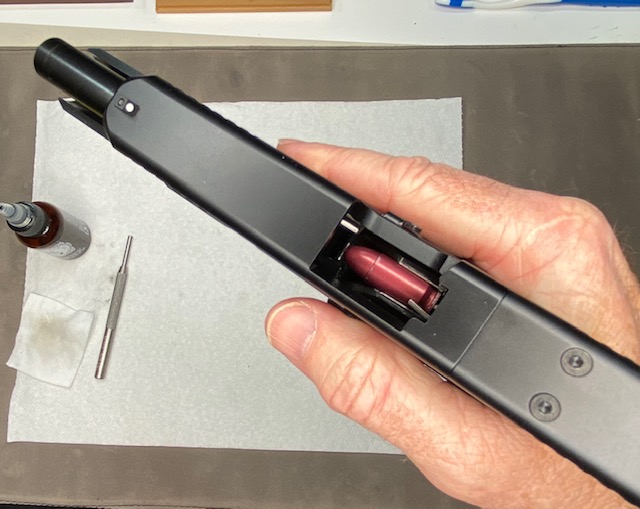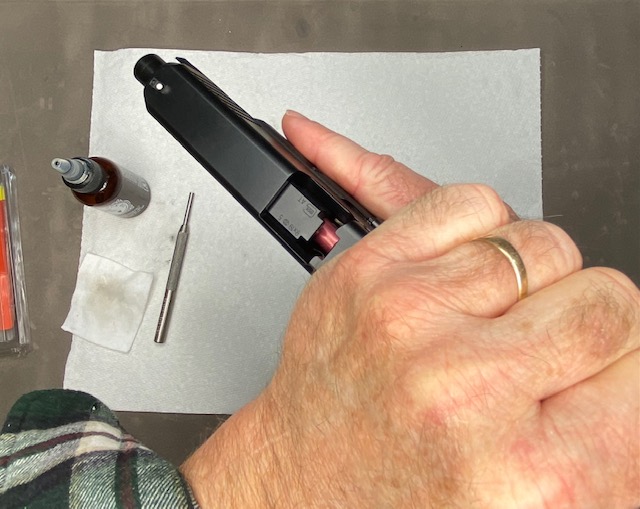 You have now completed removing the Glock Base Plate, disassembling, cleaning, reassembling and testing a Glock magazine.
Videos: Glock Magazine Base Plate Removal, Disassembly & Cleaning
If you have comments or questions, please use the comment section below!