Guns and Concealed Carry
Alien Gear makes great IWB concealed carry holsters for the money.
If you are looking for a comfortable way to carry your handgun concealed, an IWB (inside the waistband) kydex concealment holster may be what you are looking for.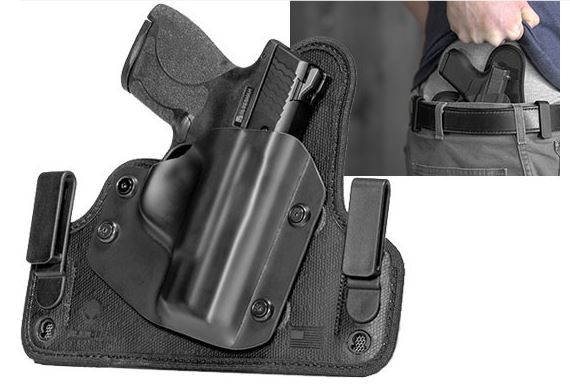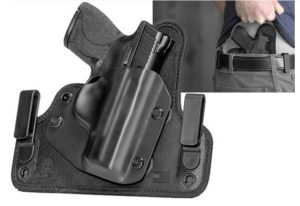 Whether you have a Glock 19 or a 1911, there is a concealed carry holster from Alien Gear Holsters that will allow you to comfortably wear your weapon all day long.
This is holster is basically a cheaper version of the popular Crossbreed Supertuck IWB holster. I will address the Alien Gear vs Crossbreed toward the end of this review.
Finally, a holster without the poking and painful digging that occurs with other styles of holsters, while maintaining the security and safety of your firearm.
Update: Alien Gear now has a new holster called the Shape Shift Holster! I have not reviewed it yet but stay tuned. Read about it at Optics Planet by clicking the link below:
==>Check out the Alien Gear Cloak Tuck 3.5
The comfort comes from a large padded section between your body and firearm. The security of the firearm is accomplished by the use of a custom fitted kydex (or polymer) shell.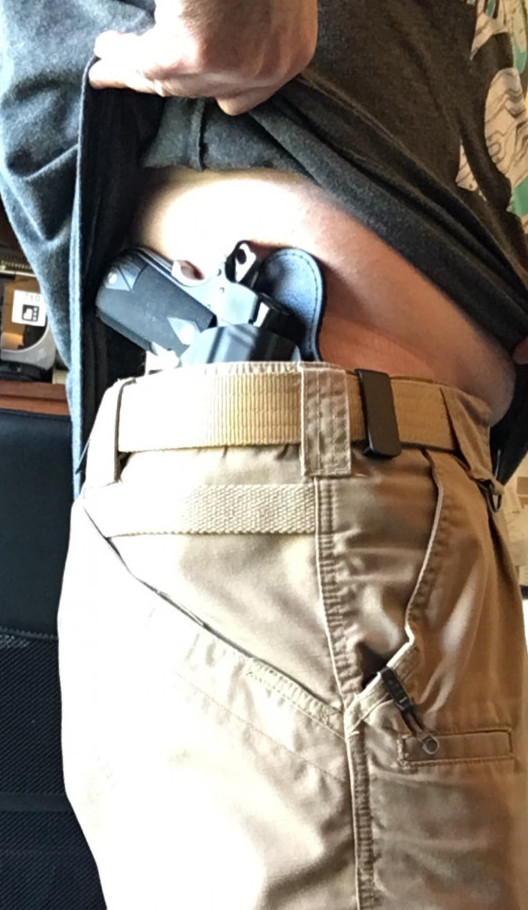 This is the a great tactical holster choice for people who want to carry their pistol on the hip in the 4 to 5 o'clock position, or even "small of the back" position.
Alien Gear Cloak Tuck 3.5 Advertised Features
Each holster is made specific to your weapon. This provides a custom fit, covering the trigger guard for safety and creating excellent retention. Specific holster for hundreds of guns.
Works great with tucked or un-tucked shirts. Convenient and comfortable, you can wear your weapon with the concealed carry clothes you choose.
They have a kydex holster for most guns. Glock, Sig Sauer, Ruger, Beretta, Keltec, Kimber and over 30 other brands, and hundreds of models. Just specify the concealed carry holster for your gun!
You can trade in your shell for a different gun for free, or you can purchase additional shells for your holster.
Easily adjustable tilt and ride height. Make it fit just right for you.
Easily adjustable retention. Innovative green washers allow precise adjustment to your requirements.
High quality components. The backing is multi-layered with leather and a thin sheet of metal in between for stiffness. This creates the perfect balance between comfort and performance.
Tough, durable shell that will never lose its shape. The shell is not actually kydex, but  made of a super durable polymer that is much thicker and stiffer than competing hybrid holsters that use a thin piece of kydex that can lose its shape over time.
Easy on your concealed carry clothing. The thick, rounded edges prevent snags and reduce friction wear.
My review of the Alien Gear Cloak Tuck 3.5
The Good News:
For the most part, I really like the holster. There are a couple things I didn't like, but I will get to that.
I bought the 1911 version for my Sig Sauer Nightmare. It arrived in a matter of days packaged handsomely in a reusable Alien Gear bag.  As expected, it fits the gun flawlessly.
The holster looks really nice, too. But in the end, it is functionality that matters here.
It comes with plenty of extra hardware for adjustment or replacement as needed.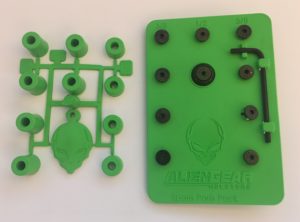 I was immediately impressed with the out-of-the-box comfort of the 3.5. They advertise that the holster conforms immediately to your body with no break in period needed, and I can confirm this fact.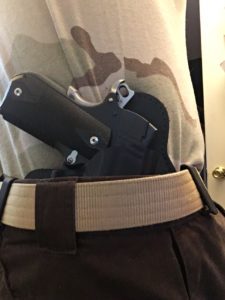 The belt clips are mounted with spacers to allow the option of tucking in your shirt around the gun. This method of concealed carry works best with thinner firearms, but you can get away with with a full size gun if the shirt is looser fitting. .
See How to wear your Cloak Tuck 3.5
I carry a 1911 Sig Sauer Nightmare (Commander barrel length) and generally go with an un-tucked T-shirt. I also wear 5.11 Tactical  button down shirts that look good tucked or un-tucked. This holster allows me to choose which way I want to go.
I wore this holster for 30 days so far and it is indeed comfortable. I have to say, it was quite comfortable from Day 1.
The soft padding against my skin is all I feel, no edges of the gun digging into my back when I drive or sit at the kitchen table.
I did not experience any movement of the holster or concern that the gun was not secure as I went about my day. When you don't think about your gun, it means you have a comfortable holster!
Don't get me wrong, when you carry a 1911 or other full size gun, you know it is there! But it is nice when it is comfortable vs. a lower quality holster that will actually allow the firearm to cause pain in many situations.
I am now wearing my Alien Gear holster fairly often (depending on the gun I choose to carry), and I have recommended this holster to friends as well.
Some of the Pros of the Cloak Tuck:
These are the most important things I look for in a holster.
Excellent quality and fit. This appears to be a high quality, well made holster.
Holds the gun very securely. The precise mold to your particular gun means the it is held securely in place. No worries about the gun coming out or moving around. I do not recommend any holster that comes in sizes for a group of gun models. If your holster says it will fit most medium frame semi-autos, it is not the one you want. you want a holster designed around a specific gun.
Adjustable. You can change the cant and ride height to suit your body and clothing style.
Very Comfortable. The materials used provide a nice smooth surface against your skin. This holster feels good the first time you put it on. I was able to do all my regular daily activities without having any part of the gun or holster poke me at all.
30 day test drive and forever Warranty. This says a lot about a company that understands not everyone is going to love this holster. You can try it out with no worries. and it is covered if it ever fails to satisfy.
Now, the Cons…
Ok, nothing terrible here, just a few details that I need to point out.
It's tricky to get on if you are already dressed. Since I don't always carry in the house, I put the holster on when I go out and take it off when I come home, so I like it to be easy to manage.
The clips are plastic. (steel clips are available for additional cost). The plastic clips are GREAT at staying securely attached to my belt, but this also makes it tricky to put it on halfway around my back. (Gotta say, my Crossbreed Supertuck is MUCH easier on and off). Also, in my opinion, the clips look a bit cheesy and don't really "flow" with the look of the belt. Steel clips just look better.
The adjustment screws are a bit troublesome. Although the ability to adjust the height, cant, and retention is a huge plus, once you adjust it to your liking, you better drop some Loctite on the threads to keep them from loosening.
Alien Gear Holsters vs. Crossbreed Holsters
A lot of people ask about this because the Alien Gear and many other holsters are basically copies of the Original Crossbreed Supertuck holster. I happen to own several of each and have been using them for a long time.
I can promise you that either one will work just fine. Both companies have excellent customer service and really good quality products.
Crossbreed makes awesome holsters, (I own two and still use my 1911 Crossbreed Supertuck going on 10 years) and heck, they really invented this type of holster.
See my review of Crossbreed Concealed Carry Holsters.
Alien Gear came along and made it cheaper. And a little prettier.
If you aren't on a tight budget, by all means, buy a Crossbreed Supertuck, you will not regret it. If you need to spend a bit less, Alien Gear is your holster.
I feel I need to say here that I still use my Crossbreed most of the time and just bought a new one for my newest 1911. I think it is mostly because it was the first holster brand I was really thrilled with and I tend to lean towards brand loyalty.
It looks like hell but it is so easy to put on, and mine has not loosened up, NEVER needed adjustment, and it secures my Kimber Pro Carry as good as it did when I bought it.  I think I will write a review for that holster as well!
The  biggest advantages of the Alien Gear holsters over the Crossbreed:
Price.  Alien Gear, $52. Crossbreed Supertuck, $80.
Adjustable retention. Tension can be adjusted with the included Allen key at any time, the Crossbreed will loosen up over time and need to be tightened. There is a method using a hair dryer to heat up the kydex, or you can send it to them to do it at only the cost of shipping.
The entire barrel is covered and protected. The Crossbreed and other brands leave the barrel and front sight exposed, which can snag and damage your clothing.
==>Get an Alien Gear Cloak Tuck 3.0 Today!
Quick run down of Features of the Alien Gear Cloak Tuck 3.0 concealment holster:
Forever Warranty
Quality materials
Comfortable
Free shell trades (for a different gun)
Adjustable
Affordable
No Break-In period
Made in America
What others are saying about the Cloak Tuck 3.0
"…Purchased this for my Glock 26 and absolutely love it. Easily the most comfortable IWB holster I have ever worn. Very well made and extremely functional."   -Wes L. Amazon customer
"…This is by far the most comfortable iwb holster I've ever worn. Day 1 and it felt like it was already broke in. I carry a full sized S&W M&P 9mm and this holster has no problem with it. I look forward to seeing what they come up with next."   -onelesshero Amazon customer.
"…Best concealed IWB holster I've have ever worn, and I have a lot of them. I hate that it took so long for me to listen to my friends and just buy one. Save time and money, buy this holster!"
-H. Engineering Amazon customer
==>Get an Alien Gear Cloak Tuck 3.0 Today!
Thanks for checking out my review of the Alien Gear Cloak Tuck IWB Holster. Also see my review on the DeSantis Die Hard Ankle Holster.