Review of The Crossbreed Supertuck Holster.
Widely known as the most comfortable IWB concealed carry holster.
Crossbreed Supertuck Holster Review
As a longtime daily user of the Crossbreed Supertuck to carry my Kimber Pro Carry II 1911 pistol, this review is based on a lot of personal experience. Here is a picture of my first Crossbreed holster that I STILL USE daily, because it is the most comfortable IWB holster I have ever used.
What is a Crossbreed Supertuck IWB Holster?
The Supertuck IWB holster is made using a thick hunk of leather and a custom formed kydex pocket to securely hold your firearm. The kydex of each handgun holster is unique to your particular gun model which is critical for the correct fit. The kydex completely covers the trigger guard, and the gun will snap into place.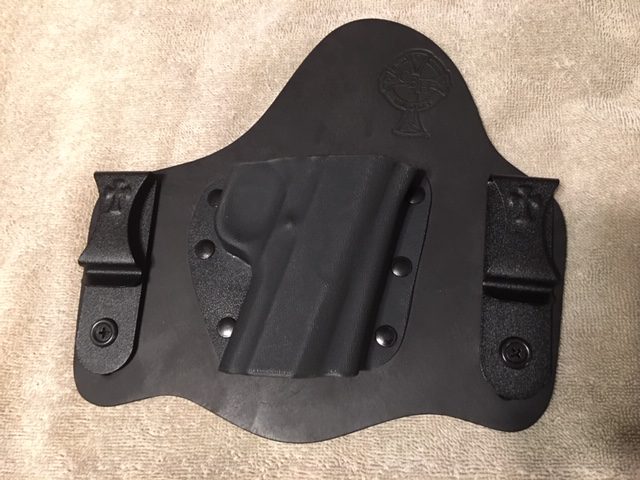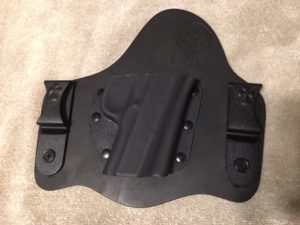 Crossbreed is the original creator of the Supertuck, a leather and Kydex Inside-The-Waistband (IWB) concealed carry holster.  It was such a great design that now there are many copies on the market, and most are good, but as a longtime owner and user of two (now 3) of these holsters, I believe they still make the best.
Crossbreed was founded in 2005 by the late Mark Craighead who developed the design because at the time, there were no really good quality holsters that were comfortable for everyday, all day, IWB (Inside the Waistband) carry.
The Supertuck quickly became known as the most comfortable IWB functional holster design on the market.
After trying many inexpensive holsters myself, I finally took the advice of Tom Gresham of Guntalk fame and decided to spend some money on a really good quality holster and he recommended Crossbreed. I bit the proverbial bullet and ordered a Supertuck IWB Holster from Crossbreed for about $69. Considering I never spent more than $15 for a holster up to that point, it was a lot of money. This was 10 years ago, the price has gone up a bit.
There is a  Crossbreed concealed carry holster for most gun make and models that will allow you to comfortably carry your weapon all day long.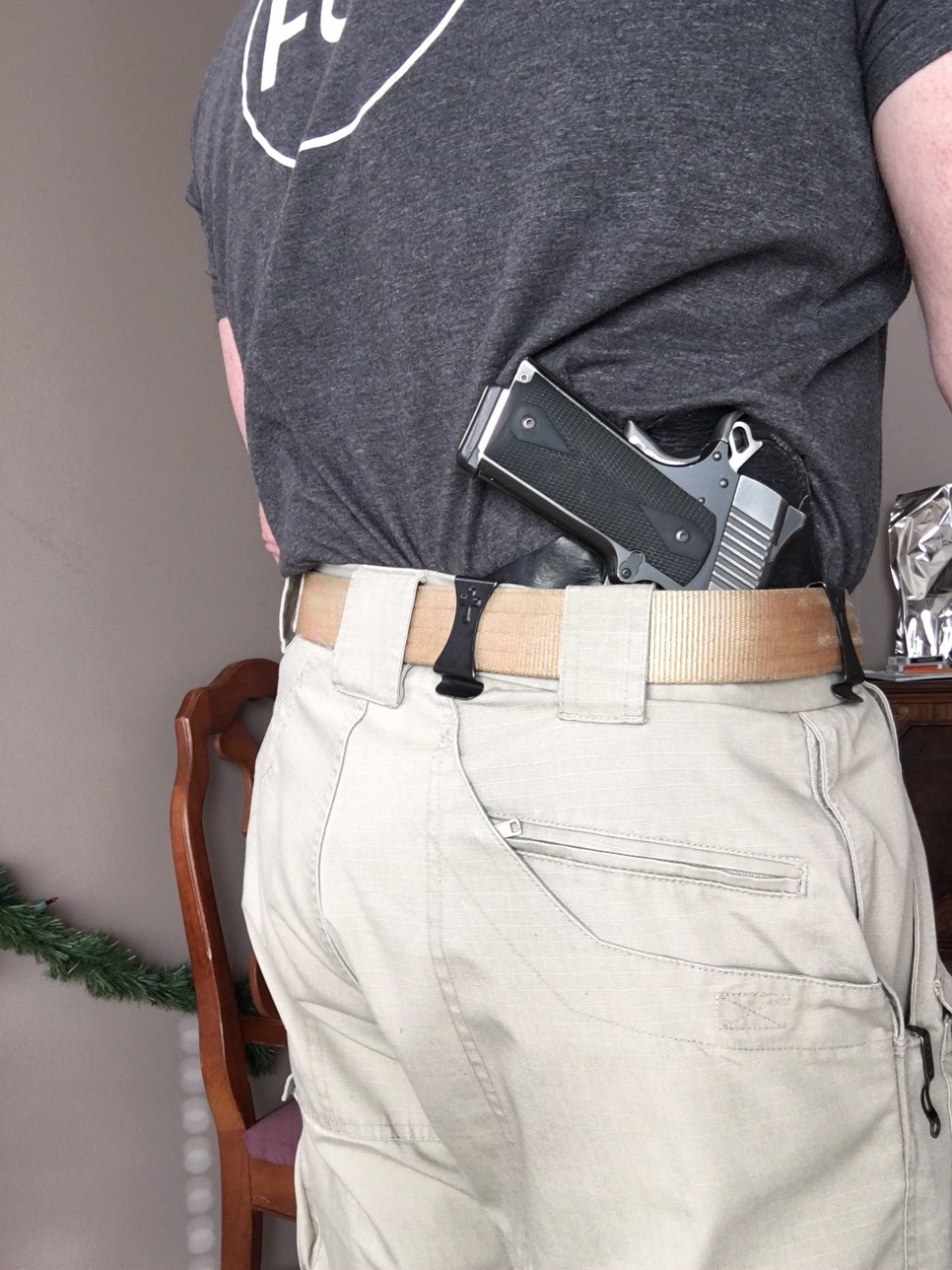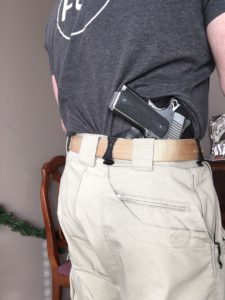 ==>Check out the Crossbreed Supertuck IWB Holster
A word about comfort
When it comes to carrying a concealed handgun, and especially a 1911, comfort is a relative term. As Clint Smith of Thunder Ranch (Clint has been training people for a long time) has said, "Carrying a gun is not supposed to be comfortable, it is supposed to be comforting!"
If you have never carried a gun IWB, especially a larger model, it will take time getting used to it. However, you will definitely notice a vast difference between a holster and a REALLY GOOD holster. I have tried many holsters before I bought my Supertuck, and after trying it out for a while, I have never looked back. The thick piece of horsehide that sits between your gun and your skin is worth its weight in gold.
Years ago when I was out and about carrying my 1911 in another holster, I could not wait to get home and take it off. Now with my Crossbreed Supertuck, I will often wear my gun inside the house all day long!
So carrying a gun in a holster in this way is obviously less comfortable than NOT carrying a gun at all, so it is important to find a way to carry that is as comfortable as possible.
The holster is designed to be used with a sturdy gun belt. Be sure you use a belt that is designed for carrying a concealed weapon. There are lots of great options from great companies such as 5.11 Tactical, one of my favorite apparel brands.
My review of the Crossbreed Supertuck IWB Holster
I really like this holster. As I mentioned earlier, I have used this exclusively for close to 10 years now, and I carry every day.
There were a few months that I used an Alien Gear holster instead in order to try it out. See my Alien Gear Cloak Tuck 3.0 review here.
I really like the design of the holster and the steel clips allows it to be easily mounted and removed from my belt without removing it. Because it is worn IWB (inside the waistband) you will need to let a little slack out of the belt when wearing. You can see in the video how easy and quick it is to put the holster on without having to remove your belt. I am wearing a 1.5 inch Instructor Belt.
Pros and Cons of the Crossbreed Supertuck IWB Holster
Pros
Secure.  When I am wearing this holster, it never moves or needs to be adjusted. Once clipped in to my belt, I forget about it.
Adjustable. You can easily adjust the ride height and cant by moving the clips to a different hole in the leather.
Comfortable. The gun is never digging into my body regardless of whether I am driving, watching TV on the sofa or working out in my home gym. (of course I usually take it off for workouts, but honesty sometimes I forget it is on until I try to lay down on the bench)
Quality Workmanship. I love that the belt clips are steel and not plastic. The Alien Gear holster I tried had plastic clips and in my opinion, when carrying with a tucked in shirt, these clips stood out like a sore thumb. The steel clips blend in a lot better and are much classier. The clips give a tactile "snap" when they are slid into place.
Durable. I have used mine for almost 10 years and it is still my main holster. I have never had the Kydex loosen up, warp or otherwise cause an issue. After years of hard use, the leather is a bit curled over on the top, but it has been forced that way by my body and is easily corrected. It is recommended to use leather care products on this holster from time to time, but I have never done this and the holster has held up remarkably well. I'm sure it would be even better had I cared for it the proper way!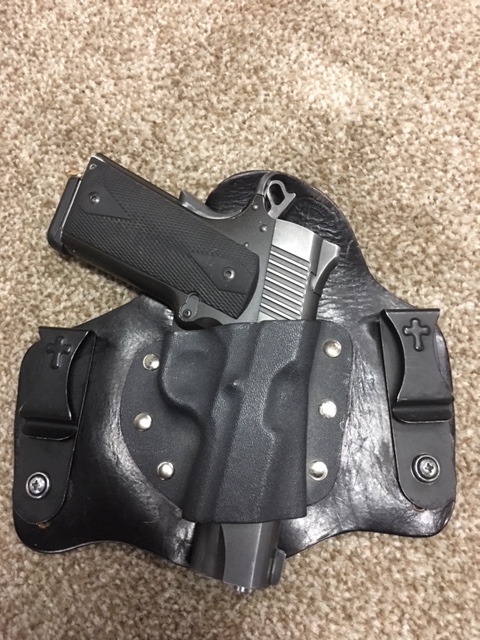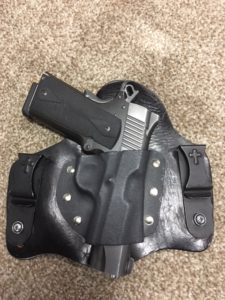 Cons
Retention. Although the Crossbreed Supertuck certainly holds your gun securely, there are other holsters that will do a better job. If you are planning to play volleyball or find yourself upside down for some reason while carrying, you may have reason for concern. I do not. If you wear this holster behind a good snug gun belt, you will not have problems.
Needs a break-in period. This is not a big deal. just wear t for a few days and it will conform to your body and become even more comfortable.
My recommendation
This holster will not disappoint. Are there cheaper holsters that are similar, yes. I also like the Alien Gear Cloak Tuck, and I have one of those. However, when I am headed out the door, the Alien Gear holster stays home.
Long story short, as I think you can tell, I highly recommend this holster. I recently purchased a new Kimber Aegis Elite 1911, and even though it will fit into my current Crossbreed holster, I think a new gun deserves a new holster, don't you? I am going to see if I get one for Christmas, and if not, I will be purchasing a Founders Series Crossbreed Supertuck.
Update: I decided to ask Santa for a new holster, so here is my brand new Supertuck!
Features of Crossbreed Concealed Carry Holsters
The Crossbreed Super Tuck is designed to carry with your shirt out or tucked in, thus the name "Super Tuck".
Comes with powder coated steel belt clips that can be adjusted for cant and ride height.
They offer a "combat cut" in which a small portion of the leather is removed near the grip so you can access the gun a bit more quickly. This cut will also reduce the comfort level, as it can allow the stock to dig into you in certain positions.
Also available is a V-clip option for 10 additional dollars which offers the ability for deep concealment where the gun is actually below the belt line. See the website for more details on this option.
The holster comes standard with black cowhide and an option to upgrade to horsehide for $15
The Kydex used on the front of the holster comes in OD green, sniper gray, or Tiffany blue, or standard black.
The holster can be altered to handle some red dot sights . See the website for details.
Crossbreed super tuck holsters come with a "two week, try it free guarantee". When you receive your holster you will have to full weeks to try it out and if not completely satisfied, you may return it for a refund minus the shipping charges.
Crossbreed Holsters offers a lifetime warranty and will repair or replace your holster should it ever fail under normal use as long as you own it.
Crossbreed Holsters vs. Alien Gear Holsters
Crossbreed makes awesome holsters, and heck, they really invented this type of holster. I have tried both and both will fit the bill. I cannot vouch for the durability of Alien Gear, but they also offer a Lifetime Warranty.
Alien Gear came along and made it cheaper. And a little prettier. I had a few things about this holster that I did not like, you can see my review for a run down here.
If you aren't on a tight budget, buy a Crossbreed Supertuck, it is hands down the best IWB holster you will ever own.
If you need to spend a bit less, Alien Gear will not disappoint. And they have a new line called Alien Gear Shape Shift Holsters. Check them out.
==>Go to the website and check out a Crossbreed Supertuck IWB Holster
I believe that if you purchase a Crossbreed Supertuck, you will have a trusted holster for a lifetime of concealed carry needs.
Also check out my review of the Desantis Die Hard Ankle Holster.
Please leave comments or experiences below! I would love to hear from you!