Ankle Holster for the S & W Bodyguard .380
The DeSantis Die Hard Ankle Holster is Among the Best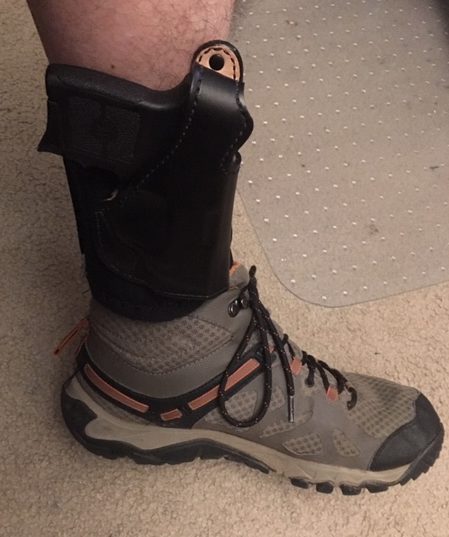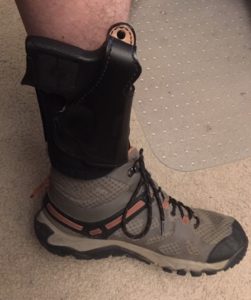 One of the best places to conceal a handgun on your person is in an ankle holster. You need a small, thin gun that still packs some power. The Smith and Wesson Bodyguard .380 is the perfect gun for this type of carry.
When it comes to ankle carry, please do not get a cheap holster. The most important thing is to get a holster that will stay in place. Considering the holster will be swinging with your leg all day long, and getting jostled with every step you take, you need a quality, secure fitting holster.
Best Ankle Holster for Bodyguard 380
This Desantis Diehard review came about after my second cousin (who is a police officer in Virginia) and I were discussing my need for a carry option at my daughter's wedding and other "formal" occasions. He had been using a Galco Ankle Glove for his Glock 26 and was extremely satisfied with it. He had been on many a foot chase and the gun stayed securely holstered. Unfortunately, Galco does not make an ankle glove for my Smith & Wesson Bodyguard .380.
So after some research, I purchased a Desantis Die Hard Ankle Holster and never looked back. In my opinion it is the best ankle holster for a Bodyguard 380 pistol.
What is the DeSantis Die Hard Ankle Holster?
The DeSantis Die Hard Ankle Holster is a high quality ankle rig built from top grain saddle leather and finished on the outside with a super tough Polyurethane coating. Made with famous DeSantis quality, this holster is tough to beat.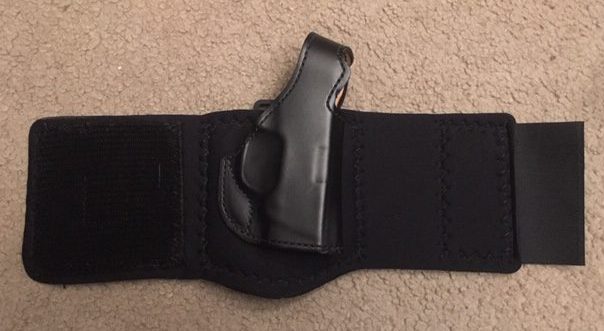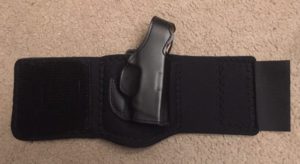 Inside the holster, the smooth leather lining protects the gun's finish while providing a quick, smooth draw. The Die Hard Ankle Rig features a tough top grain leather lined holster with a secure snap thumb break attached to a neoprene leg band.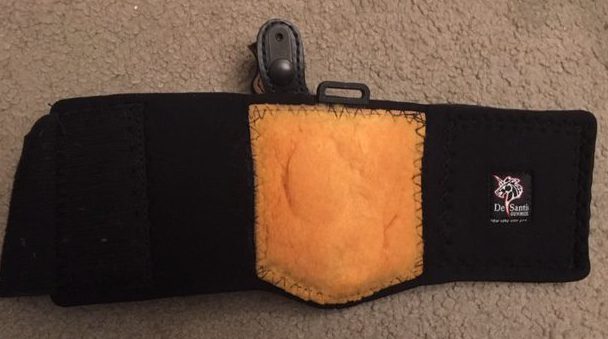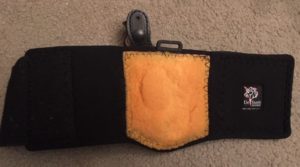 Comfort of the leg band is accomplished with both foam padding and sheepskin. Optional calf support strap (C14) and boot extender (C15) are available. This meticulously molded holster is both handsome and very comfortable. Available in Black.
My Review of the DeSantis Ankle Holster
I have worn this holster many times over the past year and it has performed very well. I find that I do not need the calf strap because it stays securely in place without the strap. I typically wear either mid-high Merrell Moabs or standard dress shoes when I use the ankle carry holster. I wear regular black sweat socks (nicer ones with the dress shoes) and not typical dress socks and the holster goes right over top of the socks.
SHOP AMAZON
FOR GUN CLEANING
SUPPLIES & TOOLS
*This site may receive a small commission at no cost to you if you make a purchase through this link. We appreciate your support!
I don't know if dress socks would cause the holster to slide down a bit, but if so, the calf strap would come in handy. This strap wraps around your leg just above the calf and has a strap that attaches to the top of the holster to prevent it from sliding down your leg and being exposed.
It does take a little time to get used to a gun on your ankle, but after a short time, it is not a problem at all. The small Bodyguard .380 is small and light which makes it a pleasure to carry using this method. I do not need to re-position the holster or even worry about it moving around.
Pros and cons of the Desantis Die Hard Ankle holster
Pros:
It is secure. This is my number one requirement. I do not pursue suspects or even run much for that matter, but dancing at my daughter's wedding (daughter number 2 coming up!) I did not need the embarrassment of my .380 skittering across the dance floor! I do not use the optional calf strap because this holster just stays put.
It is comfortable. I have worn this all day many times and never suffered for it. It does not chafe or dig in anywhere. I have even worn it with low cut socks and the sheepskin is enough to keep it comfy.
It fits the gun perfectly. I can draw and holster my Bodyguard .380 with no issues and the retention strap securely retains the gun with a strong snap that pops open easily with thumb pressure.
Cons:
It was really hard for me to come up with any cons for this holster. The one con would be price. The Desantis Website sells them for $89.99 but Amazon has them for a lot less. I got mine for around $50 and I believe it was a very fair price, especially for the peace of mind and quality of the holster.
The DeSantis Die Hard holster is available to fit the following pistols and revolvers:
Glock 43x, 26, 27, 33, 42, 43
Kimber K6S 2″
Sig P230, P232, P238 C & L, P365, P938 C & L
Smith & Wesson Shield 9/40
Smith & Wesson Bodyguard .380
Smith & Wesson J Frame Revolvers, models 332, 340, 342, 432PD, 442, 640
I Wear My .380 Bodyguard in my DeSantis Die Hard Ankle Holster on These Occasions
If I am going to be dressed up with a tucked in shirt and in close contact with other people for an evening out, a wedding, Church, or just hanging out at a friends house playing games, I am much more comfortable not having my .45 1911 Kimber Pro Carry in my Crossbreed Supertuck.
Generally, I use my ankle holster when going out to a friends house for the evening and I'm pretty sure I'm not going to be in a situation where I am going to need a firearm, but I never leave home without it. The DeSantis ankle holster is my go-to for this occasion. Most of my friends know that I always carry, but I do not like to draw attention to it unnecessarily.
Problems and Limitations of an Ankle Holster
Let's look at some of the problems with an ankle holster.
The .380 Bodyguard ankle holster, or any ankle holster for that matter, is not the best choice if you want to carry a gun that you may need to get to at a moments notice. However, an ankle holster such as the DeSantis Gunhide DieHard, is a legitimate option for:
A Backup gun
When your clothing choice prevents you from carrying using another method.
You send a lot of time seated. An ankle holster may be easier to reach in a seated position than other holsters.
When you need deep cover.
1. Gun size. You are limited to what kind of gun you can carry due to the very limited space. I carry a Smith and Wesson bodyguard 380 in my ankle holster.  Using a different holster, I am actually able to carry a Walther PPS single stack in 40 caliber.
2. Capacity. Most of the guns that can be readily carried in an ankle holster will be small, single stack semi-autos or small frame revolvers. Both of these types of guns will be limited to 5 to 7 rounds when fully loaded. This is fine for a back-up weapon, but not necessarily ideal for your main gun.
3. Access. It is not very easy to access and ankle gun in an emergency situation. This is something that needs to be practiced before you consider this type of concealed carry. Of course, you will need to be sure that the pants you are wearing allow ample room to pull the pant leg up over the holster to get to the gun.
4. Security of the gun. As you walk about and maybe occasionally run (or dance) during your daily activities you need to be sure that your ankle holster is holding your gun securely enough that is not going to go skittering across the pavement at an inopportune time. Not only can this be embarrassing and dangerous, but your firearm is going to get all scratched up!
5. Comfort. If you were going to carry on your ankle for any period of time you need to find a set up that is comfortable. You don't want to constantly be adjusting the holster or reaching down re-position it because it is digging into your calf. I would highly recommend spending a little money here to get a secure and comfortable holster.
The Proper Way to Wear the Die Hard Ankle Rig
If you are a right-handed shooter you would buy a right-handed holster and it will attach to the inside of your left ankle. When you go to draw the gun, you use both hands to snap your pant leg up over the gun and using your right hand, grab the gun sliding your thumb in between the snap at the top to release the retention and then you can pull the gun out.
Ankle Holster Draw Video
Review Conclusion
Overall, I give this holster a 10 out of 10. I really do not have any bad things to say about this holster. The price is right, comfort is there, and it holds my backup .380 Bodyguard securely and is easy to draw once the pants are out of the way. Ankle holsters are not the best way to carry, but the DeSantis Die Hard does that job for me without issue.
Alternatives to an Ankle Holster
An ankle holster is a great option to have in your arsenal of holsters. Let me suggest another option for when you need your gun very well hidden and an IWB holster is just not going to work.
I would like t recommend a Holster shirt. This is a compression type t-shirt that has a reinforced pocket under the arm that is designed to hold a firearm. It can be worn under a dress shirt and has a Velcro closure that keeps the gun secure.
The advantage of the holster shirt is that it will keep the gun closer to your hands and does not require bending over to access the gun. Also, you do not need to wear a jacket as you would with a shoulder holster. It can also hold a much larger gun than a Bodyguard .380. I use it with my Springfield XDm 9mm, which is a full size gun and it works well. It does sag a bit because of the weight, so the best gun might be something in between.
Accessing the gun quickly will require practice as well, since the gun will be underneath your shirt, but with a little training, this can be an effective deep cover carry option.
Thanks for stopping in and reading my review. If you have any comments, experience with this product, or other recommendations, please leave a comment below!