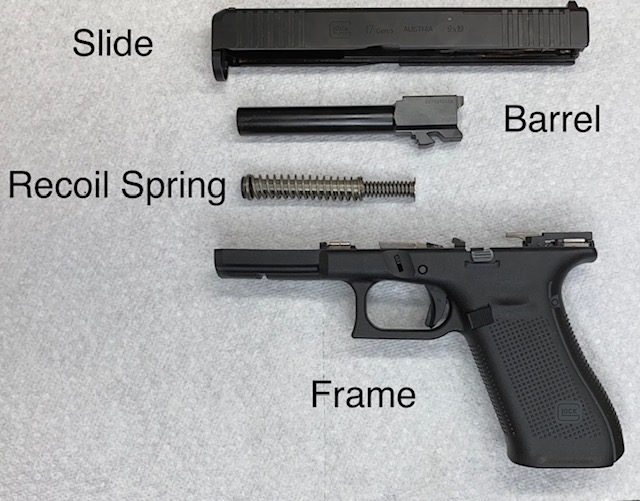 Glock 17 or Glock 19 Cleaning Instructions. Glock Field Strip (disassembly), Lubrication and Reassembly
I am going to show you step-by-step how to disassemble (field strip) and how to clean a Glock 17 9mm or Glock 19 9mm pistol. In fact, all Glock pistols come apart the same way, so these instructions will work on any Glock!
From the field stripping to complete reassembly, these Glock cleaning instructions will show you how to quickly and confidently perform this task in 15-20 minutes.
If you have never tried to take down (field strip) your Glock 17 or Glock 19, you will soon see how easy it is to accomplish without even using any tools. The design is excellent so anyone can easily maintain their firearm.
Related Glock Articles:
How to Install a Glock Backstrap
Field Stripping the Glock 17 or Glock 19.
This is pretty straight forward as all Glock guns are very well-designed to come apart and clean easily. After doing this once, you will be able to do it even quicker the next time without instructions!
All Glock pistols disassemble the same way
These Glock disassembly instructions will work to field strip the Glock 17, G19, G26, G34, G43, G45 and G48 (all 9mm models).
You can also field strip the Glock 22, G23, G24, G27 and G35 (All .40 caliber models).
As well, you can field strip Glock 21, G30, G36 and G41 (.45 caliber models).
There are many different models of the Glock pistol. The differences are in the physical size, caliber, features, etc.
Despite these differences, all Glock pistols disassemble (field strip) the same way as shown in this article.
Different gun manufacturers have different ways to field strip their handguns, especially when it comes to removing the slide, and you should always find a tutorial before attempting to remove the slide from an unfamiliar gun for the first time.
*Affiliate links. kydexowbholsters.com may receive a small commission at no cost to you if you use these links. We greatly appreciate you and your support!!
Note of Caution When Pressing the Trigger
All Glocks do require the trigger to be pressed during disassembly, which has resulted in negligent or unintentional discharges in the past. If you properly unload your gun and double check it before attempting to disassemble and/or clean it, you will not have any issues.
However, pressing the trigger at any time other than when you are on the range, sighted in, is a violation of the second rule of firearm safety. The rule is, "Never put your finger on the trigger until the gun is sighted in on a target and you are ready to shoot."
If you have never tried to take down (field strip) a semiautomatic gun, rest easy as it is not hard or complicated. At least not the Glock 17 or Glock 19 or any other Glock model.
How to clean a Glock 17: Cleaning Supplies
Here are the supplies you will need to complete the disassembly and cleaning of most semi-automatic pistols. There are lots of different cleaning products, so I will list the ones I have used for years of trouble free results.
These are affiliate links so kydexowbholsters.com will receive a small commission at no cost to you if you shop through them. It is greatly appreciated!
See this article on setting up a DIY Gun Cleaning Station.
THE ONLY CLEANER & LUBE YOU NEED
FOR ALL YOUR GUNS
Save 10% + FREE Shipping with Promo Code: "SAVEWITHDAVE"
I use Original Gun Oil on all my firearms. This product is a C.L.P. (Cleaner, Lube & Protectant) that is Non-Toxic, Non-Staining and Non-Scented, making it safe to use in the house! Veteran-Owned business.
How to clean a Glock 17: Field Stripping (disassembling) the pistol
I am going to list the steps, then show detailed pictures of each step so you can follow along.
Step 1. Unload the gun
This is the most important step. Eject any magazine that is in the gun by pressing the magazine release button, and then remove the round in the chamber. Be sure to do it in that order! Magazine first, then empty the chamber! Remove any and all ammo from the area.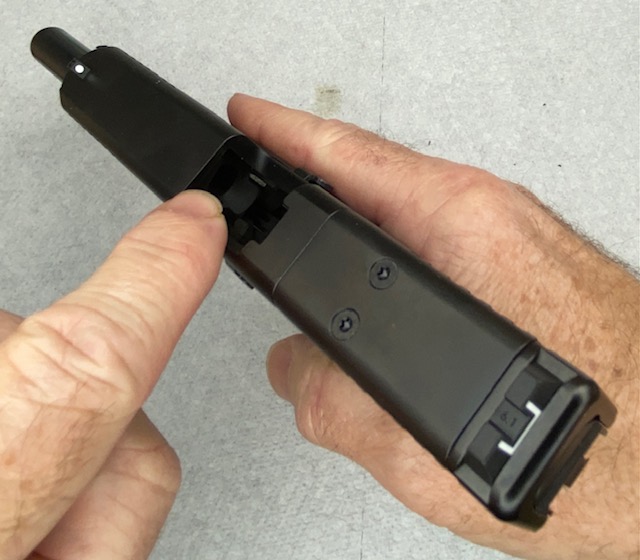 Step 2. Verify the gun is completely unloaded
This step is critical because we need to press the trigger in order to field strip a Glock pistol!!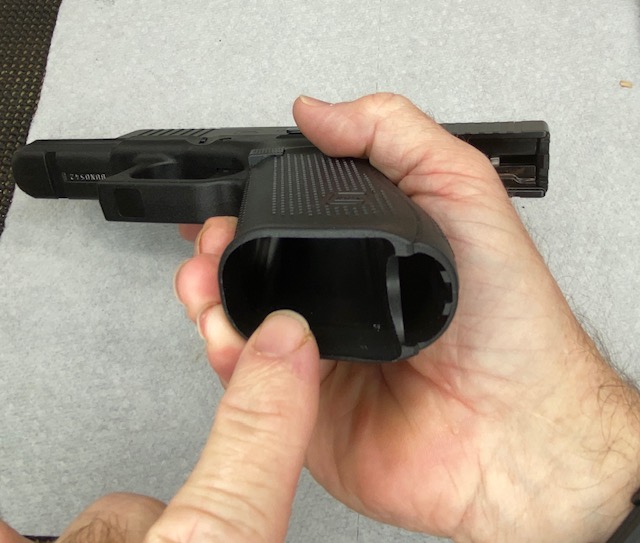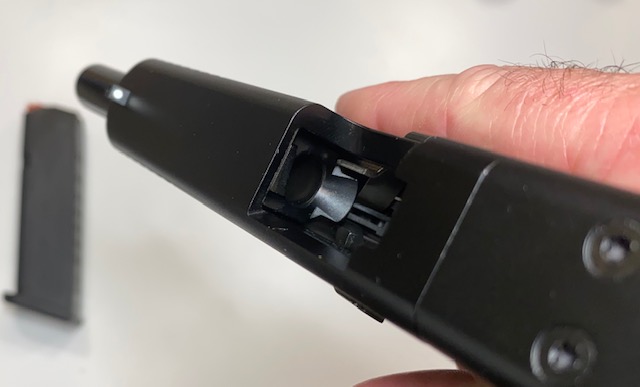 Step 3. Remove the slide, the barrel, the recoil spring/guide rod assembly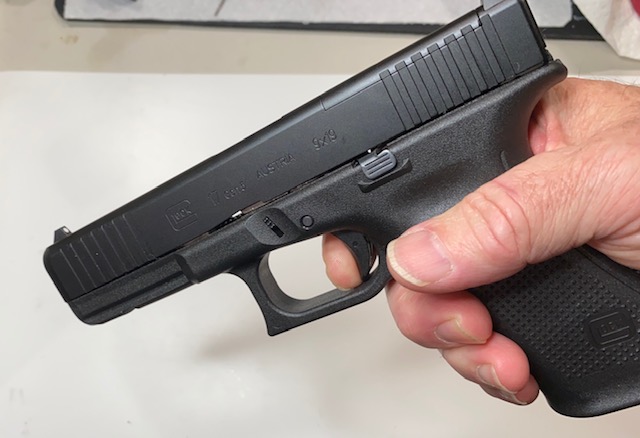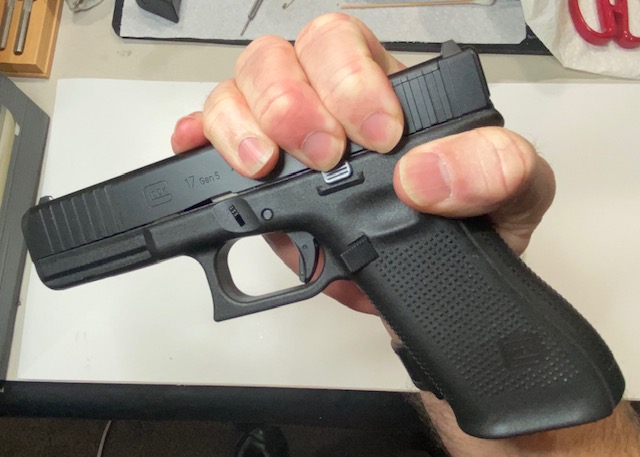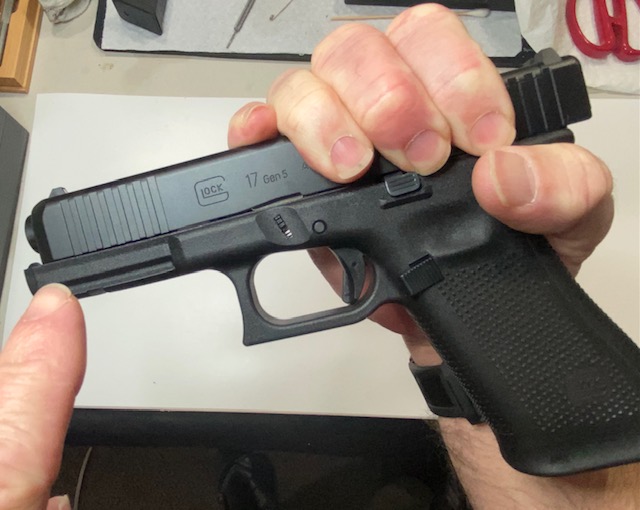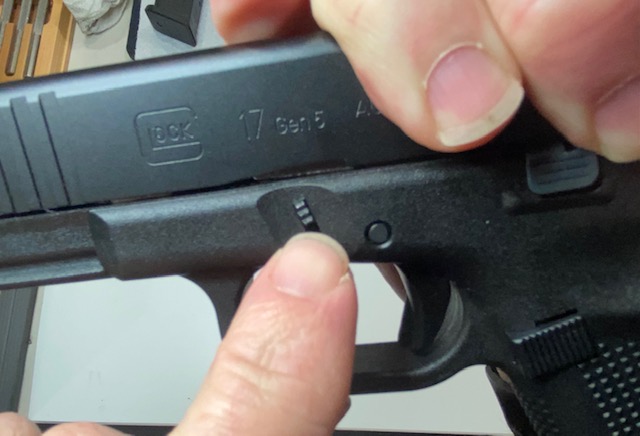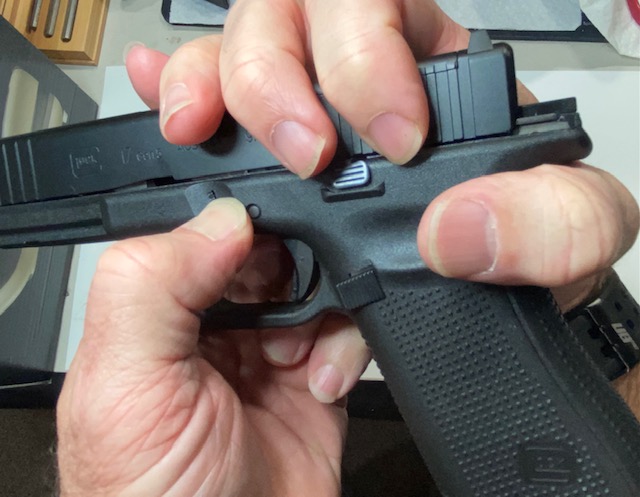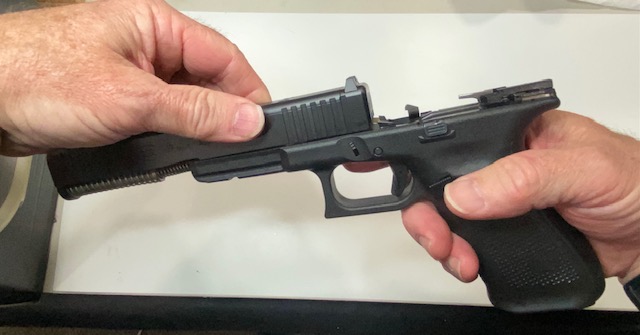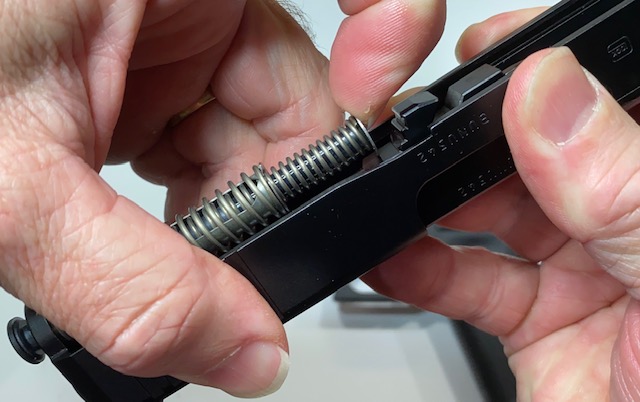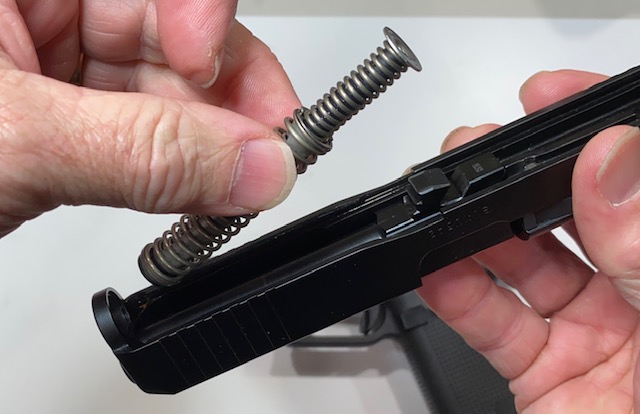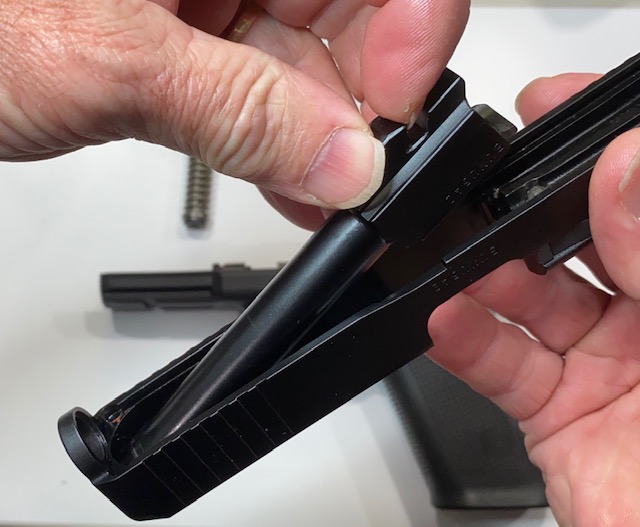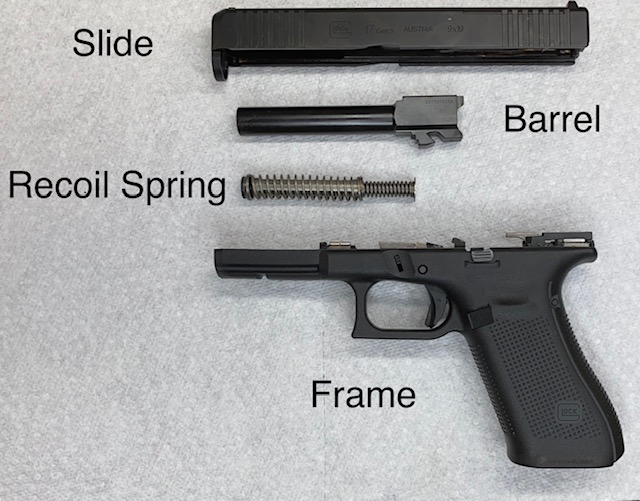 That's it for the field strip/disassembly procedure of the Glock 17 or Glock 19 9mm. This is as far as you need to go to give the gun a good cleaning, or to replace the recoil spring. Let's move on to the Glock cleaning instructions.
How to clean a Glock 17
I will start with the barrel. It does not matter which part you do first. Basically we are going to apply some gun cleaner to each part and let it sit for 5 minutes or so. Then we will clean it off with a cotton cloth. In this case I am using Original Gun Oil (my preferred CLP. This stuff is odor free, non-toxic and non-staining).
Here are the steps:
Step 1. Clean the Glock barrel and recoil spring assembly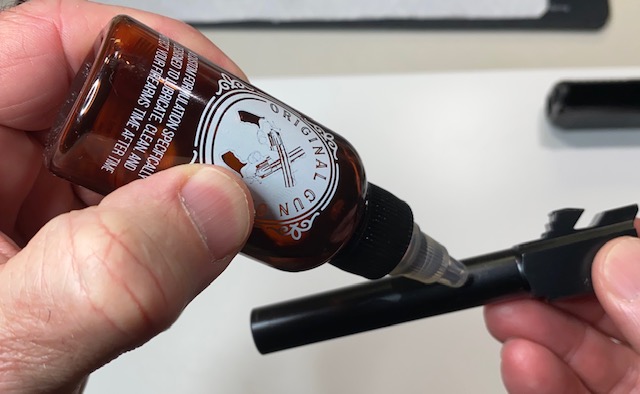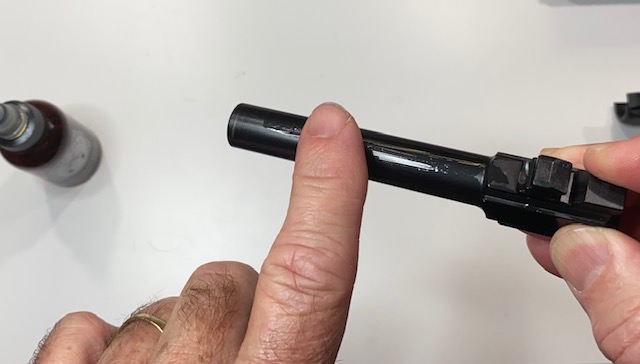 I am not using gloves because Original Gun Oil is non-toxic. If you are using any other solvent, please use rubber or nitrile gloves!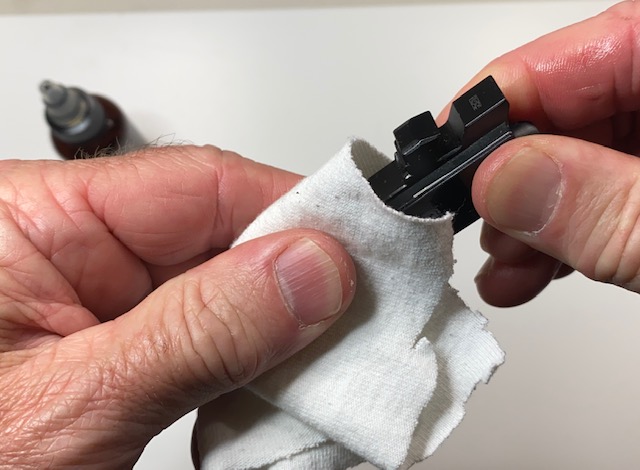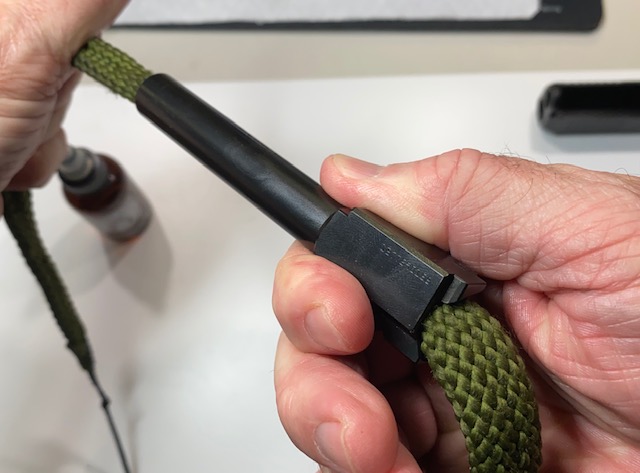 The Boresnake has copper brushes integrated into the weave so it will do a good job cleaning any lead or carbon deposits from the inside of the barrel.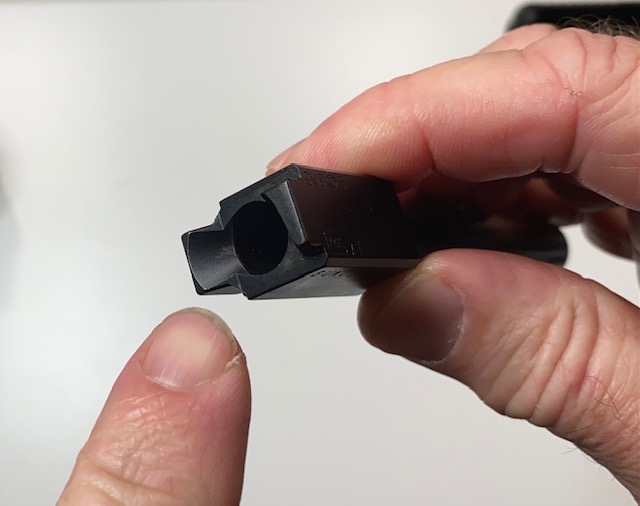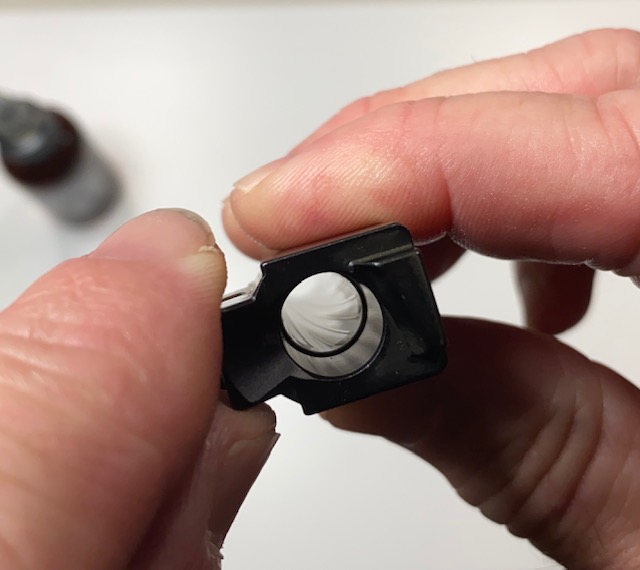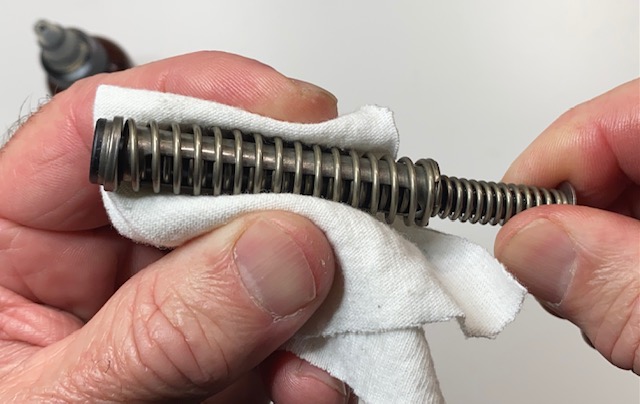 Step 2. Clean the Glock Frame
We will now move on to clean the frame of the gun. Apply some cleaner to all the metal parts inside the frame. Use a cloth or brush to spread it around so all the dirty areas are coated with the cleaner.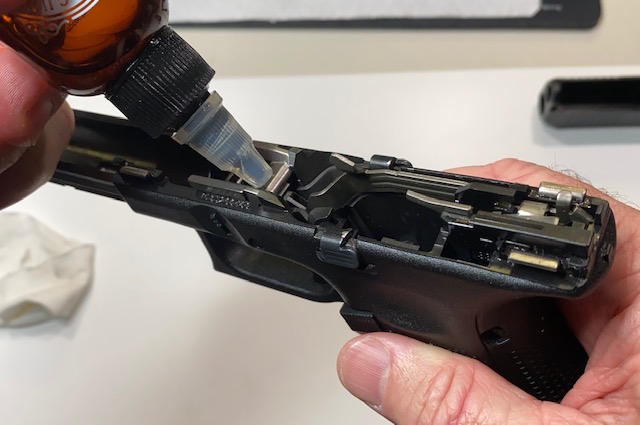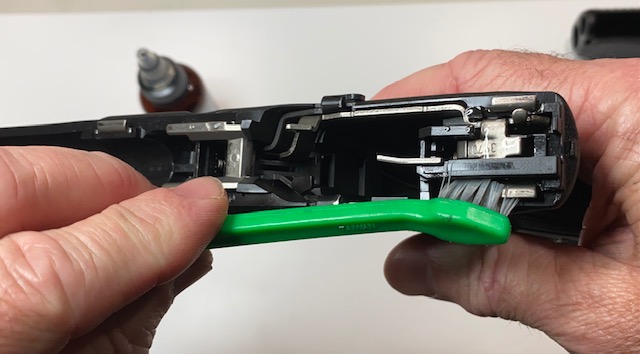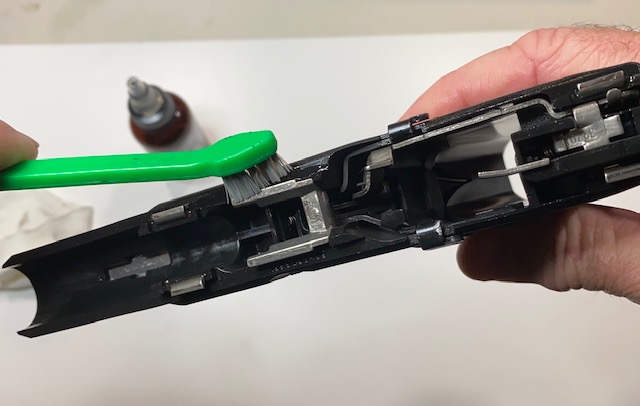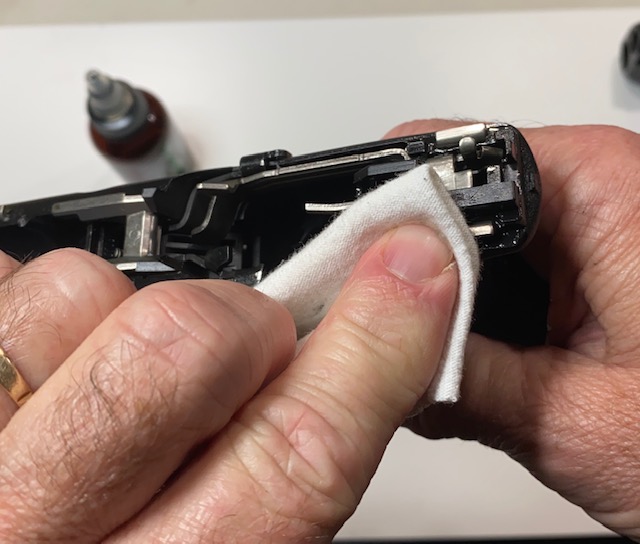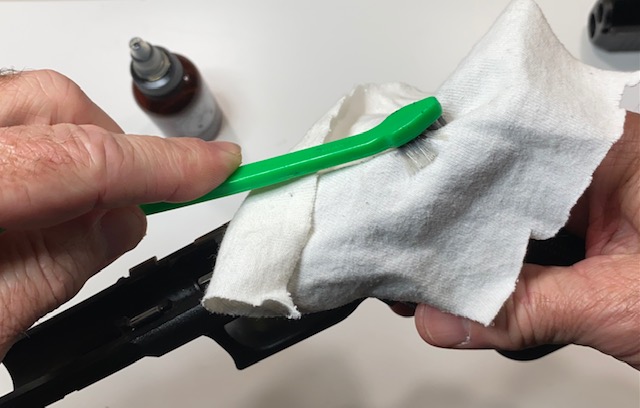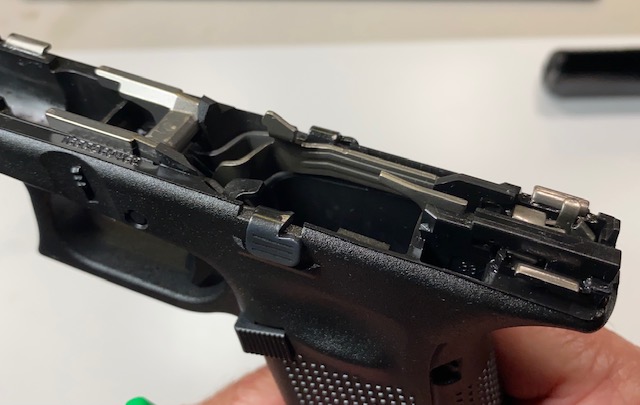 Step 3. Clean the Glock Slide
The slide is where most of the action happens so we want to spend some time cleaning this part.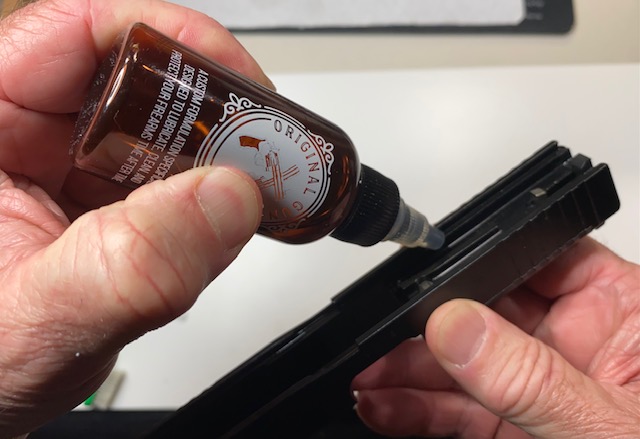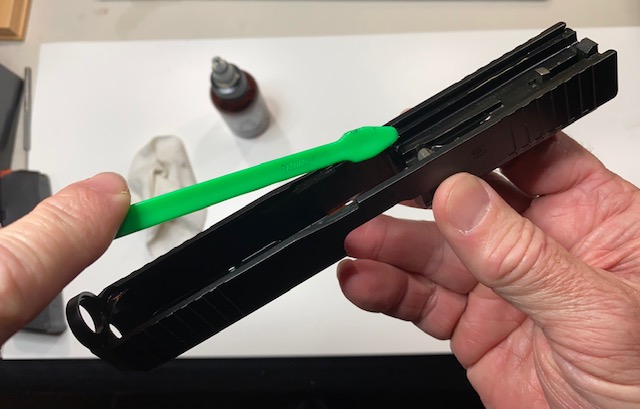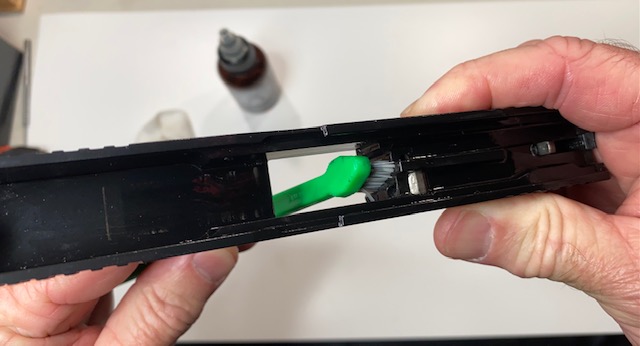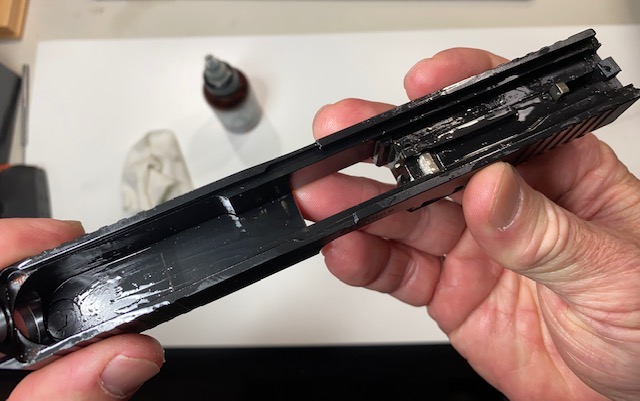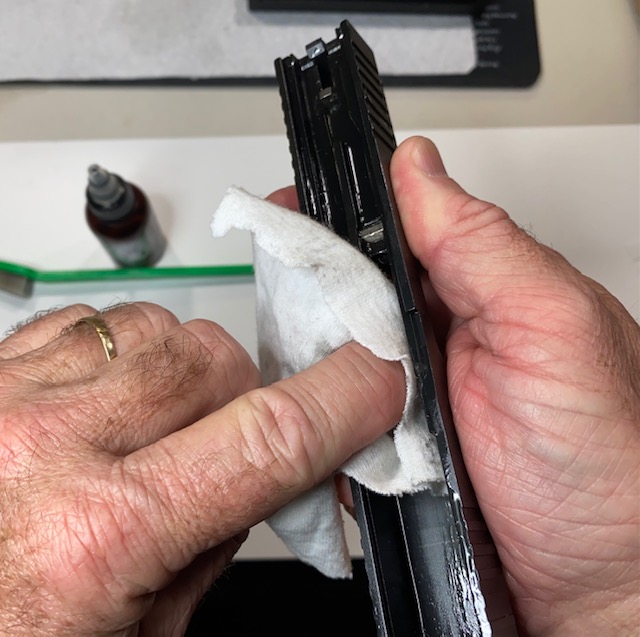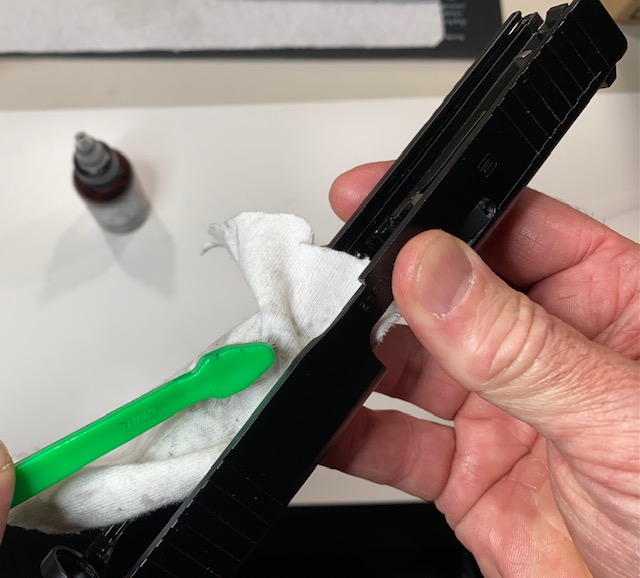 Since we are using a CLP product (Cleaner, Lubricant and Protectant) is is not necessary to remove 100% of the oil from every little nook and cranny. This is because any residue left over will also lubricate and protect the gun from rust and corrosion.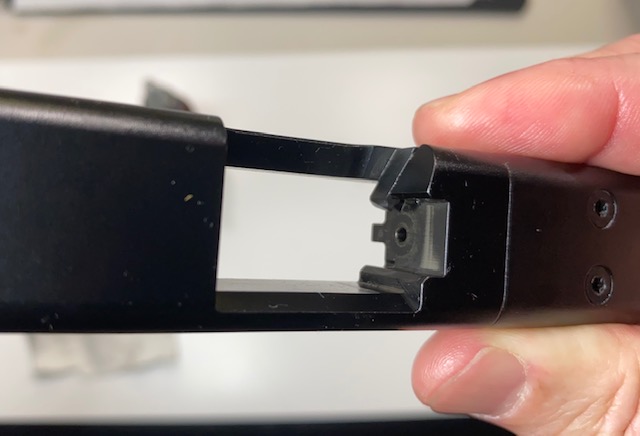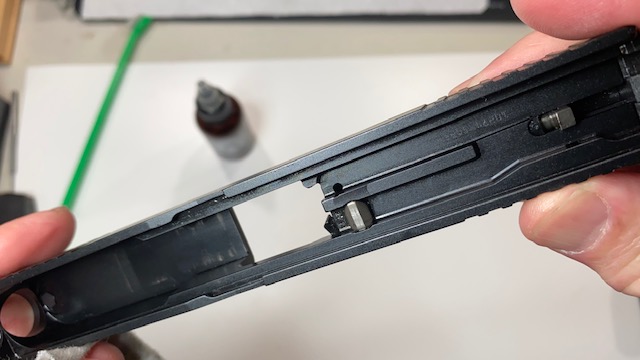 Step 4. Lubricate the Glock 17 or Glock 19 9mm Pistol
Once all the parts are clean, we need to lubricate the moving parts as shown with Original Gun Oil or other quality gun lubricant. The steps below follow the Glock user manual lubrication procedures.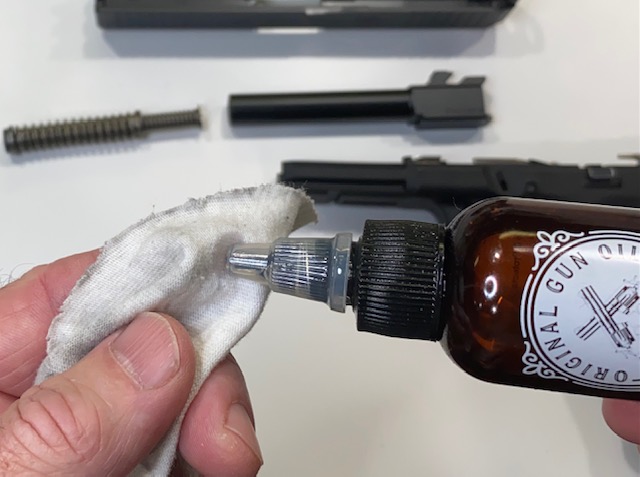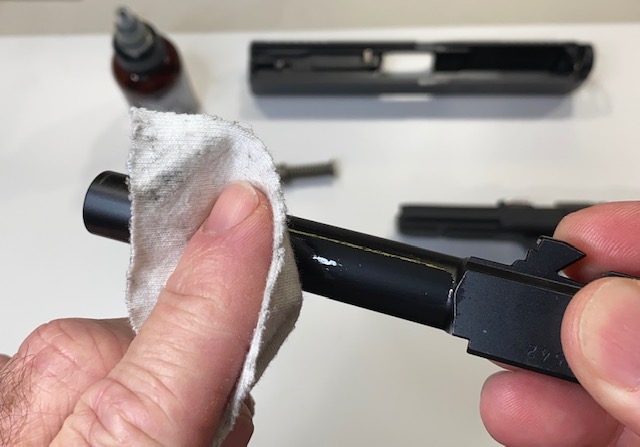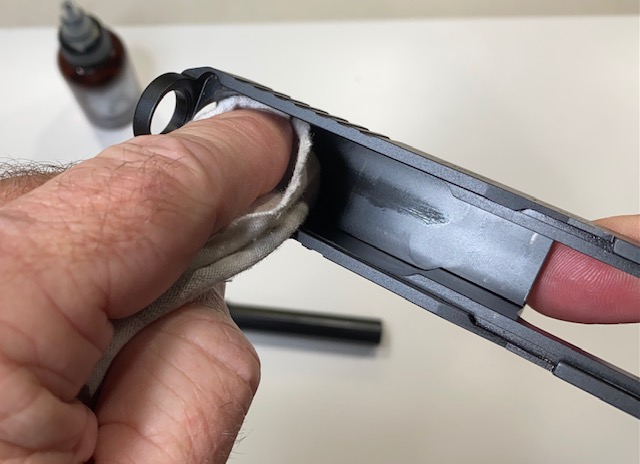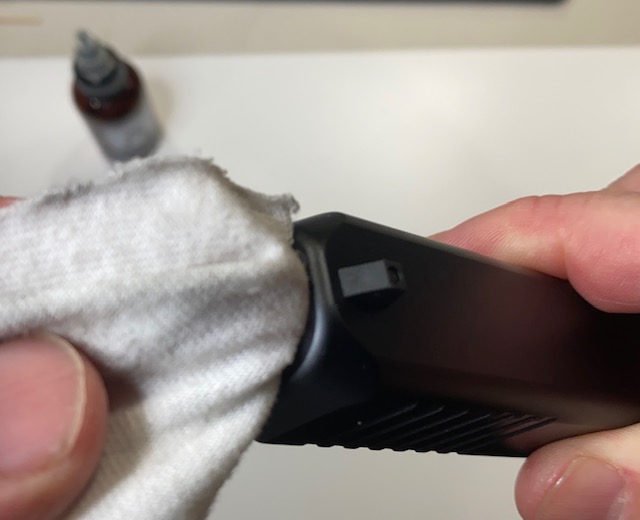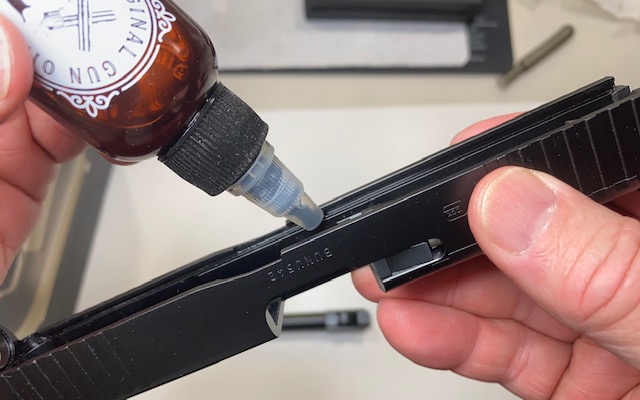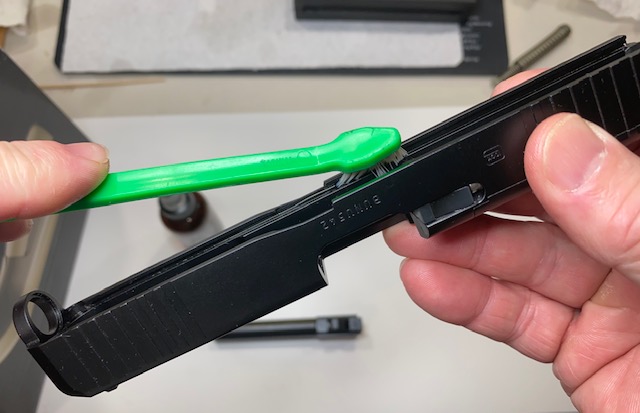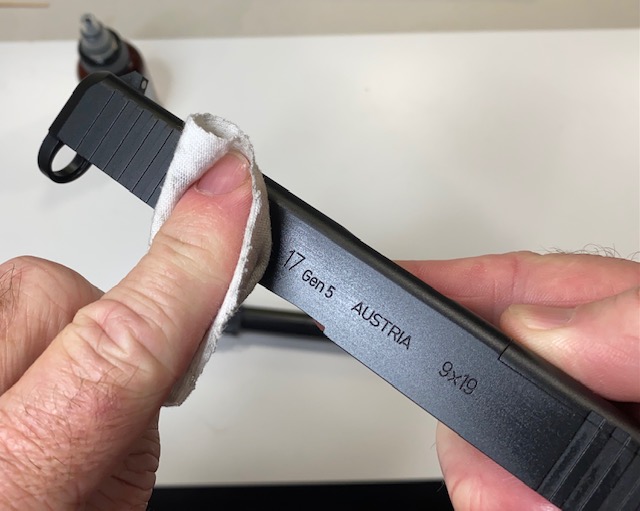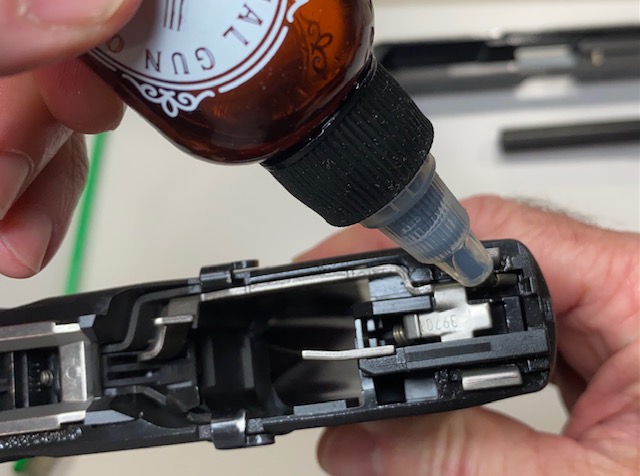 User Level Inspection
At this point you should perform a User Level inspection of the gun before you reassemble. I will have an article for that in the next week or so. In the meantime there is a video below that contains these checks.
Reassembly of the Glock 17, Glock 19 9mm Pistol
This part is very simple with the Glock pistols. Probably the easies of all guns I have reassembled.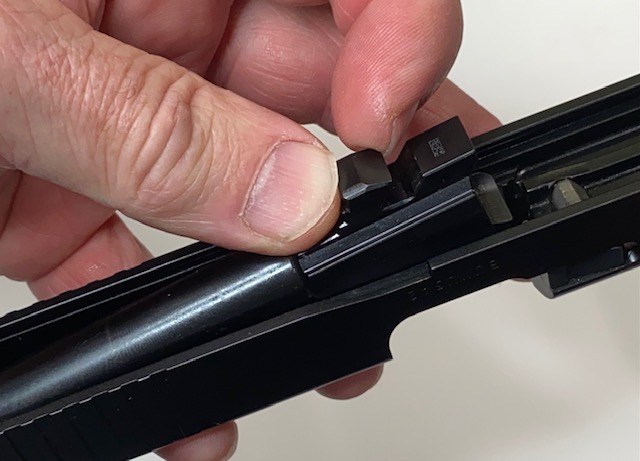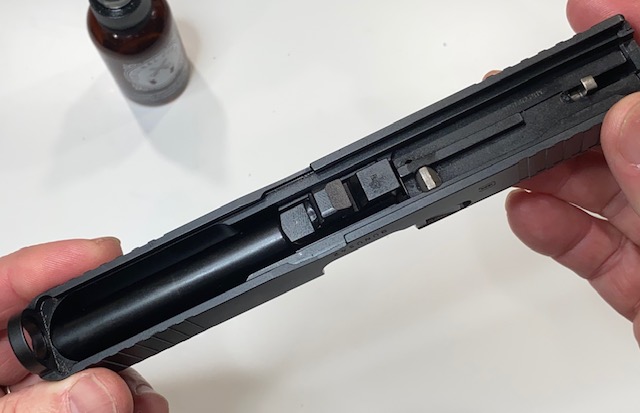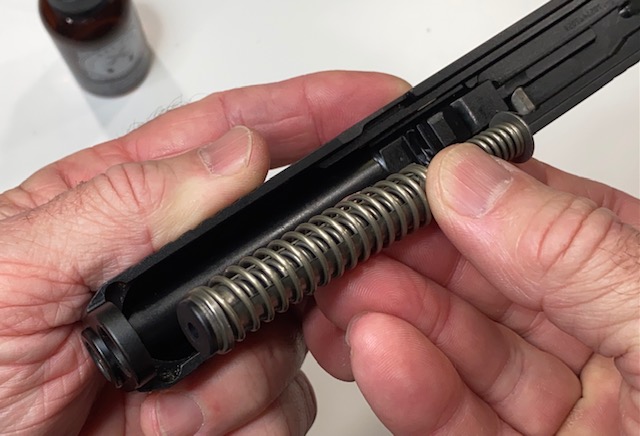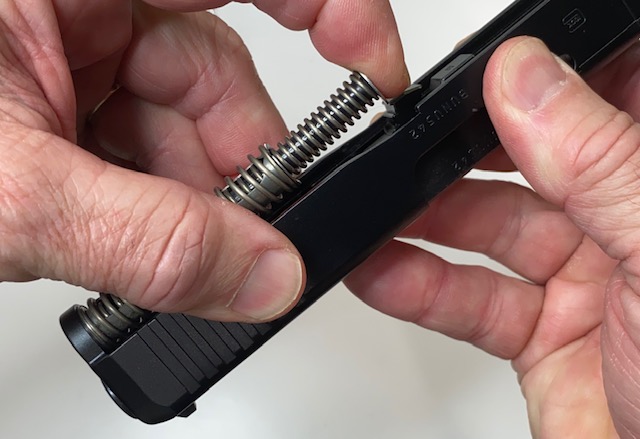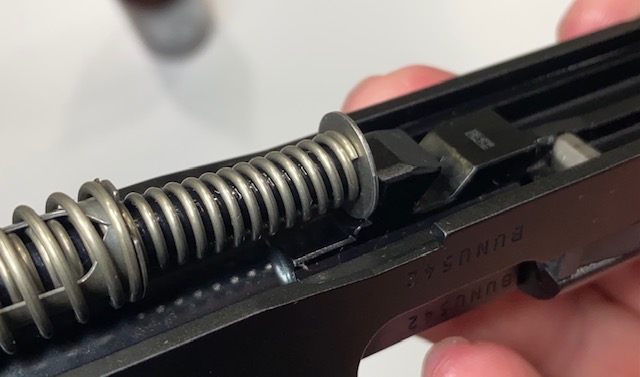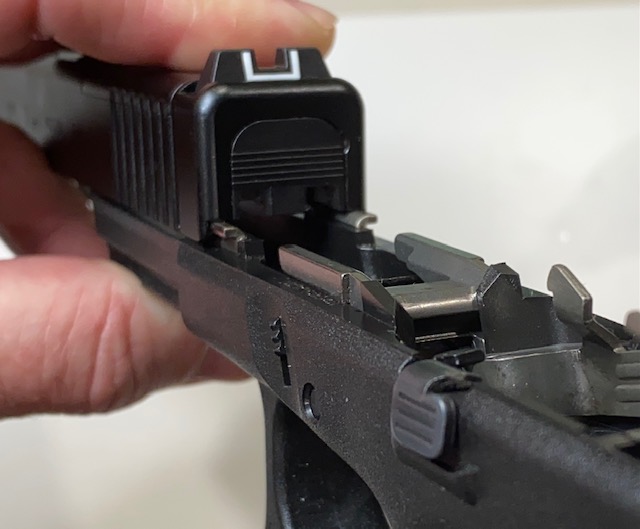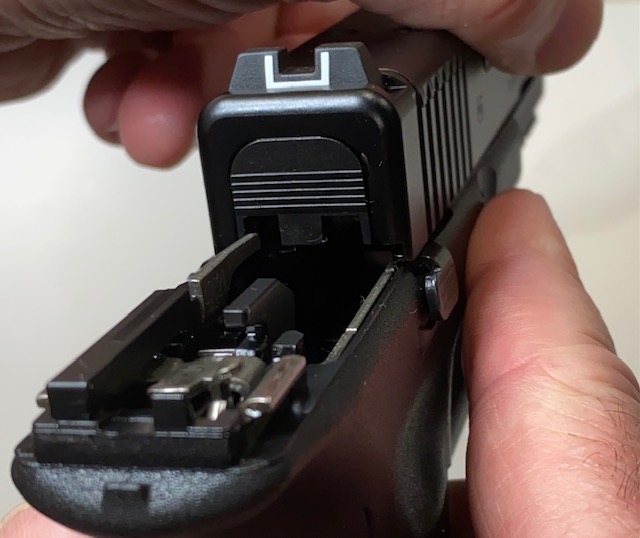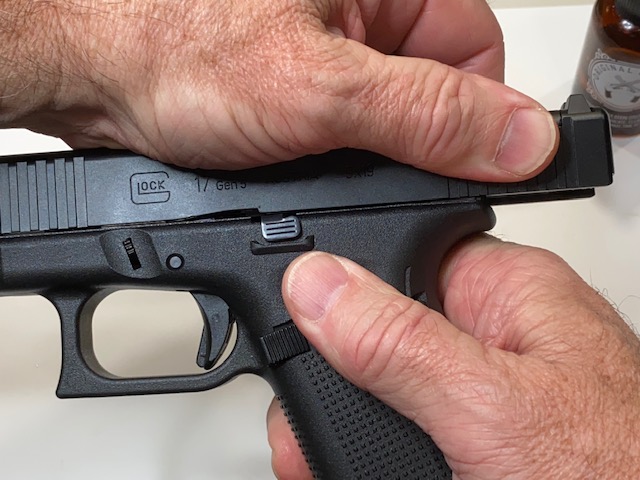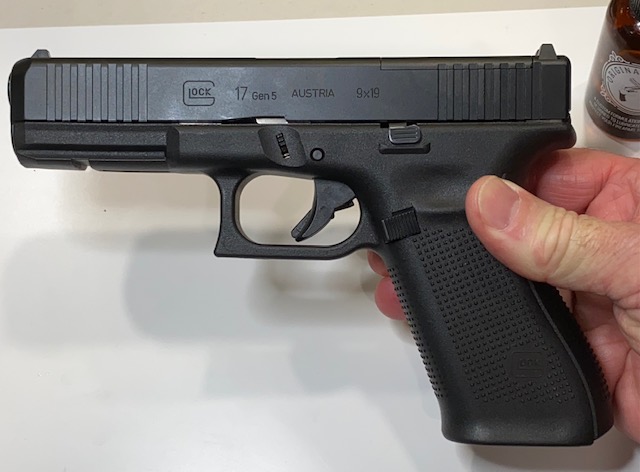 Final Steps to complete the reassembly of the Glock 17, Glock 19 or any other Glock pistol.
Work the slide back and forth several times to be sure it operates properly, and to allow the lube to spread into all the areas that move.
Perform the Glock User Level inspection before you fire the gun. These checks are integrated into the video below.
Video: How to Field Strip, Clean, Lubricate and Reassemble a Glock 17 or Glock 19
Video: (Short Version) How to Clean a Glock 17:
Ok, you are all done! That was a lot of steps but they are easy and you will fly through next time!
Lastly, you should test the functionality of the gun by taking some dummy rounds and loading the gun with them. Now make sure a round is ejected every time to rack the slide to the rear.
The gun is now fully assembled and ready for another day at the range!
Thanks for letting me walk you through the field strip, cleaning, lubrication and reassembly of your Glock 17 or Glock 19 (or any other Glock) pistol. Keeping your Glock clean and ready for use is an important part of gun ownership.
See article: How to Disassemble & Clean an AR-15 rifle
If you have any suggestions, recommendations or other comments, please leave it in the comment section below and I will usually reply within 24 hours.