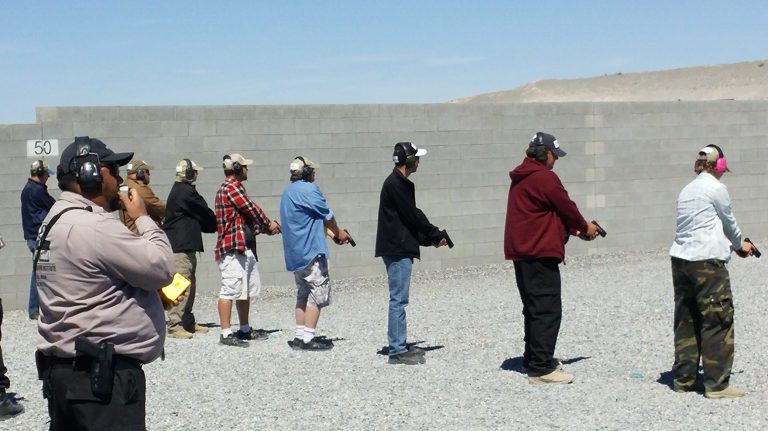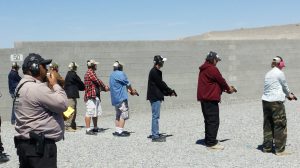 Four Day Defensive Handgun Training: What gear to bring to Front Sight Classes
This article will help you prepare by having the right gear to take to the 4-Day Defensive Handgun Class at Front Sight Firearms Training Institute in Pahrump, Nevada.
If you are just a beginner or are looking for tactical handgun training schools, Front Sight Nevada is the place for you. Read this post and you will know what to bring to Front Sight firearms training class.
See my in-depth Front Sight Firearms Training Institute Review.
You will become a confident, safe and knowledgeable handgu owner who will have the skills to defend yourself and your family should the need arise.
I have taken the Front Sight 4-Day Defensive Handgun 7 times starting in 2011 and have accomplished the Distinguished Graduate in handgun twice. I have also taken the Practical Rifle, Tactical Handgun and Advanced Tactical Handgun Courses.
See my article: Front Sight Firearms Training Institute: Planning Your Trip for info on travelling, where to stay, and what to bring.
This post will focus on the gear you will need, and I am going to be writing additional posts on various related topics as there is a lot to know and I want to give you the most information possible. Throughout the posts, I have added several tips that I have gained from my experiences, indicated this way: **TIP:
Gear you will need bring to Front Sight Firearms Training
There are a few things you will need to take (or rent at Front Sight Nevada) with you. I will explain each one in detail below. I have provided links to the gear that I personally use, but there are plenty of choices out there!
Front Sight 4- Day Defensive Handgun Course Gear Checklist PDF
FRONT SIGHT 4-DAY DEFENSIVE HANDGUN GEAR CHECKLIST
Gun
Spare gun (optional)
Holster (See the most recommended OWB Blade-Tech holster)
Magazine holster
Holster Belt
Ammo
Extra magazines
Electronic Ear protection (required)
Eye protection (required)
Baseball type hat (required)
Concealment Garment (optional but HIGHLY recommended)
Range Bag
Flashlight (only needed if you are attending a class with a night shoot) Best Tactical LED Flashlight Review
Comfortable clothing appropriate for the weather. Tactical pants recommended. See my Tactical pants review.
Some great places to get tactical shooting gear are:
Gun & Accessories
You should bring a medium to full sized handgun, preferably the one you plan to carry with you if you are planning to carry concealed in your everyday life.
If you are flying to Front Sight, see my post on How to Fly with a Firearm for advice on how to legally bring along your guns and ammo on a plane.
Front Sight recommends a full size gun chambered in 9mm, 40 S&W, 10mm or 45 ACP such as:
Glock 22
Glock 17
Springfield XD
Smith & Wesson M & P
Any 1911
Beretta 92
Sig 220, 226,227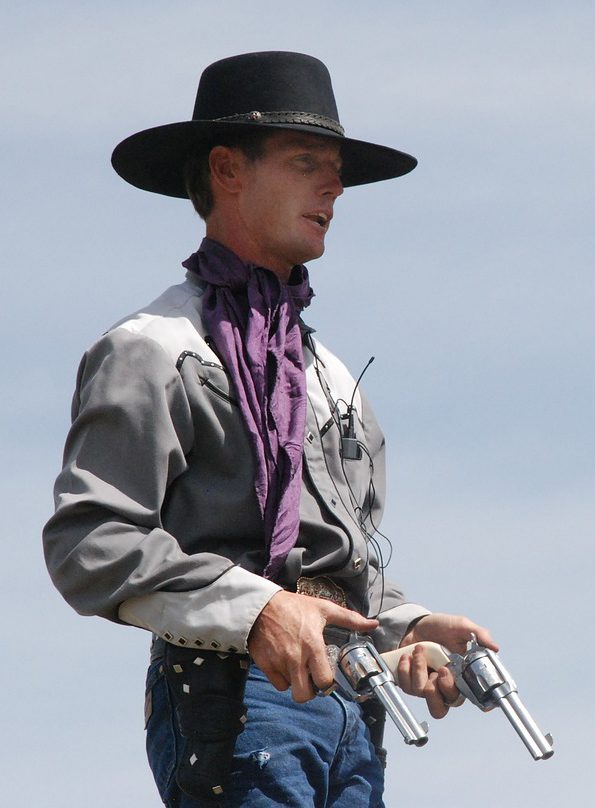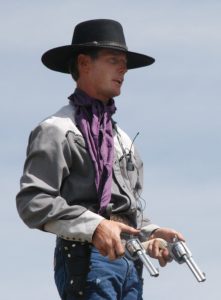 **TIP: Revolvers are also acceptable, although the skills taught are more geared towards semi-automatic pistols. If you are planning to carry a revolver, by all means bring it and the instructors will be sure to cover your weapon in their instruction. However, you will likely not do well on the Skills Test with a revolver, as it is geared toward semi-automatic guns and you just will not be able to keep up.
Do NOT bring these guns:
However, for training, you do not (and they will not allow) want to bring a "pocket pistol" or other small gun such as:
Kel-Tec P11, PF9 or P40
Kahr Micro (.380 or 9mm)
Ruger LC9
Smith & Wesson Bodyguard
Sig Sauer P238
Taurus Millennium or Slim 709
Walther PPS
Kimber Micro
These are fine weapons, but because of their small size are unsafe and hard to manipulate in a training setting. You can use your training at Front Sight to train yourself on these guns at home after the course if you wish.
Spare Gun
This is optional. It is recommended by Front Sight (and myself) in case you have a failure that needs a gunsmith to fix.
I have taken 2 handguns to Front Sight each time and I was glad that I did. The first time, I was able to help someone else that had an unfortunate gun failure on the first day. I volunteered to lend my Springfield 9mm XDm to a young lady who was there with her boyfriend and family and did not have a spare gun. She did quite well with it and I was pleased to be able to turn a bit of bad luck into a good experience for her.
On my third trip to Front Sight, I had an issue with my Kimber 1911 that caused a "failure to feed" every other magazine or so, but I had a spare Sig Sauer 1911 and just swapped them out and was back up and running.
On-site Armory
There is a gunsmith on site, but if you need to go there and wait for your gun to be repaired, you will miss out on valuable instruction time. I realize that most people, especially newer shooters, may only have one gun. If this is the case, you will be fine, a spare is likely not going to be needed, but if you are like me and want to be prepared for anything, a second gun is a plus.
**TIP: Based on my experiences, I recommend bringing a backup gun, preferably one that uses the same ammunition as your primary gun. You can always rent a gun if yours fails, but if they are out of rentals, or the rentals are not what you are used to (usually Glocks), then having your own spare gun is the best solution. Also, they now have an on-site armorer that can fix most issues quickly for pretty cheap. I have used their services twice and one time they did not even charge me, and the other was amazingly cheap to get me back on the range!
This Sportlock gun case can easily transport two full sized handguns. This is the one that I have and it works perfectly.
Holsters
You will actually need two holsters, one for your gun and one for your extras magazines.
**TIP: Don't forget to bring a holster that fits your spare gun!
For your gun, the recommended holster is a Blade Tech OWB (outside the waistband) holster or similar.
See the review of OWB Blade Tech Classic Holster.
New Product UPDATE: Blade Tech now has an awesome holster that is only $34.99 called the Blade Tech Signature OWB Holster that is just as good as the Classic but at a lower price!
This holster is designed to not only hold your weapon, but allow quick access as well as safe and easy re-holstering. There are many other brands of holster that will work, but Blade Tech is the type of holster you want for best results.
The design of the holster MUST cover the trigger guard when the gun is holstered.
Holsters NOT to bring
You do not want to bring a Serpa type holster, or any holster that has a mechanical device to retain, or hold a gun in place. These have been shown to be dangerous in certain situations and Front Sight will not allow them to be used. So if you did like I did, and buy a brand new Serpa holster, hopefully you can still return it or even better hopefully you are reading this before you purchase a holster. Thigh holsters are also not allowed.
Also, Front Sight does NOT recommend holsters made by Fobus. For the most part, these will work ok, but they tend to have fit and retention issues.
**TIP: Having said all that, I have seen people there with all types of holsters. The instructors will help you regardless of the equipment you bring as long as it works. If you do bring a Serpa, I have seen instructors make a temporary modification that will allow you to use it. Basically, they wedge something into the mechanism to keep it open all the time.

I have seen people using concealed carry  IWB (inside-the-waistband) holsters (such as Crossbreed Supertuck. See my review here) and they were making out just fine. The technique is slightly different, but if you are going to be carrying with this holster, you may as well train with it.
Magazine Holster
In addition to a holster for the gun, you also want to have a holster that holds your extra magazines, preferably two or more.
See Amazon Double Magazine holsters here. 
You will be learning how to perform emergency reloads, tactical reloads, and malfunction clearing for which you will need spare magazines. You will also be doing a lot of shooting, and you will want to have plenty of extra ammo at your fingertips.
**TIP: If you will be shooting a 1911 (as I did), or other weapon with a single stack magazine (only holds 6-8 rounds), you will want to have more than 2 spare magazines on your belt. You can do it with only 2, but you will be spending all your time jacking rounds into your magazines and missing some of the instruction. To get the most from the training, have at least 4 spare magazines on your belt.
Holster Belt
It is important to have a belt that is designed to carry a holster. A standard leather belt will work, but it will work poorly. You need a stiff belt that will not sag or twist under the stress and weight of a holstered gun. Take my word for this, you will not be happy if you don't have the right belt. I have seen plenty of people that did not have the appropriate belt and ended up constantly pulling up their pants and fussing with their gear the entire class.
See Amazon Gun Belt selection here.
I recommend a 5.11 Trainer Belt. My personal belt is the  5.11 Operator Belt. These are the same belt but the trainer is 1.5 inches wide and the Operator is 1.75 inches wide. Be sure your holster and pant loops can accommodate the wider belt if you go with that one.
Ammunition (see 2022 update below)
You can bring your own ammunition or you can buy it right on the range.
Front Sight has a great "Ammo Bunker" right on the property that carries all common ammunition. They generally have plenty of stock (unless a Democrat just won the White House) and actually have very competitive prices. Not as good as Walmart, but not much more when I was there.
**2022 Update: Walmart does not sell pistol ammunition anymore!!
You will need to get all your ammunition at Front Sight or local gun stores in Nevada unless you can bring it with you. There are plenty of stores in the area, however, check their hours. I was not able to get to the gun shops due to the fact that they close before class is done at Front Sight for the day and were unable to get there when they were open.
Which brings me to Walmart. There are at least 4 Walmart locations in Las Vegas and except for the year Obama was elected, they have plenty of ammo in stock. If you fly to Front Sight, you will be landing at McCarran International Airport in Las Vegas, so you can stop at Walmart before you head to Pahrump, where Front Sight is located.
**TIP: If you are driving to Front Sight, you can bring all your own ammo, but if you are flying as I did, you are limited by the Airline as to how much ammunition you can carry. Most airlines limit you to 11 lbs of ammunition in your checked luggage. I packed 11 lbs and bought the rest at Walmart in Vegas.
Update: When I went to Front Sight in 2018, I decided not to bother bringing any ammo and just pre-ordered all of it from the Front Sight Ammo Bunker. This made my trip so much easier! My suitcase was lighter and I did not have to bother running to Walmart to stock up, it was all waiting for me at the range. Prices are pretty good if you have a membership that gives ammo discounts. If you don't have one of these memberships, email me dave@kydexowbholsters.com.
Extra Magazines
Depending on the magazine capacity of the gun you are going to use at Front Sight, you will want to bring at least 2 extra magazines with you. If you are using a gun that uses single stack magazines with a capacity of 7-10 rounds (such as a 1911) you will want to bring 4 or more extra magazines.
**TIP: Amazon does NOT carry magazines unless you shoot Airsoft!
You can go to Brownells.com for magazines for any firearm you may have.
The reason for the extra magazines? Most of the drills will require a fresh magazine to be immediately available.
For example, you will be practicing drills such as the "Emergency Reload". This drill will simulate running out of ammo during a gunfight and performing a reload of a full magazine that is carried in a holster on the "support side" (side of your body opposite the "firing side". If you shoot with your right hand, that is your "firing side") of your belt.
Also, when you are on the firing line shooting, you will want at least one other magazine that is full of rounds so you can reload and keep shooting.
Personal Protection Gear
The following gear is required to take the 4-Day Defensive Handgun Course. These items will help keep you safe and comfortable in order to have an enjoyable experience at Front Sight.
Ear Protection
Electronic ear protection is required at Front Sight. This is to ensure safety. Electronic ear protection allows you to hear the instructors directions but still protect your ears from loud noises. Standard ear protection or phone ear inserts will not allow you to clearly hear the commands on the firing line which can lead to safety issues.
Here is a common model that is great quality at a reasonable price. Howard Leight Impact Sport Electronic Ear Protection. As of today, these are under $55. I have 2 pairs of these and they are great quality and quite durable.
**TIP: You can rent hearing protection at Front sight for your class if you do not have electronic ear muffs. However, if you do a reasonable amount of shooting and have never tried electronic ear protection, I highly recommend you try these. You will not regret it because you can have these on and enjoy normal conversations and hear what is going on around you at all times, yet they will muffle a gunshot to protect your ears. Quite amazing if you think about it!
Eye Protection
You will need some sort of eye protection at Front Sight. This is NOT to protect your eyes from bullets! It is to protect your eyes from hot, flying brass. Bring some wrap around sunglasses or other eye protection designed for sports or shooting.
I have an awesome pair of Wiley-X Air Rage prescription sunglasses that have an additional goggle-like insert that also protects my eyes from sand and dirt when it blows around in the Nevada desert.
You will be standing next to people that are shooting semi-automatic weapons and spent brass is going to be flying and hitting you a LOT. It will usually hit you in the side of the head or shoulder, but it can easily hit you in the face or eye. Do not worry, it is not travelling very fast, but it is very HOT for a few seconds and can burn skin and eyeballs. If you are wearing proper gear, you will hardly notice you are getting pummelled!
Baseball Type Hat
The reason for this requirement is simple. The bill of the hat will keep all that flying brass from landing between your sun glasses and your eyeball and skin. I have had this happen when I was at my home range and was NOT wearing a hat. The brass burned a perfect circle in my skin just under my eye. I was fortunate that it did not touch and burn my eyeball.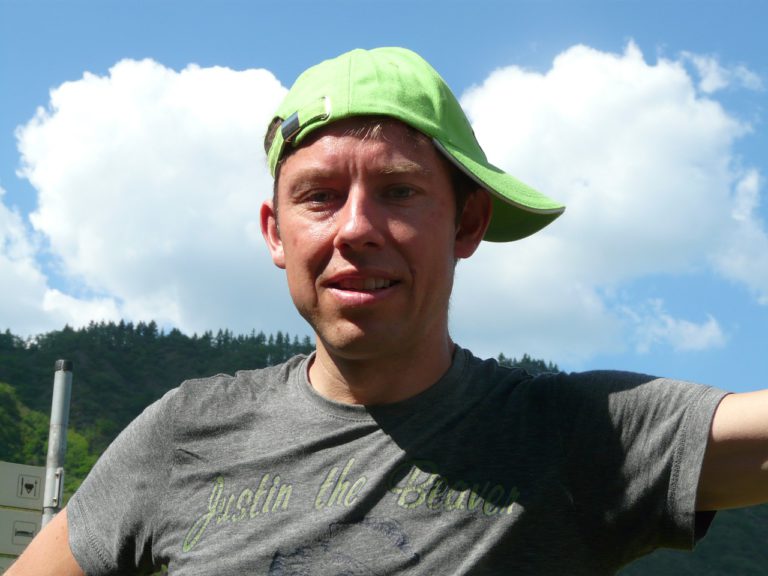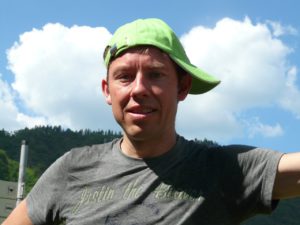 The hat will also help with the desert sun and glare.
Concealment Garment
Part of your training will be to learn how to conceal your weapon and efficiently draw from concealment. If you are going to carry concealed, this is a key skill to learn. You should bring a loose fitting garment that will cover your gun and holster. I personally use a Blue Stone concealment vest for the class, but there are less expensive vests and a lot of people simply use a long button-down shirt for this purpose.
The best thing to use would be the type of clothing you will be wearing out on the street when you are carrying concealed so you can get the most realistic practice.
Flashlight (only needed for classes with a night shoot)
Any decent flashlight will work, but I recommend a small tactical flashlight that easily fits in a pocket. There are lots out there, I personally use a Streamlight ProTac 1L. It is an extremely small but powerful flashlight I carry every day. It uses a CR123 lithium battery and is rated at 275 lumens, which is excellent output for such a small flashlight.
Clothing
Here are my thoughts and recommendations on clothing for the 4-Day Defensive Handgun Course.
You will be in the desert all day for 4 days. Your comfort will determine how much you enjoy you time at Front Sight. I highly recommend you check the forecast before you go, and take the appropriate clothes. Most of the year, it will be either warm or hot during daylight hours. It does get surprisingly cold at night all year around, so be sure you have a light jacket for the evening and night shoot if applicable.
You can see the average temperatures throughout the year here.
The heat in Nevada is dry, so you will not really sweat a lot and it is not as bad as the same heat in the Northeast, but be sure to drink a lot, all day long. Front Sight supplies water so you need not bring a case of bottled water like I did the first time!
Pants
I highly recommend tactical pants. I suggest the 5.11 Taclite Pro. I own many pairs of these pants and they are reasonably priced, extremely durable, and the pockets are set up for this type of training. I wear these pants every day of my life and they enable me to carry all the items I like to have with me. You will need plenty of loose pockets for extra ammo, and you need pockets that are accessible with one hand for several of the drills. If you are wearing jeans or pants with tight pockets, you will struggle with certain parts of the training. Trust me, this is no place for tight fitting clothes!
I do NOT recommend shorts, (remember the flying hot brass) but plenty of people wear them with no issues. There are lots of high quality lightweight tactical pants that are comfortable in hot weather. I wore lightweight tactical long pants every time I took a class (except the first time when I wore jeans) and was quite comfortable.
Shirts
Any type of comfortable shirt will work. I usually wear a Dri-Fit type shirt that helps whisk away moisture, but a cotton T-shirt or long sleeved shirt will work as well. I do recommend taking a long sleeved shirt and a short sleeved shirt to the range each day. This is because it can be quite cool and breezy in the mornings but get much warmer later in the day.
Shoes
You spend most of your day at the range on gravel shooting ranges. Most any shoe will be ok, and I have seen students wearing boots, hiking boots, sneakers and other casual shoes. Personally I prefer boots or hiking boots such as Merrell Moab Hiking Shoes or similar. This is because they provide greater stability, support and comfort than most sneakers.
Some additional items I recommend
Here are some items that are optional, but recommended by yours truly:
Sun Screen
It's the desert, you need this. I recommend a spray as it is quick and easy to apply,  and you do not want to get a greasy lotion on your hands and then try to shoot! There is usually some sun screen lotion available on the range if you forget this item.
Shooting gloves.
If you are not used to shooting hundreds of round per day for 4 days, you may develop blisters. A shooting glove will help immensely with this issue.

Gun cleaning supplies.
A Boresnake and some gun oil to clean up your weapon at the hotel. See Gun cleaning Supplies.
Gun tools.
Be sure not to forget any tools you need to disassemble or adjust your particular firearm.
Video: Front Sight 4-Day defensive Handgun Course: Gear to Bring
Conclusion
I hope you now have a good idea of the gear you will need for a successful and fun trip to Front Sight Firearms Training Institute. Please feel free to use the comment section below to ask questions or weigh in if you have some other advice to add! I will respond promptly.