A review of the pants I wear everyday. Tru-spec 24/7 Lightweight Tactical Pants
What are Tactical pants?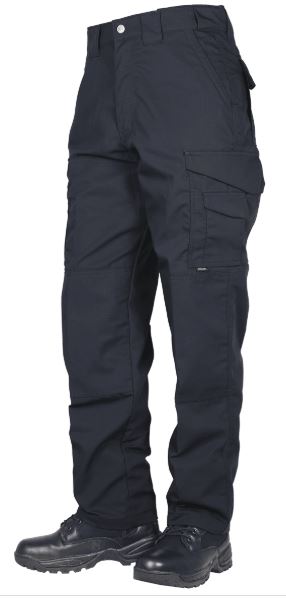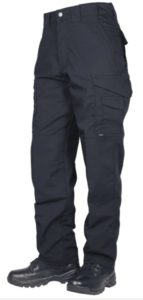 Tactical pants were made with police, EMS, SWAT and other law enforcement personnel in mind. However, tactical pants have become widely used by anyone who wants a quality durable pair of pants that can provide functionality when it comes to what you can comfortably carry in the organized pockets.
Outdoorsmen and shooters are commonly seen wearing various brands of tactical pants. Every time I attend a firearms training course, I would say that 75% of the attendees are wearing them, including women!
The most common brands I see are 5.11 Pro TacLite and Tru spec 24/7 pants. I own many pairs of both or these and highly recommend them.
Tactical pants are similar to cargo pants in that they typically have pockets on the upper thigh, but they are much more robust and refined. Tactical pants look nicer, are built with a specific purpose and tend to be much more durable than your run-of-the-mill cargo pants.
They will often have pockets that have specific purposes such as a cell phone, pen or knife pocket, and some have elastic webbing within the larger pockets to securely hold pistol magazines.
I have tactical pants that look nice enough to wear in a business casual setting and I do not have to offload the things I like to carry.
Why wear Tactical pants?
Useful. Carry all the items you want to have with you every day.
Training. Designed with firearms training in mind. Carry extra magazines and rounds.
Durable. Quality tactical pants will stand up to hard use, including kneeling, climbing, prone, etc.
What do Tactical Pants have that regular pants don't?
Wide belt loops. This allows the use of belts designed for supporting holsters and other gear.
Reinforced construction. These pants are expecting action! These and built for kneeling, rolling, running, climbing, etc.
Teflon Coating. This available on the Tru-Spec 24/7 Tactical Pants. I love this feature! This is a coating that repels dirt and fluids which does an amazing job keeping the pants clean.
Multiple Organized pockets. Pockets designed to hold flashlights, knives, magazines, first aid and other gear that you need to have on you.
Durability. The durability of these pants has been tested by many people including myself. I wore 5.11 Taclite Pro pants to two Front Sight Advanced Tactical Handgun courses. If you have never taken this course let me say that you better wear some durable clothes. A good portion of the course involves shooting while laying down (on gravel and dirt) and rolling around while shooting from all different angles. You will be shooting around and under vehicles, crawling behind cover, shooting from cover, shooting under cover, shooting on your back, shooting prone, shooting on your side and compromised positions, you get the idea. My pants came through completely unscathed and I wear them still.

What I Carry in My Tactical Pants Pockets Every Day
Here is the current list of the things I personally carry in the pockets of my 5.11 Taclite of Truspec 24/7 tactical pants. This is just an example of what can easily be carried in a very organized way by using these pants.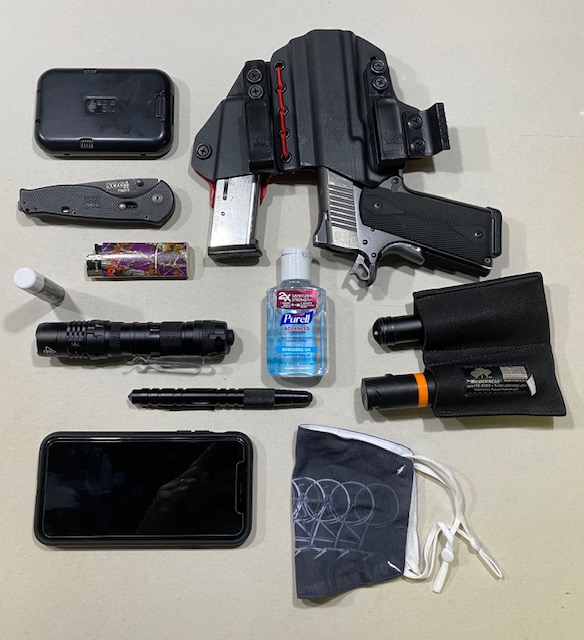 Phone
Flashlight (See my tactical flashlight review)
Tactical knife (See my tactical knife review)
Pepper Spray
1911 Pistol
Extra 1911 Magazine
Lighter
Chapstick
Hand Sanitizer
Tactical Pill Holder (aspirin, antacid, spare Rx meds)
Flipside Wallet (Awesome compact Tactical hard shell wallet)
Car Keys
Face Mask (recently added!)
Here is how I organize my EDC items:
Left front pocket
A few tissues
Cell phone. My iPhone 11 fits easily
Left rear pocket (Truspec 24/7 has a dedicated pen pocket just behind the front pocket)
Right front pocket
Car keys. There is plenty of room even with most FOBs
SOG Flash 2 tactical knife clipped in place for easy deployment.
Right front small slit pocket
Butane lighter, I don't smoke but I always like to have a source of fire and it's amazing how often I need to whip it out for a birthday party to light the candles or for an emergency lighting of the grill!
Chapstick
Left lower cargo pocket
Spare magazine for my 45
Pepper spray canister organized and held ready for easy deployment in the wilderness tactical stretch pocket.
Right cargo pocket
Wallet
Hand sanitizer which is a must-have these days.
I would highly recommend listing all the items you wish to carry and look for a pair of pants that has the appropriate pockets to accommodate your needs.
I have included a short video below that shows how I use my pants that may help you out.
My Recommended Brand of Tactical Pants
5.11 Taclite Pro and TruSpec 24/7 are my favorite tactical pants and I wear them every single day. The reason I love them so much is that they allow me to carry all the things I like to have on my person at all times. I am able to carry everything in an organized fashion. They are a very good-looking and durable pair of pants.
I have several pairs of each in different colors such as black, khaki, gray and navy blue.
Tru Spec 24/7 Tactical Pants Review Video
Tactical Pants for Firearms Training
It was defensive firearms training that first convinced me to buy tactical pants. My first training way back in 2011, I was wearing jeans which was fine until we got to practicing tactical reloads. When doing a tactical reload you will take a magazine out of your gun and place it in a pocket then get a fresh magazine and put it in the gun. Unfortunately I was unable to get the magazine into a pants pocket because they were just too tight.It is also almost impossible to access the front hip pocket of a pair of jeans while wearing a gun belt and holster!
When attending a gun training course such as Front Sight Defensive Handgun, I run a 1911 which means all of my magazines only hold eight rounds. I carry four magazines but if you've ever been to Front Sight or similar training, you know that when you're up on the line shooting there are times when you are going to need more ammo than what you have in your magazines!  The large pockets (especially the rear slit pockets on the 511 tac light pro pants) can hold an amazing amount of ammunition!
Tactical Pants for Everyday Use
Immediately after training I went out and got myself some tactical pants with much bigger pockets and was able to easily perform the tactical drills that I learned. I quickly decided to wear tactical pants every day of my life, even in the summer I will wear tactical shorts. When I am out of my house I like to have all of my every day carry items with me.
I have worn tactical pants to every handgun and rifle training course since then and it makes everything so much easier that I would highly recommend it to anyone planning to get some firearms training!