Blade-Tech Classic OWB Holster Review
If you are looking for a high quality, durable custom kydex holster to carry your handgun securely on your belt for competition, everyday carry, defensive or tactical handgun training, the Blade-Tech Classic owb holster cannot be beat.
This Blade-Tech holster is recommended for IDPA and other competition that require fast draw with good retention. Blade-Tech holsters are custom made to fit your particular handgun.
It is the holster recommended for firearms training classes at Front Sight Firearms Institute and other training schools.
UPDATE: Blade-Tech Signature Holster is now available.
Blade Tech has recently come out with their Signature Series OWB Holster that is a much more affordable version of the classic holster, coming in under $40!
If you are looking for a durable, high quality holster for about $34.99, you need to take a look at Blade-Tech Signature outside-the-waistband holsters.
The classic Blade Tech OWB holster that I will review below is one of the most popular outside the waistband kydex holsters available.
This is due to the fact that they are high quality and always hold their shape for smooth, fast draw and safe re-holstering.
I have used mine for 6 years now and 7 multiple day training classes and I would not use any other holster. I have used it for one handed malfunction drills. This means using the top edge of the holster to rack the slide. Try that with a leather or cheap holster and you will not be a happy camper!
I have rolled around in gravel while training in the Advanced Tactical Course with this holster on my hip and it took the punishment like a man! It did not move, fall off or sustain any damage whatsoever.
Having your firearm in a Blade-Tech holster on your "firing side" hip is the best way to carry for training and allows the fastest access for self defense.
30 day money-back satisfaction guarantee.

Adjustable cant; muzzle fwd, straight, or FBI style cant to the rear.

Adjustable tension screws.

Hand formed, folded and finished.

Perfect OWB holster for work, competition or personal defense.
Superior materials
Tek-Lok attachment is fully adjustable and easy on/off.
This is the perfect holster for people who want to compete, train or carry their concealed or open carry gun on the hip in the 3  o'clock position.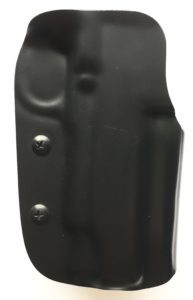 Blade-Tech OWB Kydex Holster Features
Each holster is made specific to your weapon. This provides a custom fit, covering the trigger guard for safety and creating excellent retention.
Products to fit Glock, Sig, 1911, Ruger, Beretta, Keltec, Kimber and over 30 other brands, and hundreds of models they are sure to have the holster for your gun!
Easily adjustable retention, tilt and ride height. Make it fit just right for you.
Tek-Lok attachment system is removable and replaceable. You can swap it for a dedicated belt or paddle attachment.
My review of the Blade-Tech OWB Holster
First impression
I bought the 1911 version for my Kimber Pro Carry II 6 years ago and another for my Sig Sauer Nightmare a few years later. As expected, they both fit the guns flawlessly.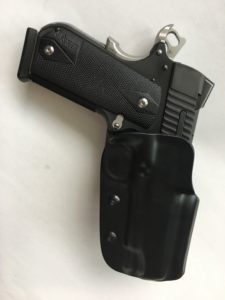 I really like the Tek-Lok feature which allows you the flexibility to use the holster with a 1.5′ or 1.75′ tactical gun belt. Simply remove and adjust the included inserts to fit your belt.
Another benefit of the Tek-Lok attachment is that you can take the holster on and off your belt easily without having to remove the belt and thread it through a belt clip. The closure on the Tek-Lok will not come loose at any time, it is very secure until you decide to remove it.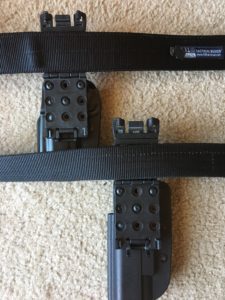 Using the Blade-Tech holster for Handgun Training classes
My first use of the holster was at Front Sight Firearms Training Institute for a 4-Day defensive handgun course. You can review my preparation guide by going to this post:
Front Sight Firearms Training Institute Preparation: Gear
The holster was exactly what was needed for the training and I noticed that a lot of other students also had the Blade-Tech holster for their firearms.
I also use this holster for concealed carry in cooler weather, when I am able to wear clothes that cover the gun. A light jacket or un-tucked flannel shirt work best when I am out and about, knowing my 1911 was close at hand.
I found I could draw smoothly and quickly every time, and re-holstering was easy as well.
I have since used the holster for 4 Defensive handgun classes and one Tactical Handgun course over the past 6 years with no issues whatsoever with the holster.
During the Tactical course, we learned to clear malfunctions one-handed, and how to rack the slide using the holster. I believe a lower quality kydex holster would have been damaged by this manipulation, but not the Blade-Tech!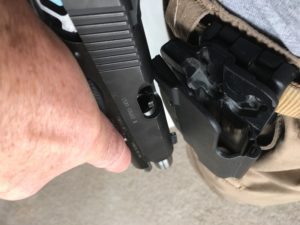 I did not experience any movement of the holster or concern that the gun was not secure as I went about my training. When you don't think about your gun, it means you have a secure, comfortable holster!
Blade-Tech holster durability
The shooting and dry practice for all these courses add up to drawing and re-holstering literally thousands of times. This holster is super durable still looks almost new.
Overall, I will say this holster is far better than any other OWB I have tried. I recommend this as a must-have, especially if you are going to a firearms training class. I will buy another Blade-Tech for my next gun.
I have also purchased Blade-Tech magazine holsters for my 1911 and my AR-15. I certainly could have gone with a cheaper brand, but I know my Blade-Tech holsters will last forever!
==>Blade-Tech Holsters are available at Amazon.
 What others have said about the Blade-Tech holster
"…I'm a big fan of Blade-Tech holsters with the Tek-Lok attachment as they are built to be durable and the Tek-Lok adds that on/off convenience for belt wear. This holster will serve you well….especially/particularly for competition (i.e. IDPA etc) purposes."   -BGD Amazon customer
"…Blade-Tech has great people and awesome customer service, I have had to request replacement hardware or ask questions about their products in the past and they have been consistently responsive and helpful. I can't recommend them highly enough, and the fact that I can now order them from Amazon makes it even better."   -michaelbl01 Amazon customer
"…Blade-Tech holsters are great for competition use in IDPA, USPSA, and Steel Challenge matches. The included Tec-Lok attachment coordinates perfectly with the Blade-Tech competition belt system that allows very fast reconfiguration between stages. Solidly made this holster will stand up to hard use for many years."   -Michael B. Amazon customer