Taking a Gun on a Plane- Airline Firearm Rules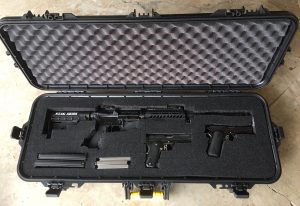 When I tell people I am travelling to Nevada for Firearms training (I live in Philadelphia, PA), a question that often comes up is, "You can't take your gun on a plane, can you?"
The answer is "Yes, you can!"
Most non-gun people do not realize it is perfectly legal is most of the U.S. to travel by air with your firearm, so long as you follow the airline firearm rules.
The rules are not complicated, and after you do it once, you will be pretty comfortable with the process.
Just be sure you do it right, because the penalties can be steep in some places (I am talking to you, New York City- See the video at the end of this article to understand why I say this) if you do it wrong.
If you are going to travelling by air and want or need to take your gun with you, it can be a little scary the first time you do this. I have travelled with a gun in checked luggage many times and I will say the first time I made some mistakes and it was quite stressful!
I will walk you through the process and give you a few tips on how to avoid any problems.*
Airline Carry Rules
First of all, much to the surprise of most people, it is perfectly legal to take a gun on most planes in the USA. You just can't have it in your carry-on luggage.
Most airlines have a process to do this that you must follow. You must be sure that you also conform to the local laws of the departure and arrival airports. (Do NOT fly into, or out of, any airport in New York City with a gun!!! See the video at the end of this article if you want to know why!)


Please be 100% sure that your firearms are completely unloaded! See The 4 Rules of gun Safety.
Be sure all ammunition is in a closed container (the box it comes in will suffice with most airlines), NOT in a magazine.
Here is what will normally happen when you arrive at the departures gate:
You will walk into the airport and go directly to a ticketing agent. (most agents have processed guns many times)
Tell the agent you want to declare an unloaded firearm (or firearms).
Agent will ask you to open the case and show that the gun is unloaded. (NOTE: this policy has changed, at least at Southwest Airlines. They no longer ask you to open your gun case to show the gun is empty. I was told about this at McCarran Airport in Las Vegas, which is where an "empty" gun fired a round that luckily did not hit anyone. They no longer want you to handle the firearms at the airport!)
Agent will give you a form to fill out and tape it to the gun case.
Agent will ask you to close and lock the case and put it back in your regular luggage (if it is a pistol case. A rifle case will obviously be its own piece of luggage).
Agent will either place your luggage on the belt with the other luggage and you are done OR agent will place the luggage on a special cart and call another employee to come get it.
Agent may ask you to wait in a particular area for 15-20 minutes in case the TSA needs to speak to you or have you open the case again. If this happens, wait 20 minutes and if no one comes to talk to you, you are done.
Check the Airline Firearms Policy
First you need to look online at the Airlines rules about travelling with firearms and ammunition. Most of the major airlines have a policy that is easy to follow.
Just remember there are hundreds of people every day travelling with firearms, so you are not the only one.
Be sure you have the proper gun case
First you need to be sure you have a suitable suitcase and a suitable gun case. Most airlines will require you to have a lockable hard sided case to transport your firearm. Here is the one I use for handguns: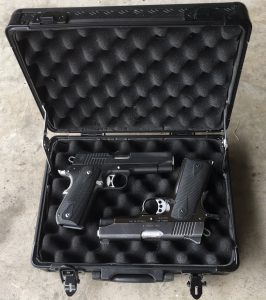 I recently purchased this case for my AR-15, and as an added bonus, my pistols fit as well!!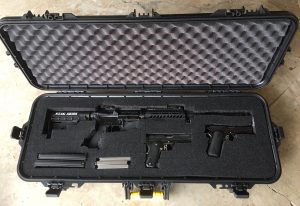 Pay attention to the Ammunition Limits
They will have a limit to how much ammunition you may have in your suitcase, such as 11 lbs or so. I would stick to that rule, although I have heard that that is not often checked.
Be sure you have a lock on the gun case
You need a lock with a key, or a combination lock to secure your gun case. You must have a lock! You should NOT use a TSA lock for this purpose. (A TSA Approved lock allows the TSA agent to open your luggage to examine the contents.) You need to use a lock only YOU can open. I use the locks shown below that you can get from Amazon. Also, if your gun case has two places for a lock, use both! It must not be possible for someone to easily open your case. The hard plastic cases that some guns come with when you buy them are usually a bit flimsy and must be locked on both sides.


Be sure your carry on does not contain any gun parts
This includes the magazines. I made the mistake of thinking that an empty magazine was completely harmless and because of the weight restriction on checked luggage, I put several empty magazines into my carry-on luggage and the TSA was not at all happy about that.
That little mistake allowed me to meet a couple of Philadelphia's finest police officers right there in the airport! This particular incident did not cost me anything but some time, partly because my story checked out and I also have a valid Pennsylvania concealed carry license.
I did, however, have to run back through the airport in order to check my backpack which held the magazines. They let me choose between doing this, taking the magazines back to my car, or giving them up.  Well, that was a no-brainer seeing as though these Wilson combat magazines cost about $35 apiece!
When you get to your destination…
You gun will be on the carousel as usual, unless you are travelling with a rifle case or luggage that looks like it may contain something valuable or "dangerous". If so, the airline may have your luggage set aside in a "secure" area until you come and identify yourself in order to pick up the bag or case.
This happened to me and I was freaking out that my guns did not make the same trip as I did! So just look for the little office or area for your airline and inquire about your missing luggage.
I am no longer nervous about travelling with a firearm. It is one of those things that seems like a major hassle and could cause issues until you do it, then you will see how easy it is.
Warning!!!!
Do NOT take a firearm of any kind to any airport in New York!! They do not tolerate a picture of a gun, let alone actually having one in your possession. You WILL be arrested and spend some quality time in a cell.
Always know the gun laws of the state you are going to be flying to, as well as the laws of the state you are flying from.
Please comment below if you have any additional information I have not covered, or ideas for future posts!
*The information in this article is from my personal experience and does not guarantee that you will not run into any problems. It is your responsibility to check all rules and laws where you will be travelling, including local laws.