5 Useful Product to Have in Your Range Bag
I have been carrying a concealed firearm for 10-plus years and taken many handgun training classes. I have cleaned and adjusted my guns MANY times, and practiced countless drills.
Here are 5 products that I have found to be extremely useful:
Boresnake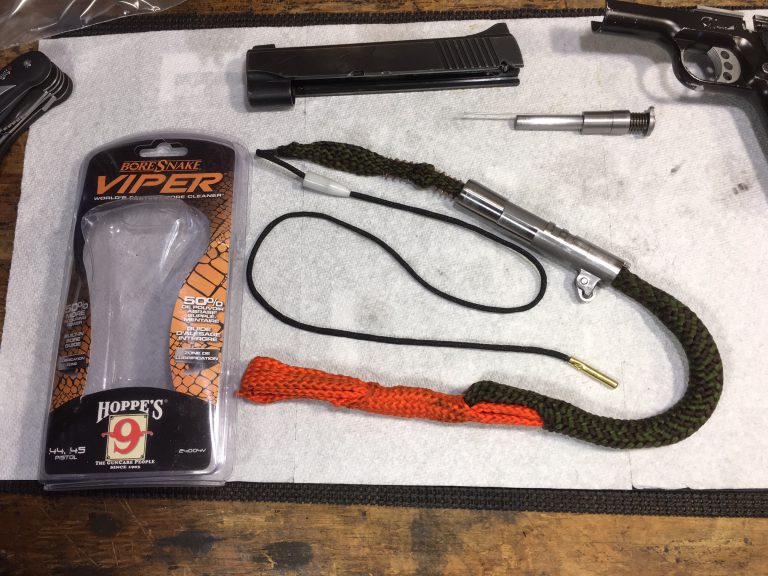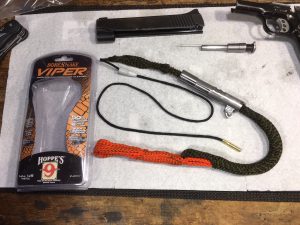 This is a must-have especially if you are traveling or taking multi-day training classes. Made by Hoppes, this product allows you to clean the bore of your pistol in less that a minute. Just pass it through the barrel in the same direction as the bullet travels a couple times and the bore will be clean as a whistle.
They make boresnakes for 25 different calibers so they're sure to have one for every gun you own. I have 6 of these hanging on my gun bench.
When they get dirty, throw them in the washing machine!
These are better than sliced bread!
Before I discovered this major short cut, I was using the tried and true (but painstakingly time consuming) method of wetting patches and forcing them thrugh the barrel until clean.
If you really want the barrel to shine, you can apply a few drops of Hoppes #9 or similar to the Boresnake before you pass it through. $14.99 at Amazon.com
Gun Tool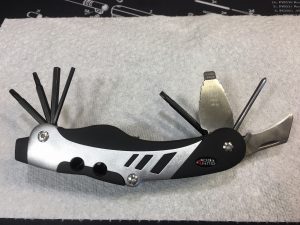 This super handy gadget has a ton of the very tools you may need (18, to be exact) out on the range for a quick adjustment or repair.
It has all this on board:
Gun pin punch
Choke wrench (10, 12, 16, 20, 28 or .410 ga.)
Scope windage / elevation blade
Torx® drive: T20, T15 or T10
Allen hex drive: 3/32″ or 5/32″
Magnetic 3/16″ driver
Screwdrivers: 1/8″ flat, 3/16″ flat and Phillips 1 & 2
Magnetic bit storage block with access door
Gun Tool comes with a bore light and a case. $22.65 at Amazon.com.
Slip 2000


Multi purpose oil that excels when used on your gun. I have used a lot of gun oils until I heard about this on Tom Gresham's Guntalk! See it in use at How to Clean a 1911.
Here are some reasons why I love it:
This lube stays wet 5 times longer than other lubes
Reduces wear by reducing friction on moving parts
Protects your firearm from corrosion without attracting particles like dirt and sand
Works great in harsh environments
Safe on metal, wood and plastic parts
Carbon, copper and lead  won't stick to it, cutting cleanup time in half
Slip 2000 is Non-Toxic and Non-hazardous
Slip 2000 is $12.65 at Amazon.com.
Dummy Rounds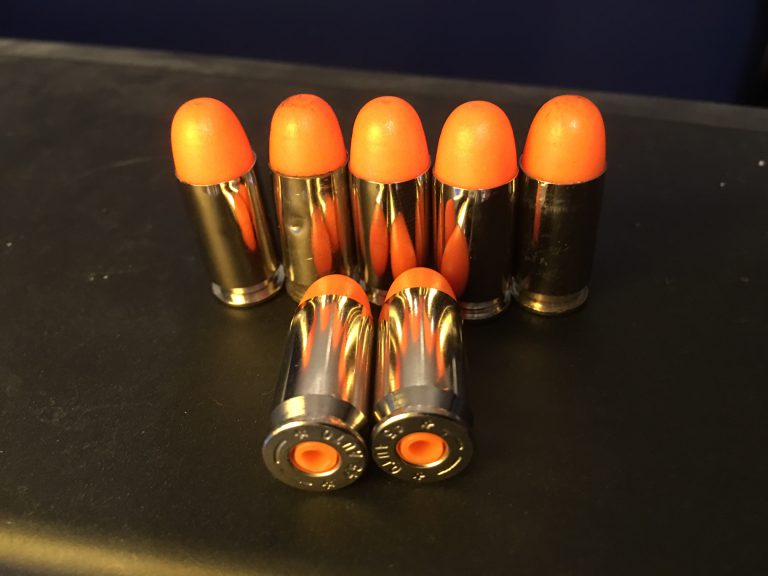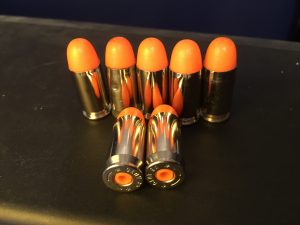 ST Action dummy rounds are fantastic for practicing malfunction drills, emergency reloads, tactical reloads, etc. I credit these rounds with helping me do well in my defensive training classes. Much better than "pretending" and you gun will function exactly as it would with real rounds (except the shooting part, that is)!
I have tried the Snap-caps brand but these are expensive and were too tight in the barrel causing malfunctions that I was NOT trying to practice! I recommend ST Action or A-Zoom as I use these brands exclusively now.
ST Action .45 rounds $9.95 at Amazon.com.
Maxpedition Jumbo Versipack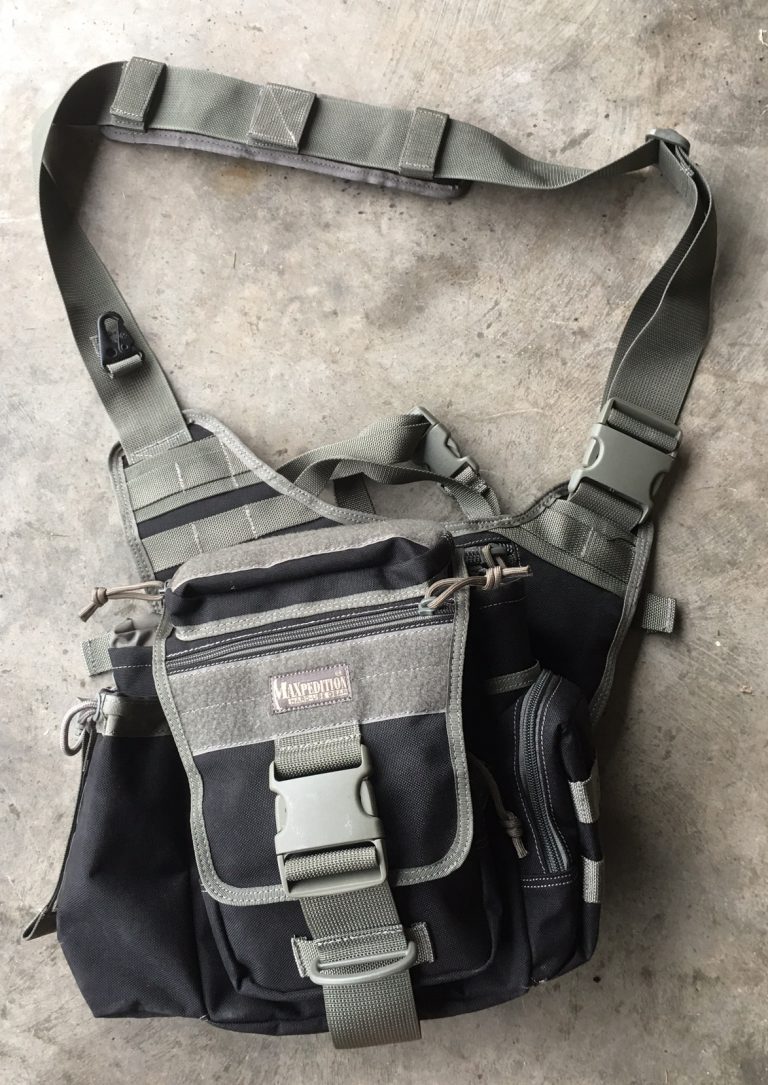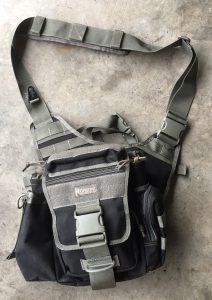 This is a great bag! My wife got it for me before my latest training class and I am never going back to another bag! Granted, they are not cheap, but Maxpedition makes the best, most durable hard-use gear available, and I know this will be the last one I will ever buy.
This one is the perfect size for going to the range, and I recommend for training as well. Plenty of space and organization and will hold ALL of these items:
spare magazines
hearing protection
Gun Tool
small bottle of gun oil
box of rounds
water bottle (side pocket)
protein bars (no chocolate in Nevada, bad idea)
sun block (I was in Nevada, a must-have)
shooting gloves
flashlight See Best Tactical LED Flashlight Review.
spare batteries
wallet
etc
You get it, pretty much everything you need for a day of training or a day at the local range.
Maxpedition Jumbo Versipack is about $69 at Amazon.com. or try a less expensive alternative by UTG for $32.
I hope you like this post. I use all these products so if you have any questions or comments, please drop me a note below!