USCCA Trial Membership
A common question regarding the USCCA is if there is a Trial Membership available. I will answer this and other questions in this article.
What is a Trial Membership?
The United States Concealed Carry Association is the largest company in America that is focused on the education, training and legal and financial protection for responsible gun owners. Membership in the USCCA entitles you to the best up to date information available regarding concealed carry, self defense and home defense. You can try out any of the Memberships risk-free thanks to the USCCA Bulletproof 365 Day Guarantee. The USCCA does not call it a "trial membership", but if you are not satisfied with your membership within the first year, call customer support and request a refund. This is the best kind of "trial membership" you will find anywhere!
Military & Veteran Discount
The USCCA is proud to offer a Military & Veteran discount on all memberships. After you activate your membership through the link below, simply send an email or open a chat with a friendly USCCA support specialist and they will apply your 10% Military Discount. Thank you for your service!
Spouse Coverage
The USCCA Memberships provide a discount if you want to add your spouse to your membership at a fraction of the cost. For example, the USCCA Platinum Membership is $39 per month and you can add your spouse for just $19 per month additional. This is the plan I personally have for my wife and I. The Gold Membership is $29 per month and the spouse add-on is $14 additional. The top package, the USCCA Elite Membership allows a spouse to be added for $24 per month additional.
Membership Benefits
The main benefits of any USCCA membership is the legal protection. Should you ever need to use force or deadly force against an attacker to protect yourself or your family, the USCCA has your back. See the article: USCCA Concealed Carry Insurance and Legal Protection
Whenever deadly force is used, there WILL be an investigation.
Even if you are completely innocent and used your firearm to protect yourself, until the police complete their investigation and figure out exactly what happened, it is possible that you will be detained and/or arrested.
It is critical that when the police roll up to the scene, that you know what to say and what not to say. This is where the USCCA comes in. If you ever find yourself in this situation, simply call the hotline (available 24/7/365) and a highly trained specialist will walk you through exactly what you need to do and get you in immediate contact with a criminal defense attorney.
How Does a USCCA Membership Help in an Emergency?
If you ever need to use your firearm or other deadly weapon to defend yourself or your family, there are two things you need to do immediately afterwards:
Call 911
Call the USCCA Critical Response Team (24/7/365)
Calling 911 immediately after any self-defense encounter is the most important thing that you can do. However, you need to know exactly what to say and what not to say in this recorded conversation. The USCCA will provide you with this critical information and it is even printed on your membership card so you have it with you at all times. This will be a highly stressful phone call and most people do not even remember what they say during these moments.
Speaking to the USCCA Critical Response Team will help you know what to expect next. They will instruct you on what to say to the police, and they will immediately get you in touch with a criminal defense attorney.
List of Membership Benefits: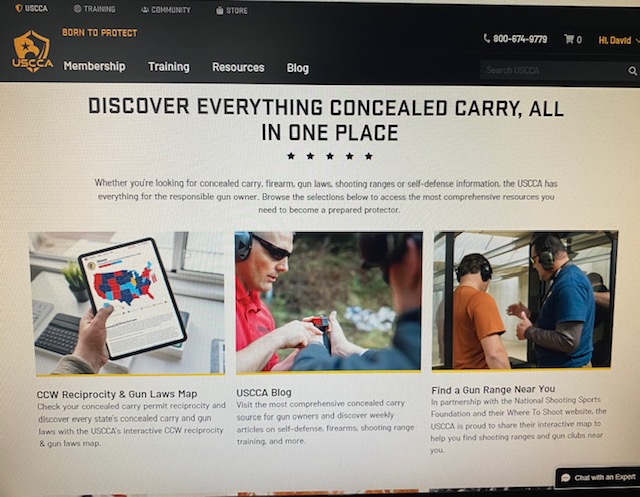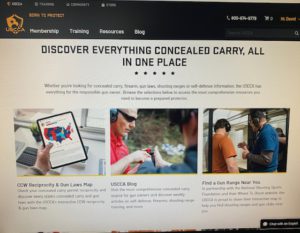 Legal Protection. Covers Attorney Fees for criminal and civil defense.
CCW Education. Beginner or advanced, all the information you will need is here.
Weekly Updates on Self Defense news, Second Amendment issues and changing laws.
Lifesaving guides and eBooks.
Monthly Ask-an-Attorney Webinar (available with Platinum and Elite Memberships)
Concealed Carry Magazine (including back issues). Award winning publication covering every aspect of concealed carry. Training, gun and gear reviews, recommendations, true self defense stories, etc.
Access to scenario based video training. These videos are educational, eye-opening and professionally filmed.
Weekly Training Drills
Access to USCCA Nationwide Certified Instructor Network.
Members Only Online video library.
Access to the USCCA online community.
Member Only discounts on training and gear.
Bullet Proof Guarantee
The USCCA offers a Bulletproof 365 day guarantee. This means that you effectively have 365 days to try out your membership. This is the best guarantee in the business.
See the guarantee on the USCCA website. You can "Test Drive" your Membership and cancel at any time. You are never locked into a contract or long term commitment.
When you join the USCCA you become part of a family of like-minded responsible gun owners, and people that are committed to their responsibility to protect themselves, their families and in some cases, innocent victims of violence.
You can activate your USCCA Gold, Platinum or Elite membership, enjoy the benefits, education and training, and take up to 365 days to decide if it is everything you expected. See details of USCCA Membership Costs and Levels.
What does a trial membership include?
As mentioned above, do USCCA does not offer a membership that is actually called a "trial membership." When you join at the elite, platinum, or gold membership level, You will receive the full benefit package and be considered part of the USCCA community. The bullet proof guarantee that is offered will allow you to try out do United States concealed carry association for a for 365 days.
USCCA Trial Membership vs Bulletproof 365 Day Guarantee
Which is the better deal? Many so-called trial memberships limit your access to all the benefits and generally have a short 7 day or 30 day trial period. You get a much better test drive and full experience of the USCCA memberships by joining at the Gold, Platinum or Elite level. You have a 365-day money back guarantee protecting your investment, should you decide it is not for you. If you value peace of mind, and ongoing up-to-date information on all aspects of gun ownership, you will not be disappointed.
Gun laws change all the time, but the USCCA website is kept up to date. The gun laws and reciprocity maps are available for each state.
Go ahead and try a membership with the USCCA, and get up to one year to decide if it is right for you. Cancel at any time by simply calling the award-winning, Wisconsin-based Customer Engagement Team anytime.
(Don't Worry, you have 365 Days to decide if you like it!)
Please visit our USCCA FAQ page if you have more questions.