Nitecore MH12S Review.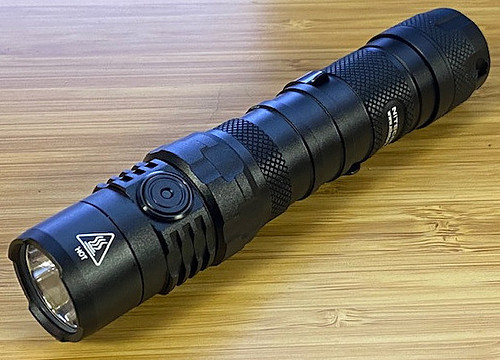 I love flashlights! The Nitecore MH12S is no exception. Ever since the "tactical LED" pocket-sized flashlights started hitting the market years ago, I have been amazed at the small size and increasingly bright lights that are available. There are dozens, if not hundreds of tactical flashlights suitable for EDC (Every Day Carry), so let me tell you about an awesome one that you may not have considered.
Full disclosure: I change my EDC flashlight so often that it makes my head spin. This is because I love tactical flashlights! (I may have mentioned that already) Just ask my wife!
I recently wrote a review on the Streamlight Protac 2L-X USB light. This is still an EDC for me, and definitely in my top 2 or 3 tactical flashlights. BUT….my new light is much brighter, and only slightly larger.
My new pick is the Nitecore MH12S Tactical Flashlight
I have found that most people will read a flashlight review like this are in one of these categories:
You already carry a flashlight, but are looking for something better. Or cooler!
You want to start carrying a tactical LED flashlight and are looking for recommendations.
You can't stop buying awesome new flashlights because you love gear!
You are buying a gift for someone. If this is you, you cannot go wrong with my recommended model!
I definitely fall into category 3, but I also am always looking for the perfect all-around pocket light.
During the past few years, I have tried many tactical LED flashlights for everyday carry. There are so many fine products out there and lots of excellent brands that are high in quality. Brands such as Streamlight, Surefire, Fenix, 5.11 and Maglite make some of the best flashlights on the market.
Nitecore MH12s Review Video
Best Pocket Tactical Flashlight?
There really is no flashlight that is the absolute "best" because it will depend on what you are looking for and what your needs are for your personal choice.
Here are some features that I want in my tactical flashlight and why:
Small enough to fit in a pocket. If it does not easily slip into my pocket, I may not always have it with me.
Long battery life. I want to know that it is going to work when I need it.
Super bright. And with more than one level of brightness. I don't always need a searchlight.
Rugged and durable. I drop stuff all the time.
Dual battery options. If I can't charge it for some reason, I want to be able to use another option.
Looks tacti-cool. Enough said.
Blows away the lame lights my friends carry. Naturally, it will be. Most of my friends rely on the pathetic iPhone light!
Doubles as a contact weapon. There are many places that do not let you carry a gun or a knife but they ALL let you carry a flashlight. Just sayin'.
I did a ton of research and read lots of reviews on all makes and models and decided that I would go with the Nitecore MH12S Tactical flashlight for my EDC light. This brand is smaller and not as well-known as Surefire or Streamlight, but the quality is obvious when you hold it in your hand.
My Nitecore MH12S Review
What I like about the Nitecore MH12S
First, I will list the features that make this an awesome flashlight, then I will go into detail as to what made me choose this particular light for my current EDC.
Here are the Pros in no particular order:
Powerful. 1800 lumens is insane! It is perfect for disorienting an attacker as well as flooding an area with light to see where the heck the dog went when he chased that skunk!
Has several lower power settings too. My flashlight is with me all the time and this one has 5 levels to choose from: 1, 50, 300, 1050 and 1800 lumens. Most of the time a lower level is sufficient and using fewer lumens conserves the battery power. No need to blind everyone with 1800 lumens all the time!
Long run time. This LED light will run on the highest setting (1,800 lumens) for 45 minutes using the included rechargeable 21700 battery! This is really awesome. On the LOW setting, you get 50 lumens for 45 hours!
Rechargeable. This flashlight can be charged without removing the battery which is much more convenient than my Streamlight. This battery does not need to be charged very often, but I like to charge it once a week so I know it is always ready to go. I already have a ton of devices that need charging on a regular basis (Fitbit, headphones, iPhone, portable Bluetooth speaker) that it is no big deal to add the Nitecore.
Dual power. Flashlight companies call this Dual Fuel. I doubt I will ever need to take advantage of this feature, but it is a great option. If I forget to charge the Nitecore MH12S, I can simply use 2 CR123 batteries or an 18650 battery instead. I have spare batteries and a versatile charger to be sure I have charged batteries on hand at all times. The Nitecore UI2 charger is my recommendation. It is inexpensive but will charge many different batteries quickly. 
Perfect size. This light fits in my hand very comfortably, but is large enough to be used as a striking weapon if necessary. It is 5.55" (141 mm) long, which is slightly longer than my Streamlight 2L-X. It is small enough to carry in a pocket of a pair of jeans or tactical pants. I used to carry a smaller Streamlight 1L is a great small flashlight, recommended if a small size is important to you, but it cannot double as anything.
Nitecore quality. Nitecore makes some of the most reliable, high quality tactical lights available at a reasonable price. I refuse to buy a cheap flashlight. Enough said.
Programmable. The Nitecore MH12S has 2 modes: Tactical Mode and Daily mode. See the section below for details.
Rugged. Drop it, throw it, smash your attacker in the face with it, this light can take it!
Waterproof. No worries if it gets wet in the rain or dropped in a puddle!
Lifetime Limited Warranty. Nitecore backs their products fully for 5 years, then limited for life. This means after 5 years they will fix it for free but parts will cost you. I am confident this light will last me a long, long time.

 
What I don't like about the Nitecore MH12S
Cons
Here are a couple things that make this fall slightly short of the perfect LED Tactical Flashlight:
The Nitecore MH12S is just a little larger than my last recommendation, the Streamlight Protac 2L-X, but as a trade off, you get a LOT more light out of it, so it is definitely NOT a deal-breaker.
The Mode button (that selects the brightness levels on the side) is hard to locate by feel alone. It just needs to have more of a tactile surface so you can easily identify it with the fingertips. A way around this is to keep the light in Tactical Mode. This way every time you turn it on, it will be on the brightest setting, and you will have plenty of light to help find the Mode button.
Holster is not so great. I personally do not use a holster, as I keep my EDC flashlight in a pocket. I did try the holster and it is really tight. I would recommend working the flashlight in and out of the holster until it loosens up a bit, or you will have a tough time getting the light out when you need it. again, not a big deal to me, but something to note.
My Decision to go with the Nitecore MH12S
The feature that sold me is the 1,800 Lumen Turbo feature and the ability to recharge it without removing the battery.
This flashlight lights up the entire backyard! I wanted the best quality and brightest flashlight I could get without spending a fortune.
My last flashlight had a maximum level of 500 Lumens that would run for 3.25 hours. The Nitecore has a maximum of 1,800 Lumens and it has a 1,050 Lumen level that will run for 3.25 hours. That is quite an upgrade!
How Much Does the Nitecore MH12S cost?
This light is the most expensive I have owned to date. It does cost more than my Streamlight, but with its amazing output, high quality and powerful battery (included) it is still a bargain at $89.95 on Amazon as of this writing. If you go to Longhorn Tactical and sign up as a new customer, you will get 15% off your first order (this is what I did) and Free Shipping. Your MH12S will then only be $77 shipped.
If you do not want the New customer 15% discount you can order from Amazon:
What Comes with the Nitecore MH12S?
The Nitecore MH12S comes complete. This means there is nothing else you need to buy to use the flashlight, except for a charging "block" or a USB port on a computer that you most likely already have. If you own anything that is rechargeable, such as a smart phone, headphones, Fitbit, etc, you are pretty much set.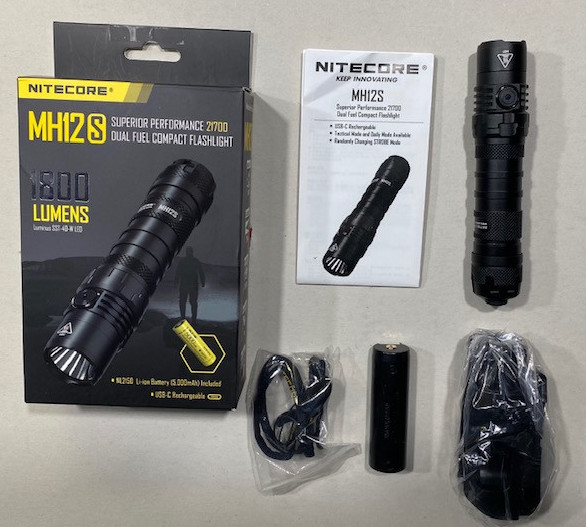 In the box:
Flashlight
21700 High Capacity rechargeable battery
Charging cord
Holster
Battery adapter magazine for CR123/18650 batteries
Lanyard
Spare O-ring
User manual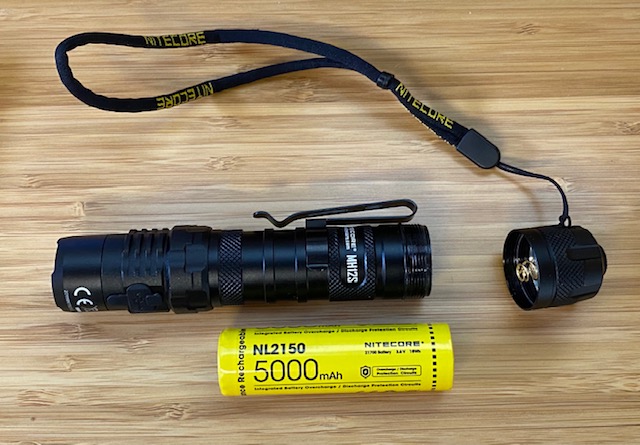 Nitecore MH12S Lumen and Battery Life Specifications:
The specs in this chart are using the included NL2150 5000mAh rechargeable battery. Run times will be less when using 2 CR123 or a 16850 battery.
| | |
| --- | --- |
| Lumens | Run time |
| 1,800 | 45 Min |
| 1,050 | 3 Hours 15 Min |
| 300 | 7 Hours 15 Min |
| 50 | 45 hours |
| 1 | 1500 hours |
How to Use the Nitecore MH12S Daily and Tactical Modes
This Nitecore has two modes to choose from:
Daily Mode: (default)This mode will give you 5 levels of flashlight brightness as well as STROBE, Beacon and SOS. When the light is turned off and then re-activated, it will come back on at the same level it was on when turned off. This includes STROBE, but NOT Beacon or SOS.
Tactical Mode: This will give you 5 brightness levels and STROBE only. When the light is turned off in Tactical Mode, it will always come back on at the Turbo (highest) brightness level or STROBE if that is what it was on when turned off.
How to Change Modes on the Nitecore MH12S
When you want to select a user mode, hold down the Mode button while turning on the light with the tail switch. Keep holding the Mode button for 3 seconds and the main light will flash once if in Daily Mode and twice if in Tactical Mode.
How to Use the Power Indicator feature on the Nitecore MH12S
Anothr great and useful feature of this flashlight is the ability to check the battery voltage (remaining power) so you can get an idea how much power is left. This is done simply by pressing the tail switch button while holding the Mode button down, then letting go of both. The Mode switch LED will flash according to the voltage.
When the power is at 50%, the LED will flash every 2 seconds when the light is on and it will flash quickly and continuously when the light is close to depleted.
Nitecore Battery Charger
If you have other flashlights and would like to start saving money by using rechargeable batteries, I would recommend Nitecore batteries and chargers. Below is a picture of the Nitecore UI2 charger and some of the batteries I use. This charger is not expensive and will charge all sizes of batteries and 2 at a time. It plugs into any USB port for power.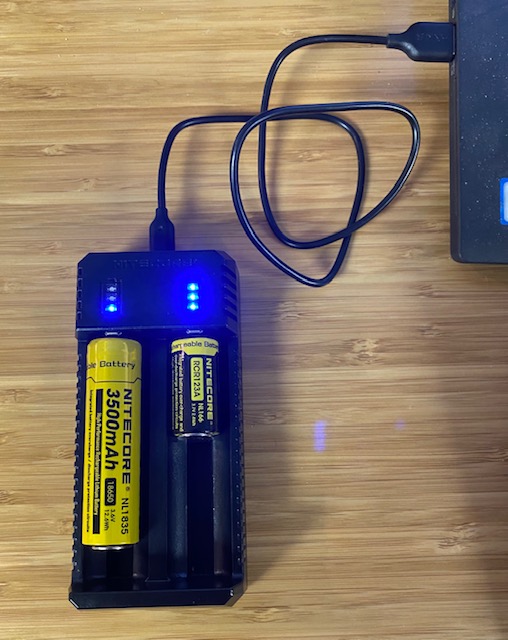 Where to Carry a Tactical Flashlight
I wear tactical pants every day so I have plenty of pockets to carry the flashlight. I suspect that if you are reading this article, there is a pretty good chance you are wearing 5.11 Taclite Pants as well! However, today's tactical flashlights are small enough to be carried in most pants pockets. I carry mine in one of the cargo pockets on the leg of my Tru-Spec 24/7 Tactical pants that I almost always wear. This flashlight is also well suited to be carried in a back pocket of a pair of jeans, so long as they are not really tight!
I also carry an assisted opening pocket knife every day. See my Best Assisted Opening Knife SOG Flash II Review.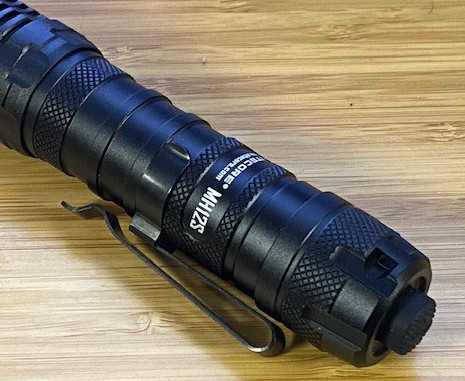 The well-designed clip allow the light to be carried either lens up or lens down and still be securely clipped to your pocket. As you can see in the picture, the clip can be attached in 3 locations, and a fourth closer to the tail cap is also possible.
Why carry a flashlight?
My answer to this question is,"Why not carry a flashlight?"
I know that everyone has a "light" on their smart phones and iPhones. So do I, but really, they are pathetic, and you need to fumble with the phone to hit the right button. By the time my wife gets her iPhone lame light on, I am shining 1800 focused lumens at whatever it is that we needed to see. I keep is clipped where I can get it up and running quickly by "feel" alone.
Years ago, before LEDs and tactical flashlights, only police officers and fireman ever had a flashlight on them. That was primarily because they were huge!! The best, most powerful models used 4 or 5 "D Cell" batteries! These flashlights were also good as defense weapons as they were a foot long and weighed about 5 pounds!
Today's technology allows for a pocket sized light that is far and away brighter than the antiques of yesterday. Now anyone can carry a small lightweight light in their pocket, purse, brief case, range bag, backpack or carry-on luggage.
I personally believe that one of the most important every day carry items is a flashlight. Of all the items I carry on my person, the one I would not want to be without is a small powerful tactical LED flashlight. I certainly carry it for self defense purposes, but I find it comes in handy a lot more than I expected.
If you want to learn how to use a flashlight in conjunction with a handgun, see my review of Front Sight Firearms Training Institute.
My Personal Flashlight Uses
Besides being prepared for a power outage, 9/11 type attack or natural disaster, here are some examples of everyday circumstances where a light can come in handy. A lot of these are from personal experience:
Every night I take my dog outside to do his business. I need to a flashlight to see where I am stepping to be sure I don't hit a land mine!
Concert venues have steep steps and my wife and I are not young anymore! A handy flashlight is a life saver!
I check my sump pump every few days. It is in a deep dark hole. (I know what happens when you do not make sure the sump pump is working. It can cause great financial loss.)
I drop a lot of things. In the garage, in the kitchen and stuff always rolls under the range, under the car or into a dark corner. Gonna need a light to find it.
I used to be a Field Service Rep for a medical device company and was constantly looking at teeny tiny serial numbers on equipment that was under a desk.
You're getting out of your car at night and you hear something small hit the ground, just pull out a flashlight and see if you just dropped your credit card, phone, keys or $20 bill?
Taking the trash out at night, especially in winter when it gets dark early is always a dicey experience. My trash cans are around the side of my house where there is absolutely no light and I need to check to make sure I've got all the trash and recycling and drag it out to the street.
I was driving at night to a friends house for a social visit in their driveway is extremely narrow so I had to park very close to the edge of the driveway and my wife could not see where she was walking to the good old flashlight came out she was stepping.
As you can see, I use my flashlight often and I expect it to work every time I pull it out. That is why I recommend the Nitecore MH12S.
Thanks for reading my review. If you have any questions please use the comments section below and I will get back to you quickly!