Kimber 1911 Field Strip- Disassembly & Reassembly Instructions
This article will show you step-by-step how to disassemble (Field Strip) and reassemble a Kimber Aegis Elite Custom 1911 Semi-Automatic Pistol in .45 ACP.  You will need to know how to perform a 1911 field strip for cleaning purposes. For just the Disassembly, see How to Disassemble a Kimber 1911.
Here is some information on setting up a Homemade Gun Cleaning Station.
Which 1911 models does this Procedure Work For?
This 1911 disassembly and reassembly procedure will work for most, if not all makes and models of 1911 pistols with a 5″ barrel. Some will be referred to as "Government" models. The M1911 pistol is the original designation for the 5″ Government model.
Different Manufacturers may use other names to signify a 5″ full size 1911. For example, Kimber refers to some of their 5″ models as "Custom", such as Master Carry Custom. The Master Carry Pro will have their 4″ barrel, and the Master Carry Ultra will have a 3″ Barrel.
This 1911 disassembly reassembly field strip procedure will not work for a Kimber model with a "bull barrel". Most of the 4″ 1911 Models use a different design to lock the barrel to the slide. If you have the 4″ model, see my article Cleaning a Kimber 1911 Pro Carry. or Kimber Pro Carry II Disassembly.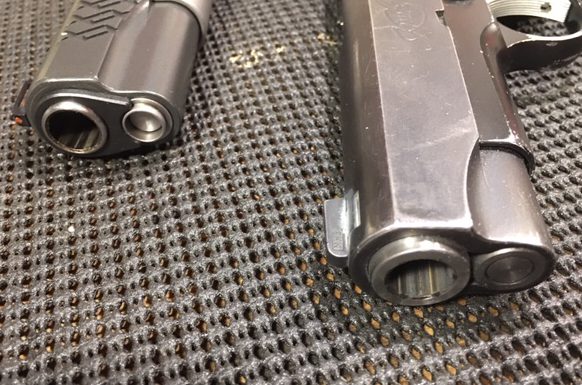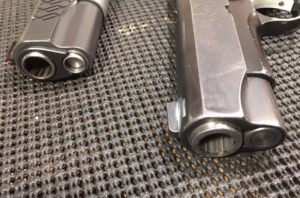 Field stripping is basically removing the slide from the frame, and then removing the recoil spring, guide rod and barrel. Once this is accomplished, these components can then be cleaned and lubed as outlined in my article: Cleaning a Kimber 1911.
The cleaning procedure and products used will certainly work on any 1911, and most other guns as well. Just be aware that if you are going to clean a Glock, Springfield XD series or Smith & Wesson M & P firearm or other gun with "plastic" parts, be sure to use a cleaner designed for that use, such as Birchwood Casey Gun Scrubber Synthetic Safe Cleaner. Some of the more common cleaners are harsh on plastics and polymers.
If this is the first time you are doing this, do not fear! It is not hard if you follow the steps. The next time you do it you will be a pro and will not likely need these instructions. It looks like a lot of steps but I wanted to break it down as far as I could to make it as clear and easy as possible.
1911 Disassembly Tools
You will need a 1911  barrel bushing wrench for this procedure:
Or a nifty little product I recently purchased called a Real Avid Smart Bench Block which has a built-in barrel bushing wrench. you can check it out here.
Step by step instructions are below, but you can also watch my videos. The first is for the 1911 Field Strip and the second is the reassembly.
1911 Disassembly Video
Here is the reassembly video:
Step by Step Instructions with Pictures: Disassembly-Field Strip a 1911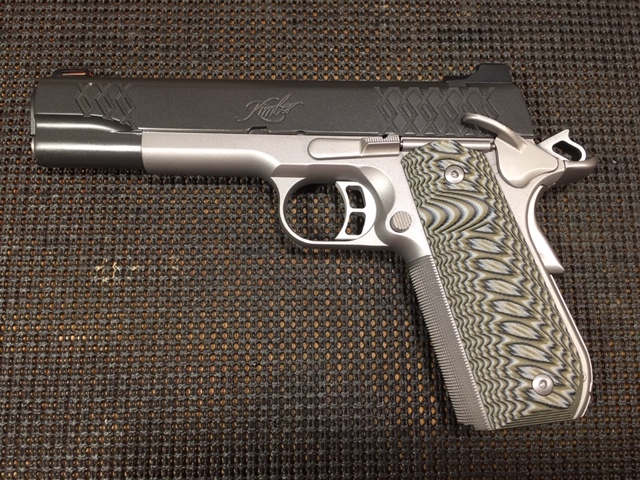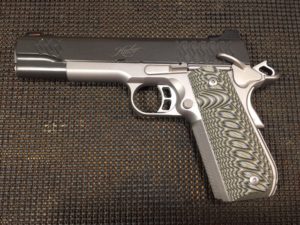 Here are the steps:
Remove the magazine
Empty the chamber of any rounds
Repeat the last 2 steps. BE SURE THE GUN IS UNLOADED.
Set the gun on a table or bench with the barrel facing up. Wear eye protection in case the recoil spring launches the plug into your face.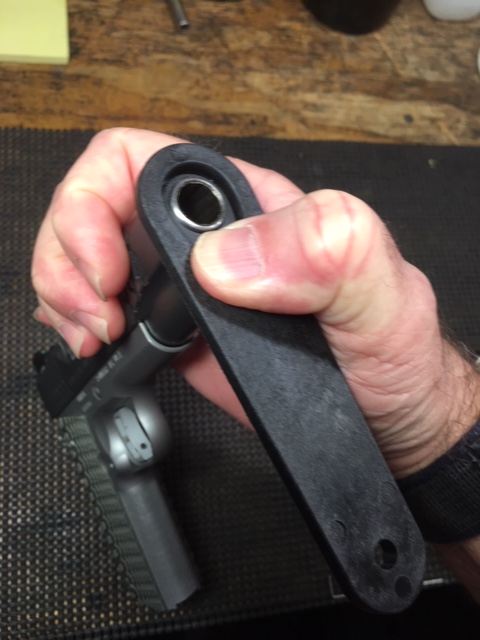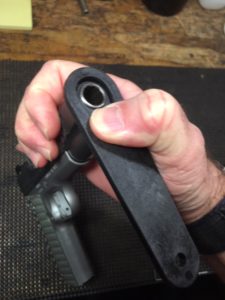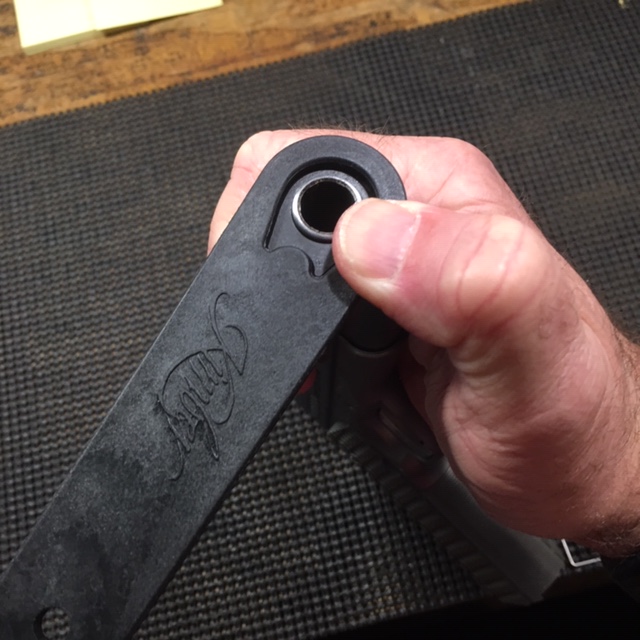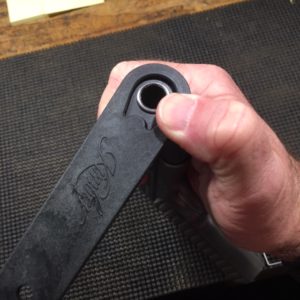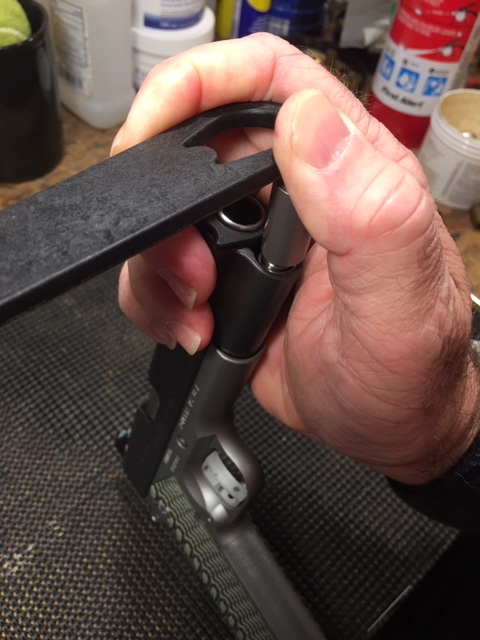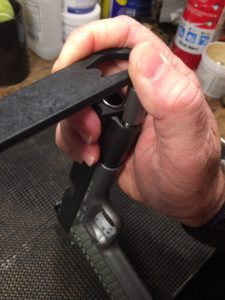 .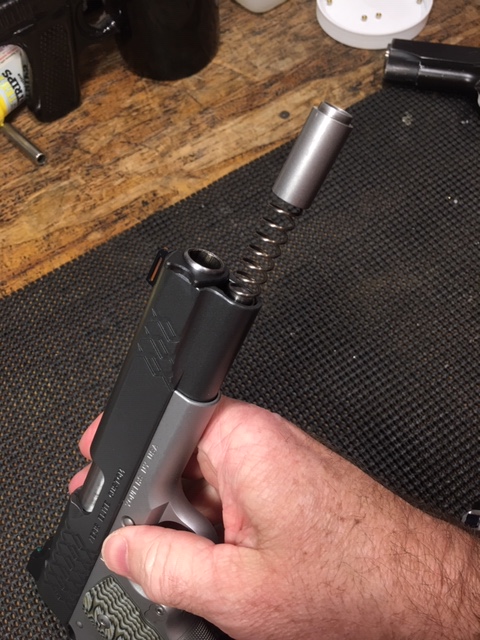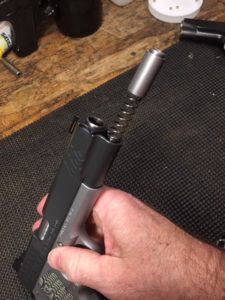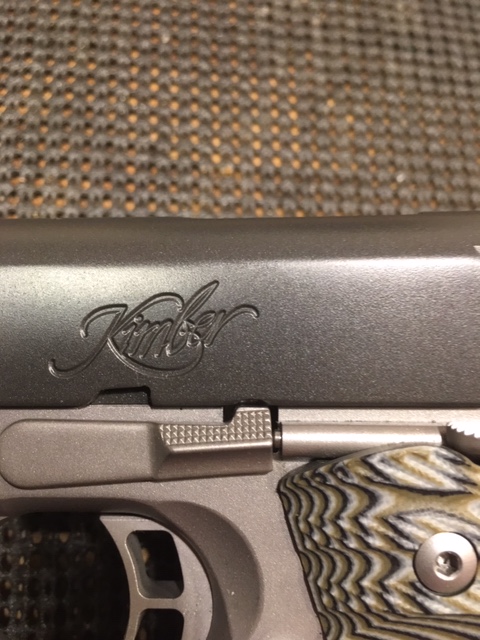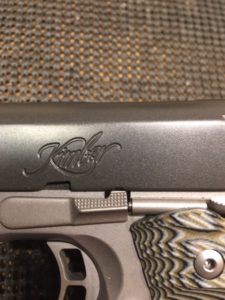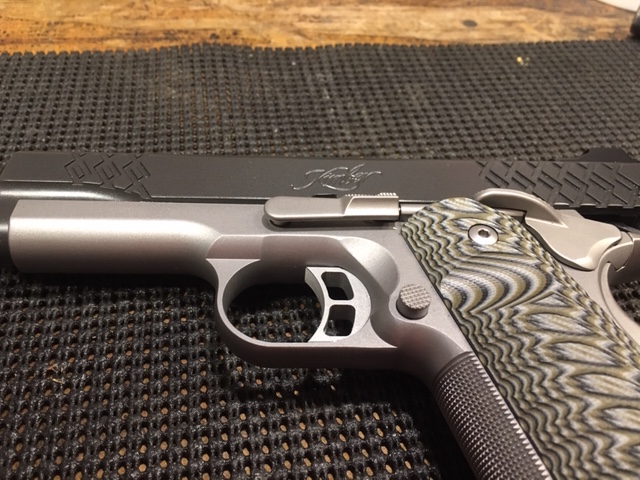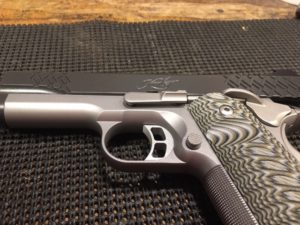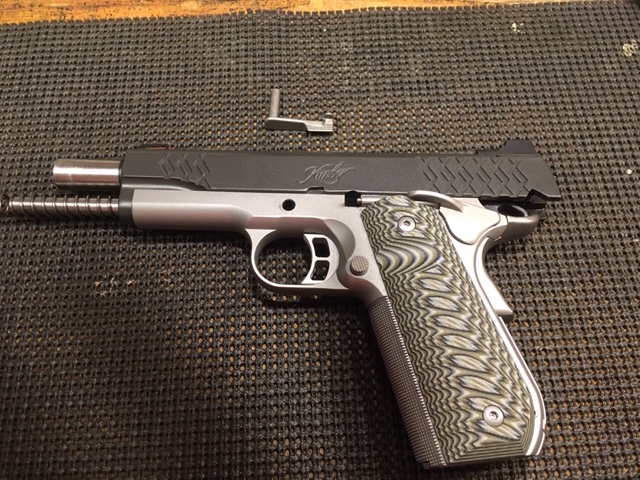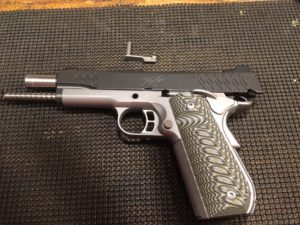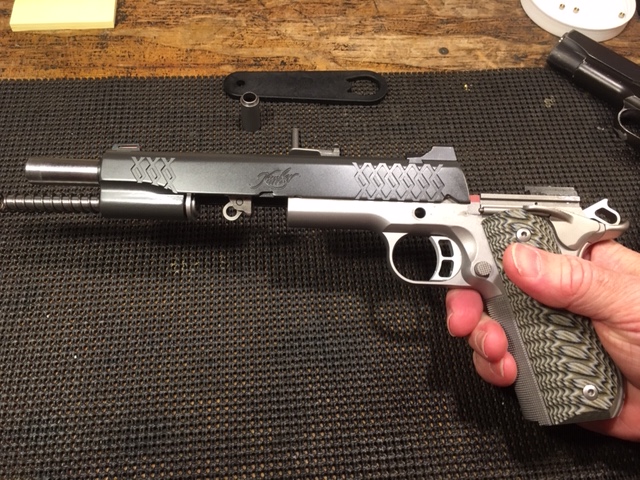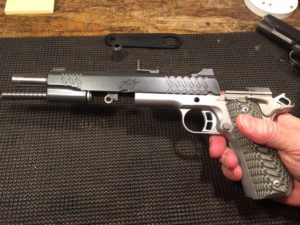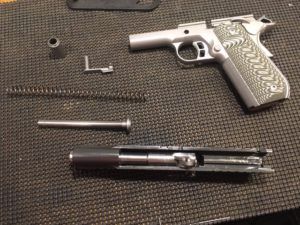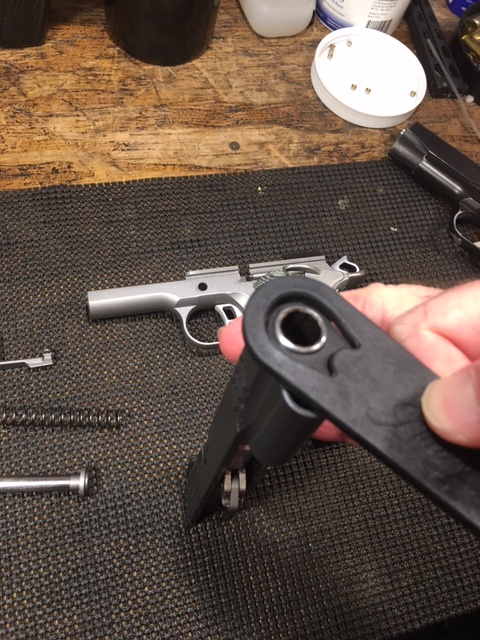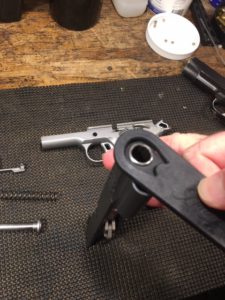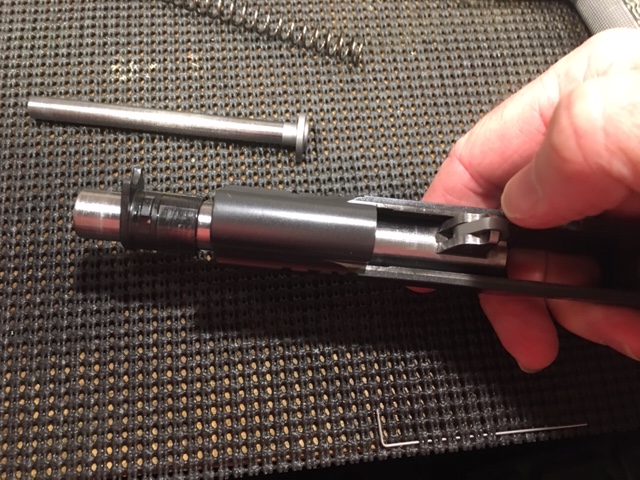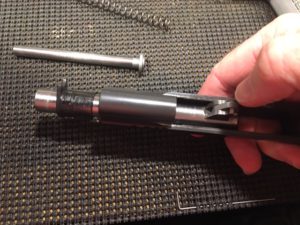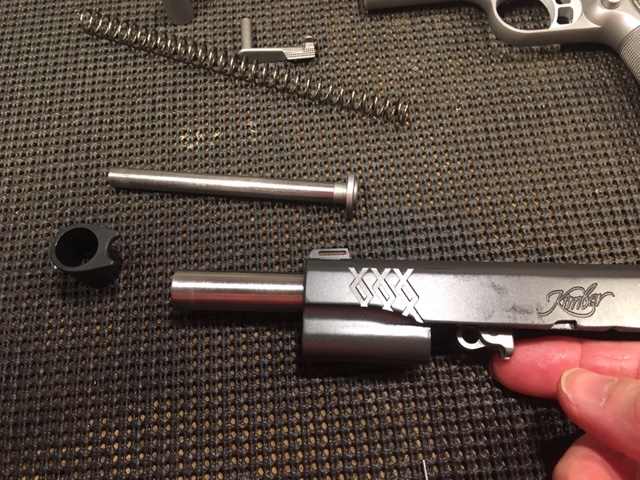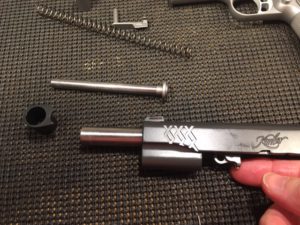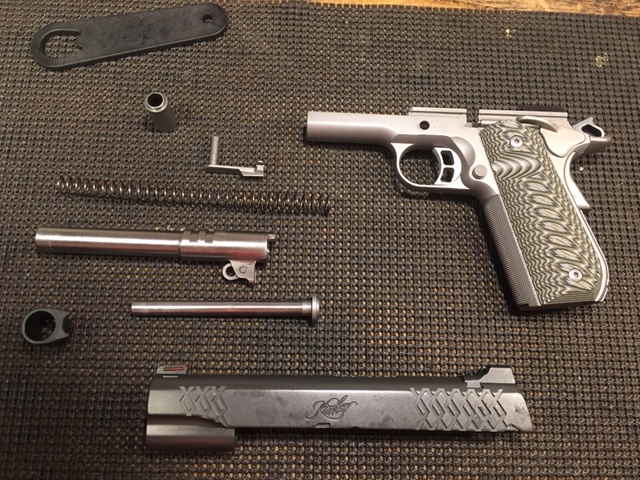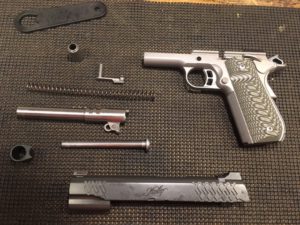 Now you can clean and lubricate each component.
Reassembly Steps with Pictures: 1911 5″ Government Pistol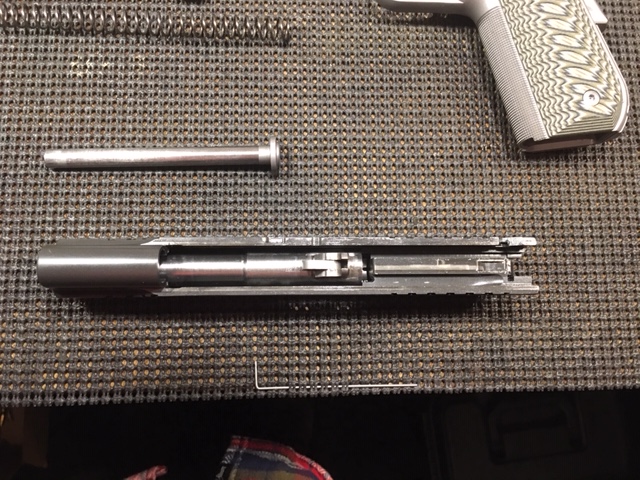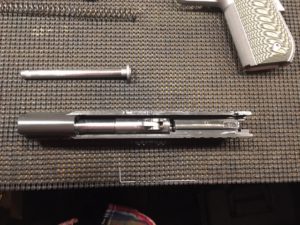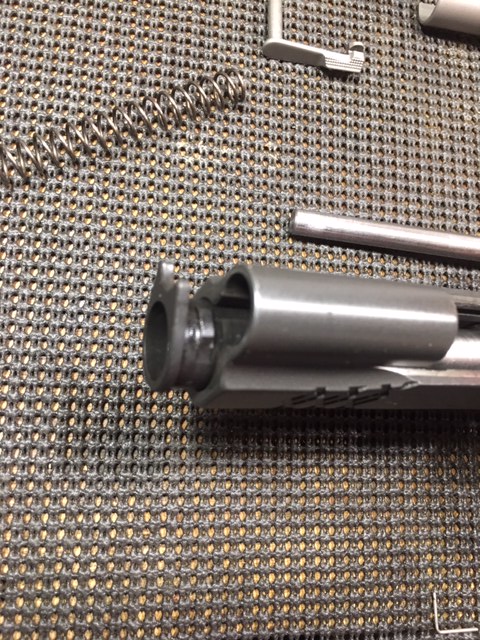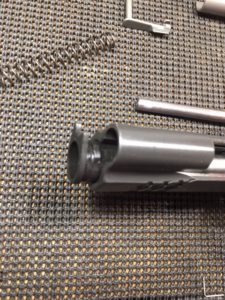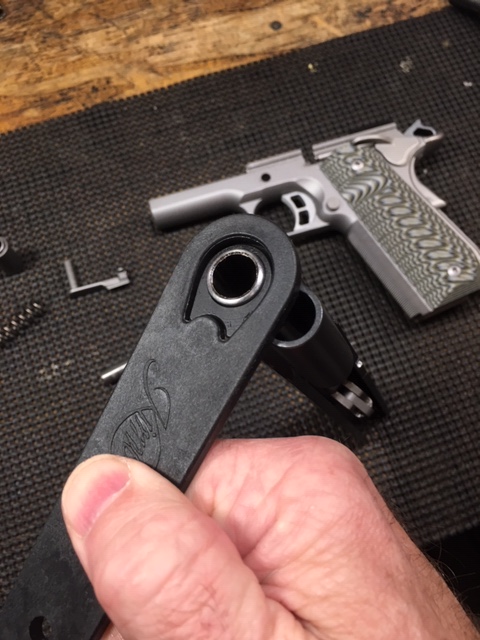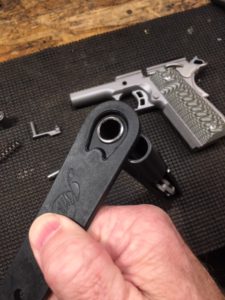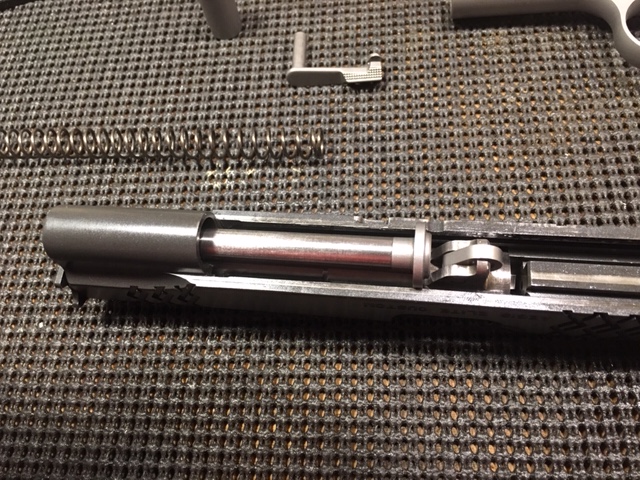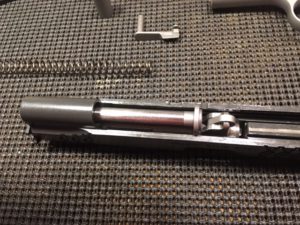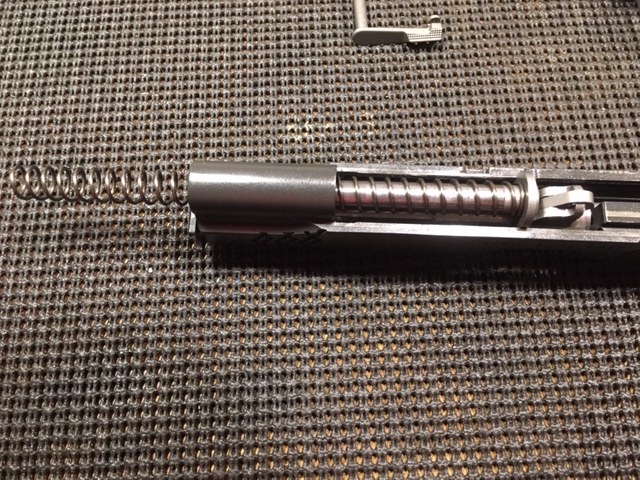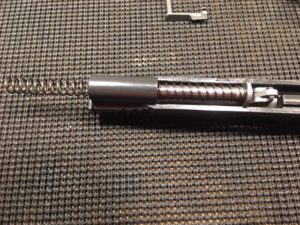 Slide the tighter, smaller end of the recoil spring onto the guide rod and seat it firmly.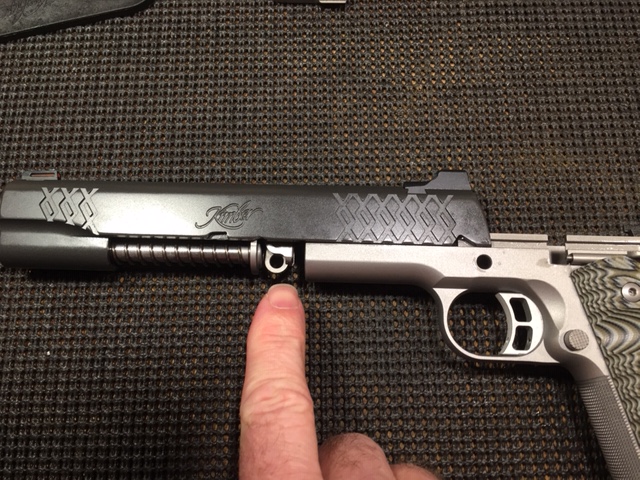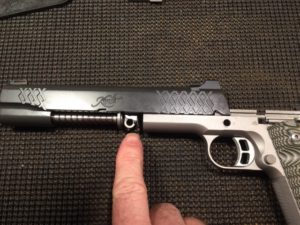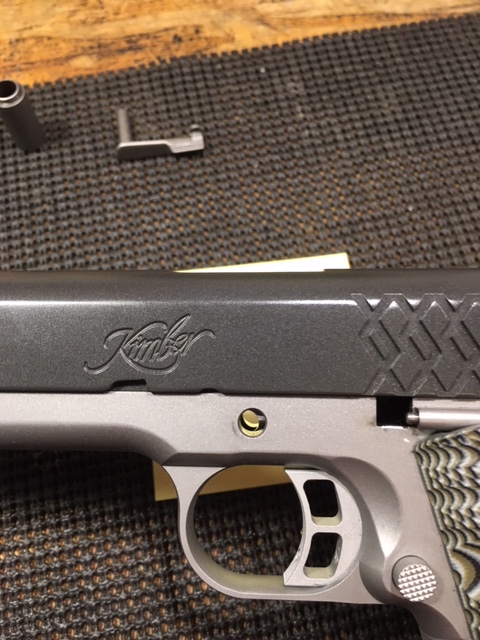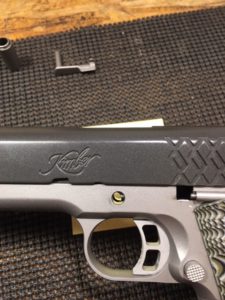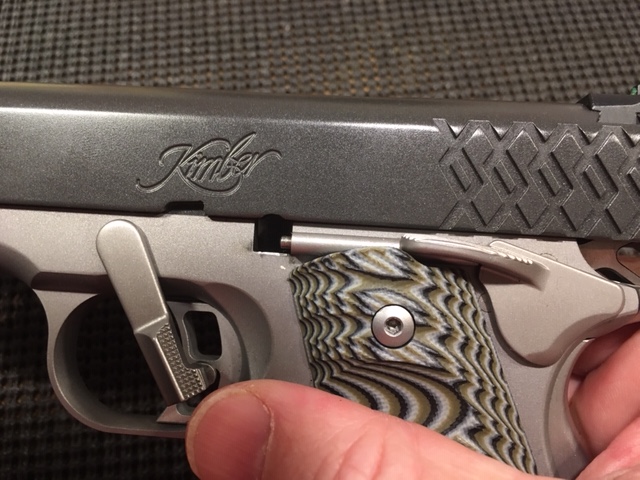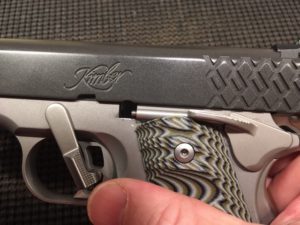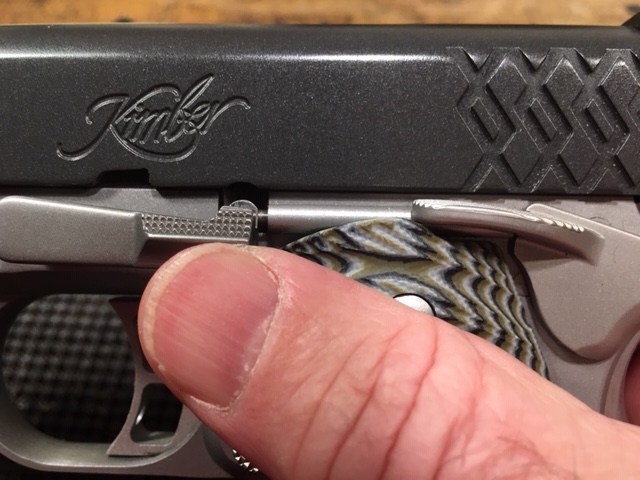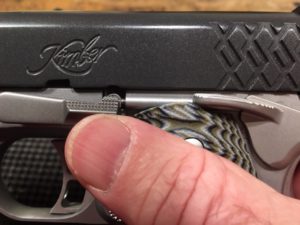 ** Be careful here. If you do not line things up as shown, you may scratch your gun when pressing the lever into place.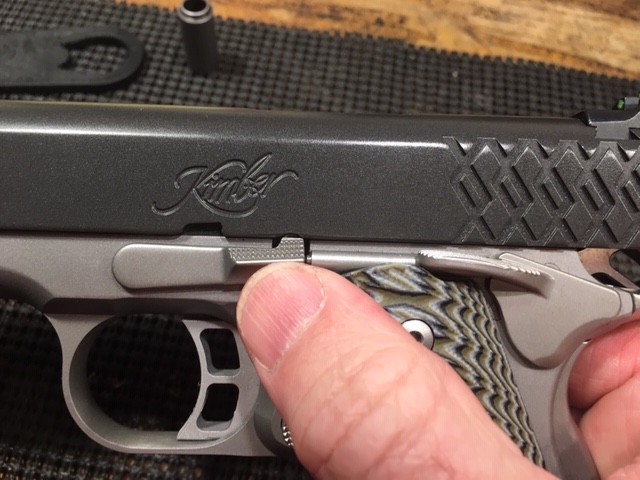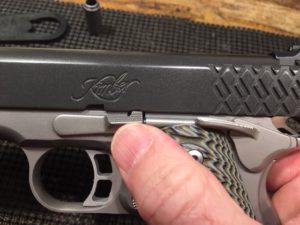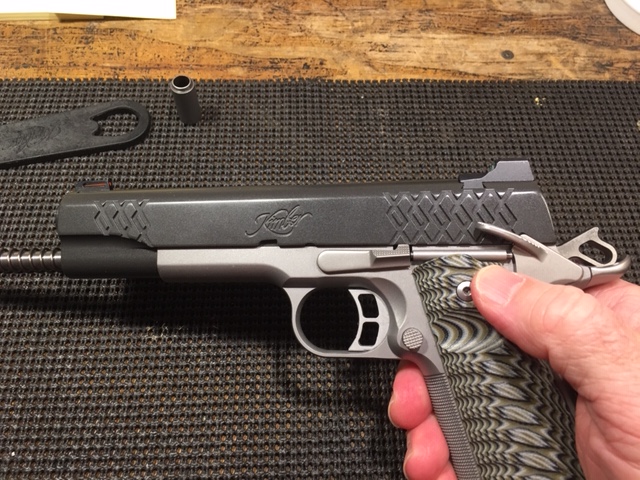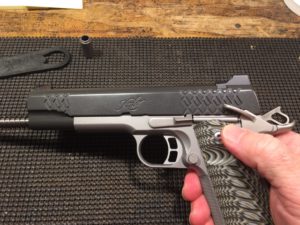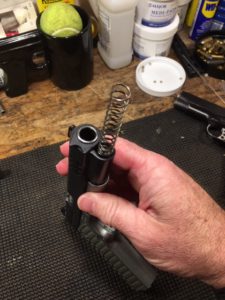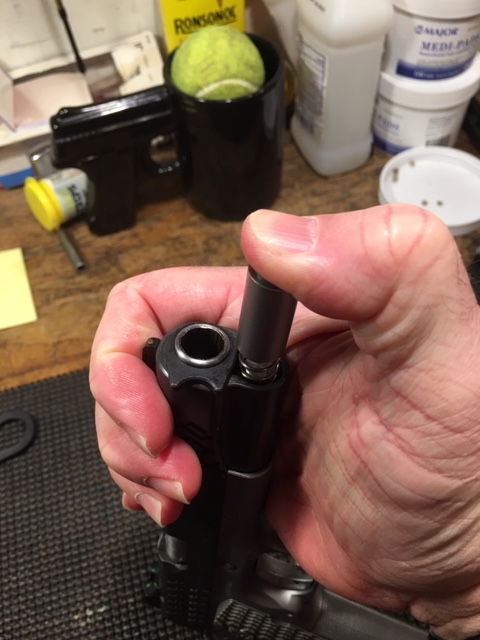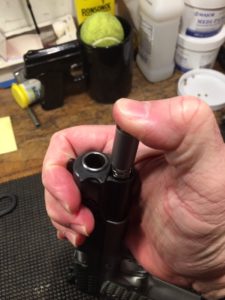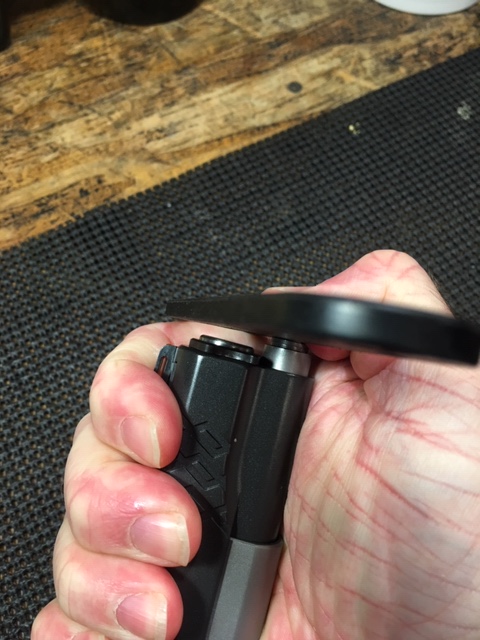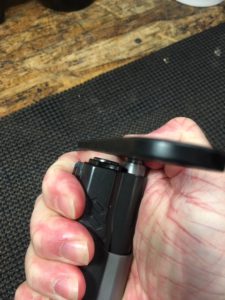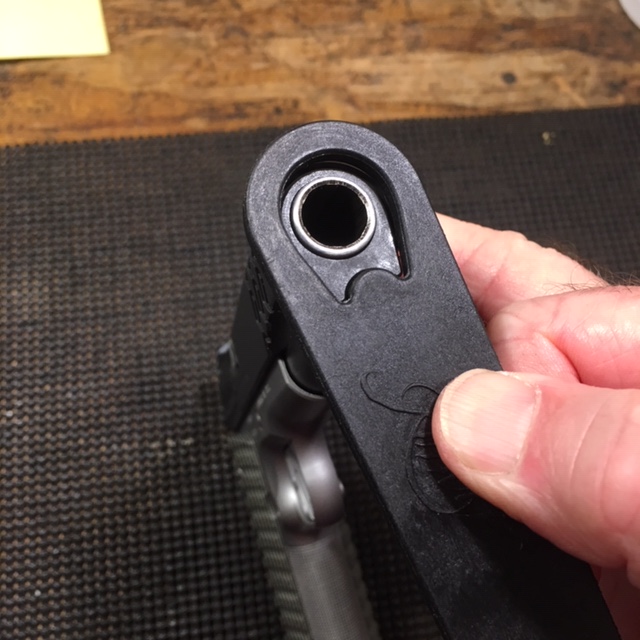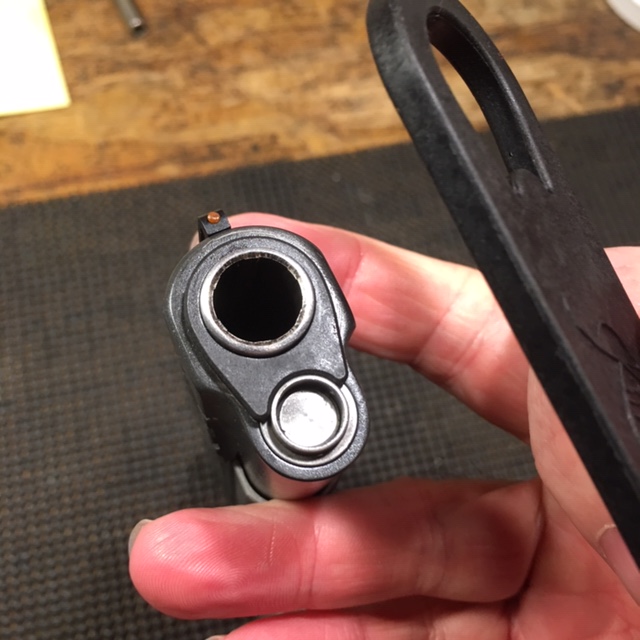 Congratulations! You're done reassembling your 1911!
Final Steps
Now work the slide back and forth with your support hand to make sure it feels right and to help the lubricant move into all the moving parts. Then wipe any excess lube off of the gun with a rag or paper towel.
Now be sure to perform a 1911 function and safety check.
If you have some dummy rounds or snap caps, you can use these to test the proper ejection of your firearm without using live ammunition.
You have successfully field stripped and reassembled your 1911. If your gun does not have a barrel bushing, please see Cleaning a Kimber 1911 Pro Carry for instructions on the disassembly on a Kimber with a bull barrel.