How to take apart a Kimber 1911 .45 with a 5″ Barrel. Complete Disassembly, Takedown and Field Strip Video and Instructions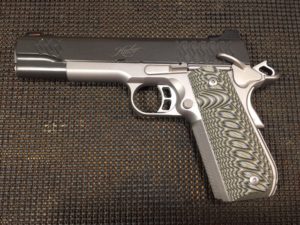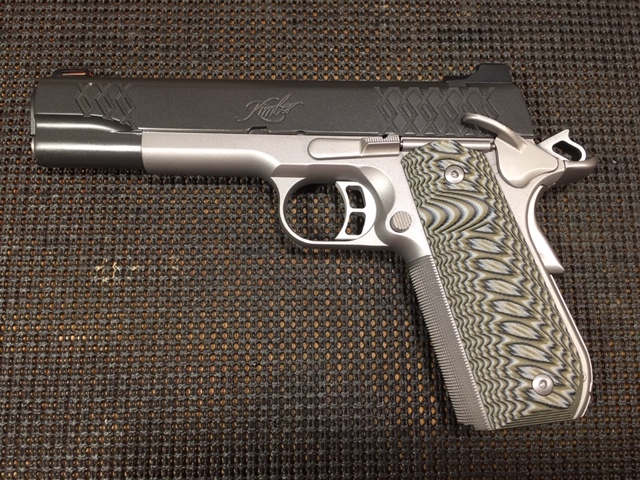 This tutorial will show you step-by-step how to disassemble, break down or Field Strip a 1911 Semi-Automatic Pistol in .45 ACP. Specifically I will be showing the disassembly of a Kimber Aegis Elite Custom 1911 in 45 ACP. Removing the slide on a 1911 is not hard once you have done it a couple times.
Kimber 4″ barrel models such as the Pro Carry II have a different take down procedure and use a different tool to remove the slide. See my article: Disassembly of a Kimber Pro Carry II. This shows the takedown of Kimber models with the 4″ bull barrel.
You are probably looking at these instructions because you have never done this before, or it has been a really long time since you have. Let me assure you that it is not complicated to take apart a Kimber or other 1911 and once you see how it is done you will remember how to do it for the next time.
Just follow my step-by-step instructions and you will be fine!

This Aegis Elite procedure will work for most 1911s with a 5″ barrel and barrel bushing as shown in the picture.

Some 5" models are called "Government" models. Some gun makers use other names for a 5″ full size 1911. Kimber calls their 5″ models "Custom", such as Master Carry Custom.
A  Pro Carry will have 4″ bull barrel, and a 3″ Barrel 1911 will be called an "Ultra Carry". These will be addressed in another tutorial.
This procedure shows you how to take the slide off of the gun, so you can remove the guide rod, recoil spring and then the barrel for cleaning purposes.
You can also watch my video at the bottom of this post.
Disassembly of a Kimber 1911 with a Barrel Bushing
Disassembly Tools
You will likely need a Barrel Bushing Wrench for this procedure. There are some 1911 Models that will allow you to do this with your fingers, but my experience with my Kimber is that a wrench is definitely needed!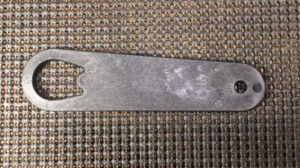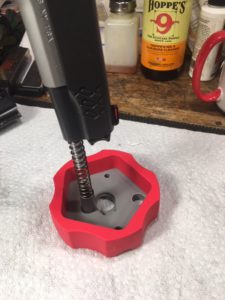 Or, a recent item I picked up called a Real Avid Smart Bench block. This helps with 1911 disassembly and reassembly in a few ways. you can check it out:
It may be possible to do this without the wrench, but it is not easy!
Disassembly Steps with Pictures
Remove any magazine that may be in the gun.
Empty the chamber to be sure there is not a round still in it.
DOUBLE CHECK THE FIREARM. BE SURE IT IS UNLOADED.
Set the gun down with the barrel pointing up. Eye protection is recommended since the recoil spring can launch the plug and potentially hit you in the face.
Take your barrel bushing wrench and line it up with the bushing on the gun and press down on the plug so you can turn the wrench.
Turn the wrench and bushing clockwise until the wrench is in the 9 o'clock position.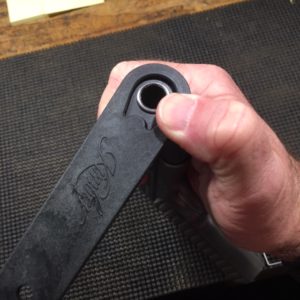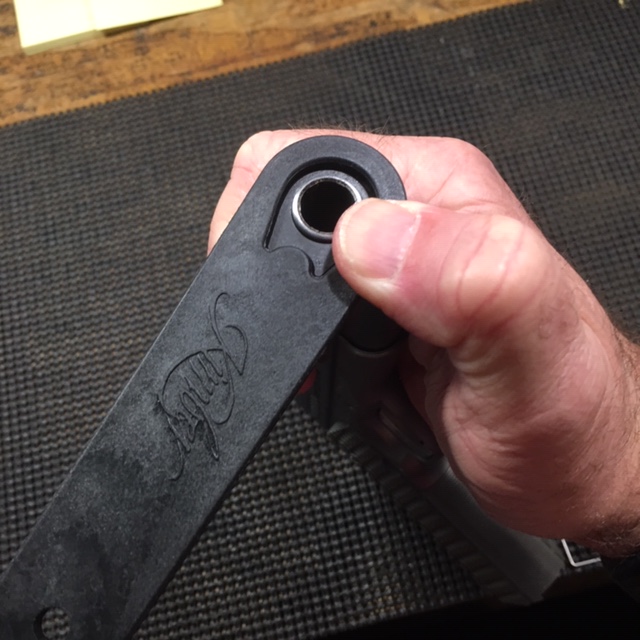 Slowly reduce pressure and carefully release downward pressure on the wrench and plug to allow plug to rise until all tension is released from the recoil spring. Be careful that the spring does not launch the plug across the room. I know this from personal experience!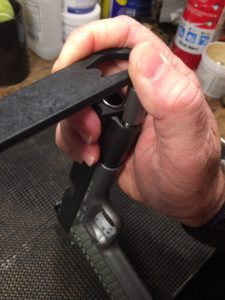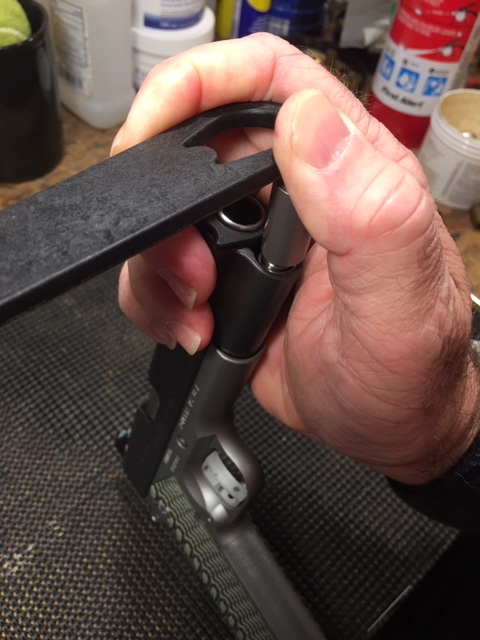 Once the tension on recoil spring is removed, the slide will move easily.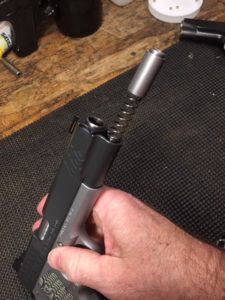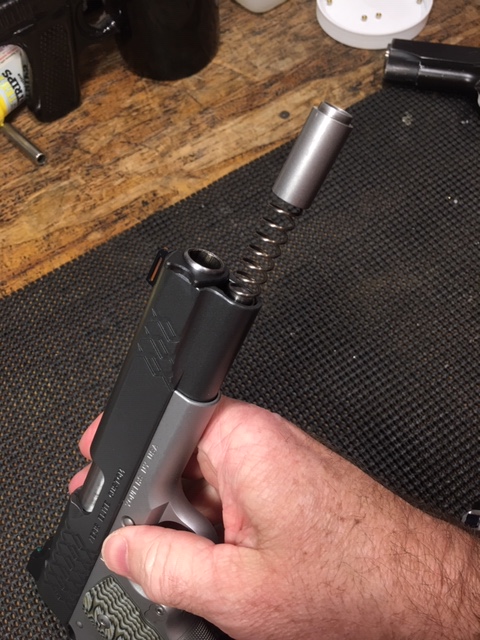 Move the slide as necessary to line up the notch in the slide with the Slide lock lever as shown.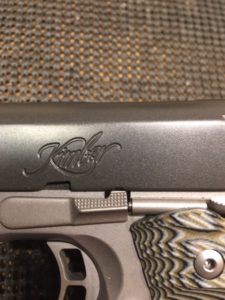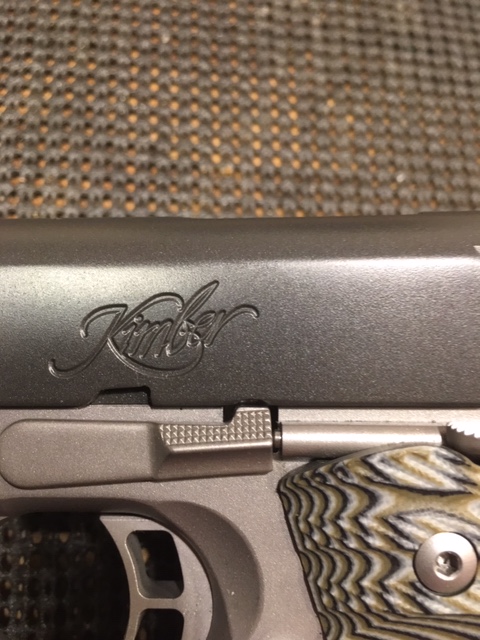 Push the slide Lock lever pin from the opposite side of the gun to start pushing it up enough to get a hold of it.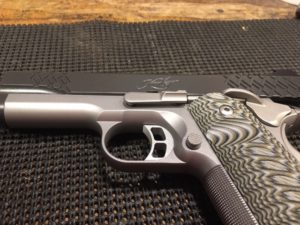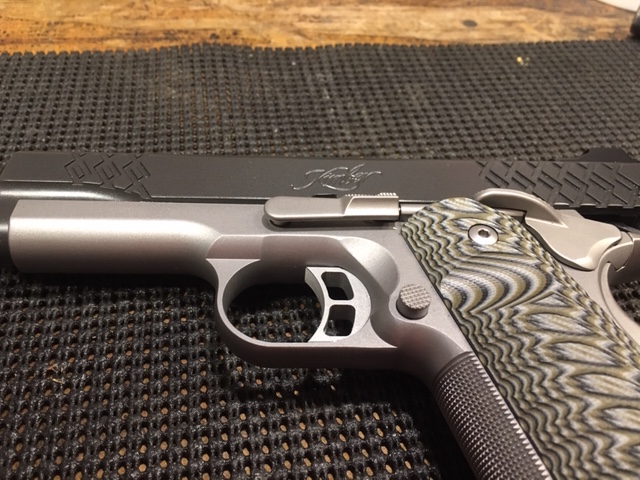 Remove the slide lock lever.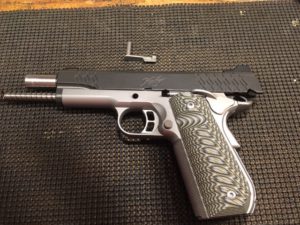 The slide can now be removed by sliding it off the front of the frame.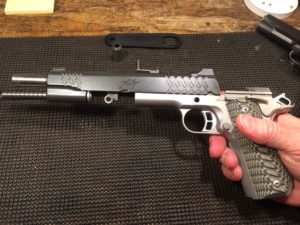 Remove the recoil spring by pulling it out the front and the guide rod by pulling it up out the back. The recoil spring may not come easily, so you may need to pull hard.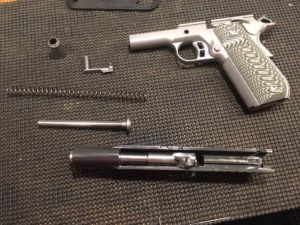 Turn the bushing counter-clockwise almost as far as it will go using the barrel bushing wrench. There is a "key way" that needs to line up with the notch in the slide in order for it to come out.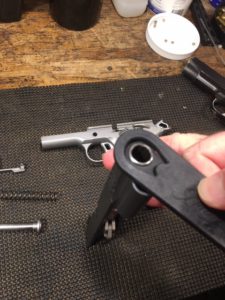 Remove the barrel bushing by pulling it out the front, wiggling it if it is tight. You can also use the barrel to help push it out if it is difficult.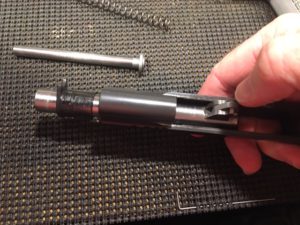 The barrel can now be removed out the front of the slide. You will need to flip the barrel lug forward so it will fit through the opening in the front of the slide.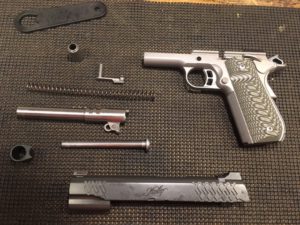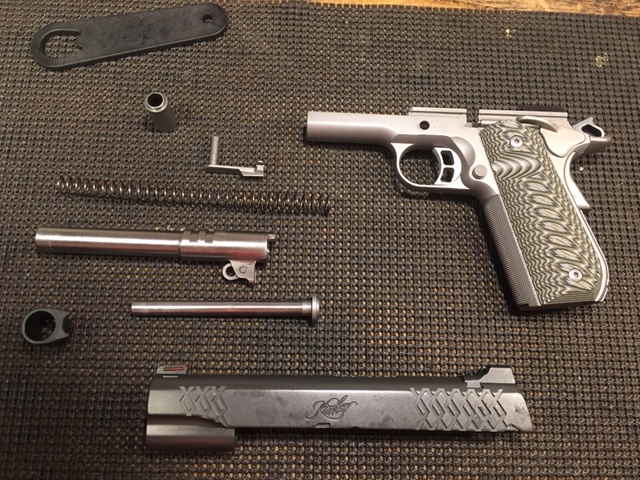 You have now disassembled your Kimber 1911.
That is all there is to it. Now you can clean and lubricate each component. See How to Clean a Kimber 1911.
Firearms Legal Protection starting at $9.95/month*
Here is a company worth looking into. Firearms Legal Protection pays UNCAPPED attorneys fees up front. Plans start at $16.95 per month (readers of my blog get special rates starting at $9.95/mo. Just use the code DMONYER at checkout)

firearmslegal.com
FLP is highly regarded and recommended by some of the top names in the self defense firearms industry. At least check them out before you make a decision.
Check out Firearms Legal Protection Cost & Plans
*Must use code DMONYER at Checkout for special pricing.
For reassembly tutorial, see How to reassemble a 1911.

Kimber 1911 Disassembly Video
Please leave any questions or comments below, I would love to hear from you! I will answer every question.