One of the best small handgun safes is a quick access Gun Vault.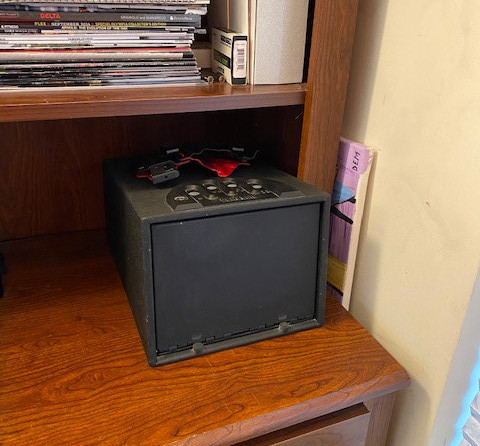 Owning a gun for home and self-protection is your 2nd amendment right. You need to keep is where you have quick access, but it is also your responsibility to keep those guns secure and out of the hands of those that should not have access to them.
I believe that the best way to accomplish this is to use a small handgun safe that has quick access without a key.
I have used Gun Vault products for this purpose for many years to keep my guns safe from unauthorized people.
These people include:
Convicted Felons
Children
Persons with a violent past
Anyone that is not familiar with the Rules of Gun Safety.
Basically, YOUR guns do not belong in anyone's hands but yours!
However, there is no point in owning guns for home protection and self-defense if you cannot get to them quickly and easily if you should need one. I carry my Kimber 1911 Pro Carry II whenever I leave my house, and I go to the shooting range often, so I need to have quick access to my guns as well as security.
The small handgun safe that I use is a Gun Vault GV2000c. It holds 3 or 4 guns on 2 levels yet is small and does not take up much room.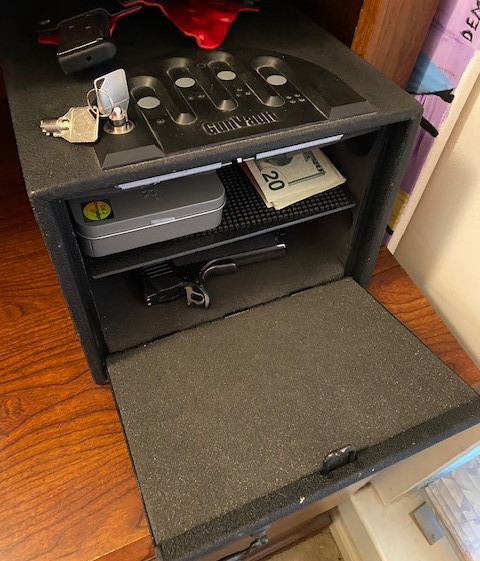 We have four gun vaults in our home in the following locations:
Office, which is right by the front door.
Bedroom. By my bedside.
Bedroom. Next to my wife's bedside.
Family room. In and end table cabinet where we spend a lot of time.
The gun vault that is in my office is securely bolted in my file cabinet so it cannot be stolen or moved. In this vault I keep my main carry gun and several of my other pistols that I use occasionally as a carry weapon and to take to the range and practice days.
Every time I go out it only takes a few moments to go into the office open my gun vault and don my holster and 1911. When I come home the first place I go is into my office and remove my gun and place it back in the vault nice and secure.
Gun Vaults are Great gifts!
If you know someone that owns a gun and does not have a secure place to keep it, this is an awesome gift for them! Not only is it a great item to have, it will contribute to the safely and security of their family.
How the Gun Vault works
The gun vault safe runs on batteries, either 8 AA cells or a 9 volt, depending on the model. The GV2000C-DLX uses one 9 volt battery and has the option to use an external power supply. This model also has an internal courtesy light so you can see inside when it opens.
The top of the vault has a keypad that is shaped in such a way that you can find the buttons in the dark. Your hand and fingers will match up to the four buttons so you can "feel" each button and easily punch in you code. You will be able to easily program your own 4 digit code to open the safe, and it can also be opened with the included keys if you forget the combination or the batteries die before you change them out.
Suggested Locations of a GunVault
There is also a gun vault in my family room, close to the recliner I am usually sitting in. This vault contains a .380 S&W Shield, loaded and ready to deploy should my home become a target for criminal while I am home.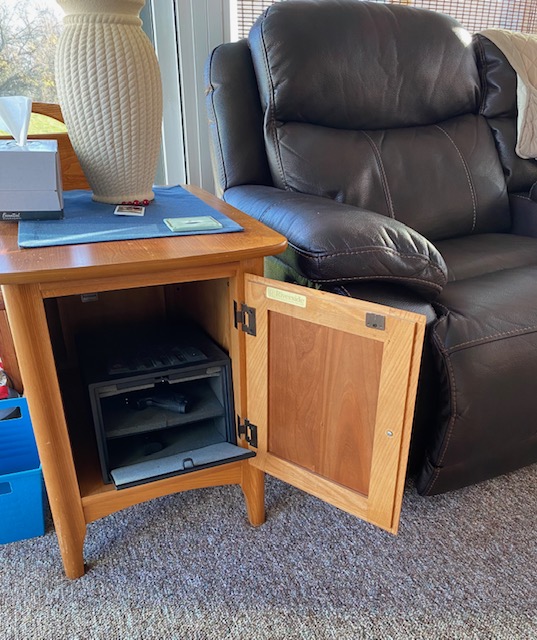 The gun vault in my bedroom is not as easily accessed, and the reason for this is that every night before I get in bed, I open the gun safe and place my loaded Springfield XDm in 9mm on my night stand, slightly hidden. This way it is ready for instant deployment should I hear a bump in the night. This gun also has a rail mounted white light so I can identify a person in the dark to avoid shooting someone I do not intend to shoot.
Some of these aspects of home defense are best learned from professionals to help you think through all the possible scenarios you may face as a gun owner.
My wife also has a quick-access gun vault on her nightstand. Even though it is quick access, she always opens the vault before turning out the light. This way, there is no fumbling around in the dark if firepower is needed. She has a S&W Bodyguard with a laser attached so she will not miss.
GunVaults are Durable
The 3 GunVaults we own have been workhorses for many, many years of trouble free service. Two of them are opened at least once and probably twice EVERY DAY for years and still work flawlessly. Occasional battery replacements are all the maintenance required, and that is probably about once a year or so. you can tell when the batteries are getting weak by the sound it makes when you open it.
What I love about the GunVault small handgun safe.
Keeps my guns secure
Easy to set-up and operate
High quality, heave gauge steel
Super quick access
Durable with daily use
Can be used to secure cash and other small valuables
Conclusion
I highly recommend the GunVault if you are looking for a high quality, affordable small handgun safe for your home. If you want to spend a bit more money, you can get the bio metric model, which I have not tested, but it as pretty good reviews on Amazon.