Best Gun Oil Review.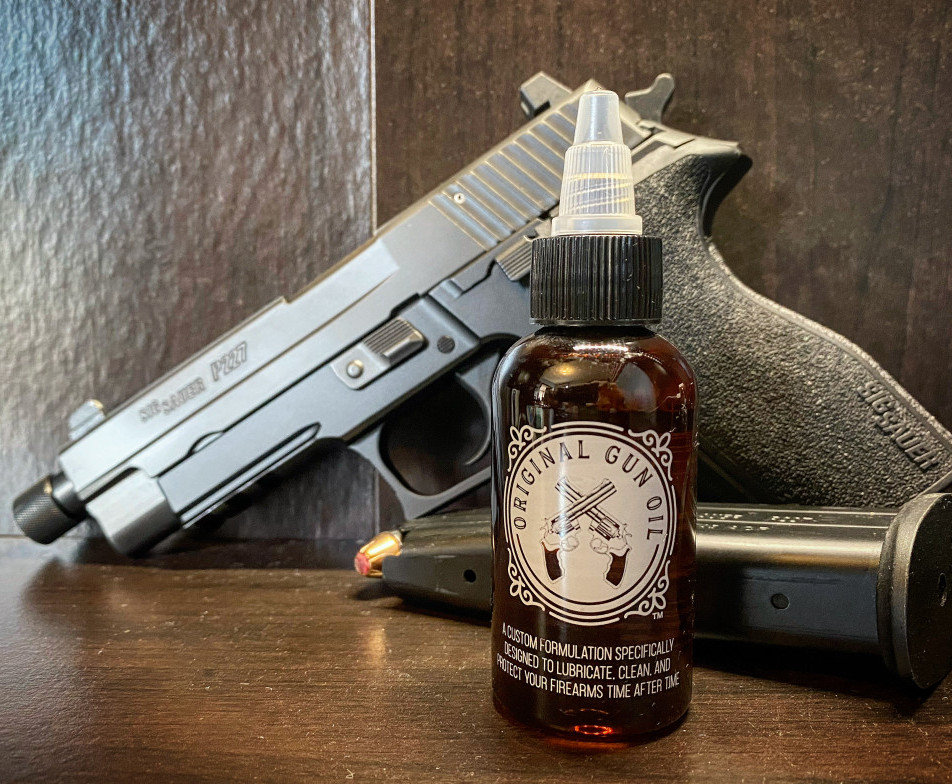 I recently started using the best gun oil I had never heard of before. It is called Original Gun Oil and was brought to my attention by a good friend. I like this CLP (Clean, Lubricate, and Protect) gun oil so much that I decided to do a review on it to share it with all of you!
Is it truly the best gun oil out there? Well, I believe that most gun oils on the market will do the job. I have used many over the years and I have been happy with most and even recommended some on this website and in my videos. Currently, I like Original Gun Oil the best for the reasons you will read below.
What is Original Gun Oil?
Original Gun Oil CLP is one of the best gun cleaners and lubricants available. This CLP does it all!
First of all, let me get something out of the way, this stuff is high quality so it is not cheap. I mean it's not expensive but it is a little more than Hoppes No. 9. You use it sparingly, so it will last a long time if you do not over-oil your firearms.
Original Gun Oil is not only a lubricant, but it can also be used to clean your firearm. It is also an excellent protectant for your stored or displayed guns. Non-Toxic and non-staining are also great attributes of this quality lubricant.
In my mind the biggest thing that makes it worth the money is the fact that the company was founded & owned by a Veteran. He uses some of the profits from the sale of Original gun Oil to help support Veterans organizations.
Some of the organizations that they have helped are listed at the end of this article.
Why I Think Original Gun Oil Is The Best Gun Oil
The two main reasons that I decided to clean all of my firearms with Original Gun Oil are:
The fact that it has no scent or odor and Non-toxic
It is a cleaner and a lubricant in one formula.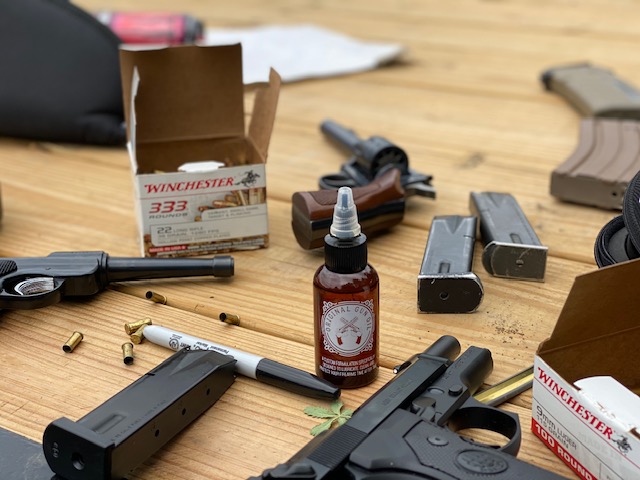 Non-Scented (no odor) and Non-Toxic
Every other gun cleaning solvent and even most oils that I have used over the years have a strong chemical odor. This makes it difficult to use in the house or the attached garage as I will get complaints from everyone else. I now clean my guns in the basement and no one even knows I am doing it!
We have an elderly person living in my house and she suffers from many chemical sensitivities. The Original Gun Oil passes the "smell test" and I am good to go without causing issues for her.
The fact that it is non-toxic helps here as well. I am pretty careful so I am not too worried about getting it on other things that may come in contact with food or people, but it is nice to know it will not harm them.
While it is always advised that you wear nitrile or rubber gloves while cleaning your guns, I will admit that I do not like to do this as I am a "get your hands dirty" kind of guy and I find it much easier to manipulate the small parts without gloves on.
Original Gun Oil is a Cleaner, Lubricant and Protectant in One
The fact that it is a cleaner, lubricant and protecting all in one means that this is the only bottle I need to toss into my range bag when I'm headed off to the range or going to spend a week in training in Nevada. I don't need to bring a solvent and a lubricant as well. This is another reason I call this the best gun oil.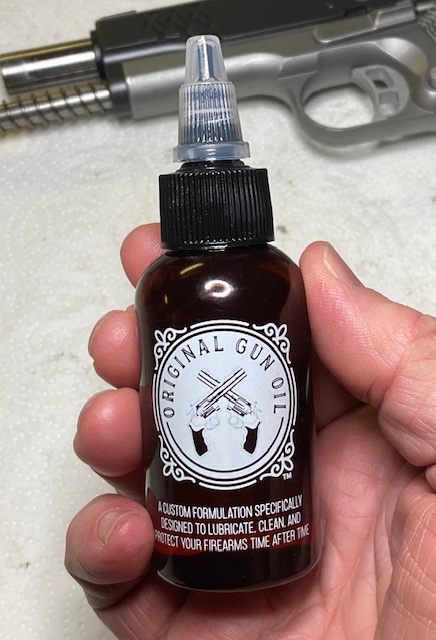 When cleaning my guns at the bench in the basement, I love that I am cleaning with a lube. This means that if I don't remove ALL traces of the cleaner, it does not matter since any residual oil will help lube and protect the gun anyway!
When I used to use Hoppes No. 9 (which is an excellent solvent for tough jobs) to clean my firearms, I felt like I had to then remove all traces of it before I lubricate. This took time, and I prefer not to spend my entire Saturday afternoon cleaning one or two guns!
I simply find that using original gun oil makes my gun cleaning And lubricating easier, safer, and more thorough.
Features The Make Original Gun Oil CLP The Best Gun Oil
Non-Toxic
Non-scented
Non-Staining
Safe for all metal, wood, plastic and polymer parts of your guns and rifles.
Will not harm the Kydex of your holster
Works in extreme temperature ranges (-47°F to +497°F)
Unbeatable rust & corrosion protection (4x longer)
This product can be use not only to lubricate but also clean and protect your firearm. And is formulated to penetrate and assist in the removal of lead, copper and carbon fouling on the surface and in the bore of your gun

See my article How to Disassemble and Clean an M&P Shield 9mm Pistol.
When I received my first bottle of Original Gun Oil, I used only this product to clean and lubricate and coat my 1911 Kimber Pro Carry II after a day at the range and was thrilled with the results.
This stuff does everything the company says it will do.
This lubricant is NSF H1 rated, meaning that it is safe for accidental food contact. This means that if it gets on your hands or anything else it is not going to cause any issues. You can clean your gun at your kitchen table and not worry about accidentally having food or other kitchen items come in contact with this lubricating oil.
How to Use Original Gun Oil to Clean a Gun
There are a couple of ways to use original gun oil as a cleaner so you can try them see what works for you.
Coating Each Gun Part and Letting it Sit for a While
What I usually will do when I'm cleaning a firearm is first field-strip the gun. Then I will coat all the dirty areas I want to clean with some gun oil. I do this by applying a few drops and then spreading them with either my finger or a small gun brush. The goal is to get a coating of the product on all the surfaces that are dirty and then I let it sit for five or 10 minutes so it can work to loosen the dirt.
Then I'll come back with a cotton rag, usually a cut-up T-shirt, and wipe all the parts down and this will remove the gun oil and all the dirt. I will use the gun brush, the rag, some pipe cleaners, and cotton or foam swabs to get in all the little tight places as usual.
There will be times when the dirt and grime is so bad that I need something stronger than Original Gun Oil to clean it really well, but this is rare. In these cases I will break out my Hoppes No. 9 solvent, which does have a strong odor but I will usually take it outside or into the garage and use that to get the hard to clean areas.
Applying Original Gun Oil to a Rag and Wiping the Parts down
This is an alternative method of cleaning your guns. Instead of coating each part with gun oil, apply several drops to a clean cloth and use the oil-dampened cloth to wipe the parts clean. This works well when the gun is not too dirty or you don't have much time.
You will still need to clean the inside of the barrel with a Boresnake or a rod & patches soaked with Original Gun Oil.
Just be sure to wipe any exterior part well so you do not end up with a slippery gun!
Cleaning an M&P Shield 9mm using ONLY Original Gun Oil CLP Video:
Video using Original Gun Oil to clean, lubricate and protect Kimber 1911 ProCarry II:
Why Buy Original Gun Oil?
I am always trying to support our Veterans so this is why I buy Original Gun Oil. It is a very high quality synthetic gun oil made in the USA and yes, it is not the least expensive, but it does what it says it does and I am satisfied with that!

Look at the Pros below for all the great reasons to buy this product.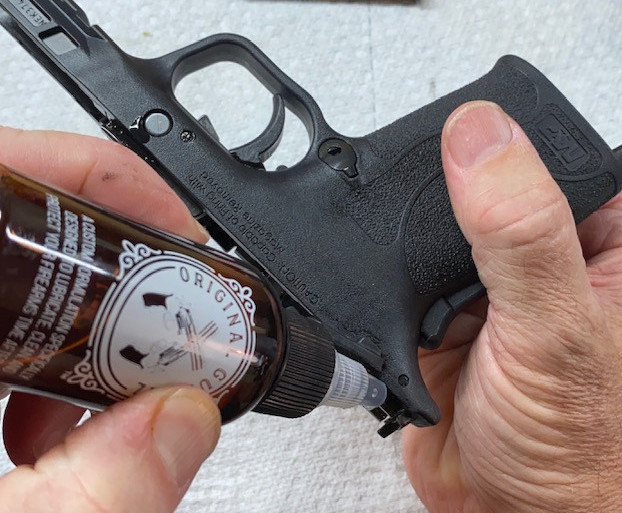 Listed below are some of the Veterans Organizations that Original Gun Oil has already helped.
Original Gun Oil makes a great gift for any gun lover. For more great gift ideas, see my article on Gifts for Gun Lovers.
Money Back Guarantee
When you buy Original Gun Oil CLP, you are protected by their money back guarantee. The makers want you to be satisfied with the product, so right on the website is stated, "If you are not 100% satisfied we will buy it back no questions asked – Guaranteed."
Everyone that owns a gun will eventually have to clean, lubricate, and protect it; they will need some high-quality oil to do so!
Perfect to use on kids toys and around the house since it is non-toxic.
The Best Gun Oil: Pros and Cons
Pros:
Cleans, Lubricates AND Protects
Great Gift
High quality
Made in the USA
Supports Veterans Organizations
Non-Toxic
Non-Scented
Non-Staining
Cons:
Not the cheapest gun oil, but quantity discounts are available. (again, great gift for all your friends!)
Where can I buy Original Gun Oil?
If you want to try the best gun oil, Click the button below and it will take you to the website. Use the coupon code: SAVEWITHDAVE and save yourself 10% and always FREE Shipping!
If you prefer, you can buy Original Gun Oil from Amazon here: Original Gun Oil (but you will not get the 10% discount)
Also, check out the discounts for multiple bottles.
Here are the Some of the organizations that Original Gun Oil supports:
Stars and Stripes Honor Flight is a Milwaukee based company that honors veterans by providing a trip for them to visit Washington, DC and see all the memorials and experience a day of honor and thanks.
Dogs 2 Dog Tags is an organization that matches rescue dogs with veterans in crisis.
Patriot Paws is an organization whose mission is to train service dogs at no cost and give them to disabled American veterans to help them with her physical and emotional independence.
Thanks for visiting my Best Gun Oil review article! Please leave a comment or question in the comment section below!