Original Gun Oil: The Best Non-Toxic CLP Gun Oil Review.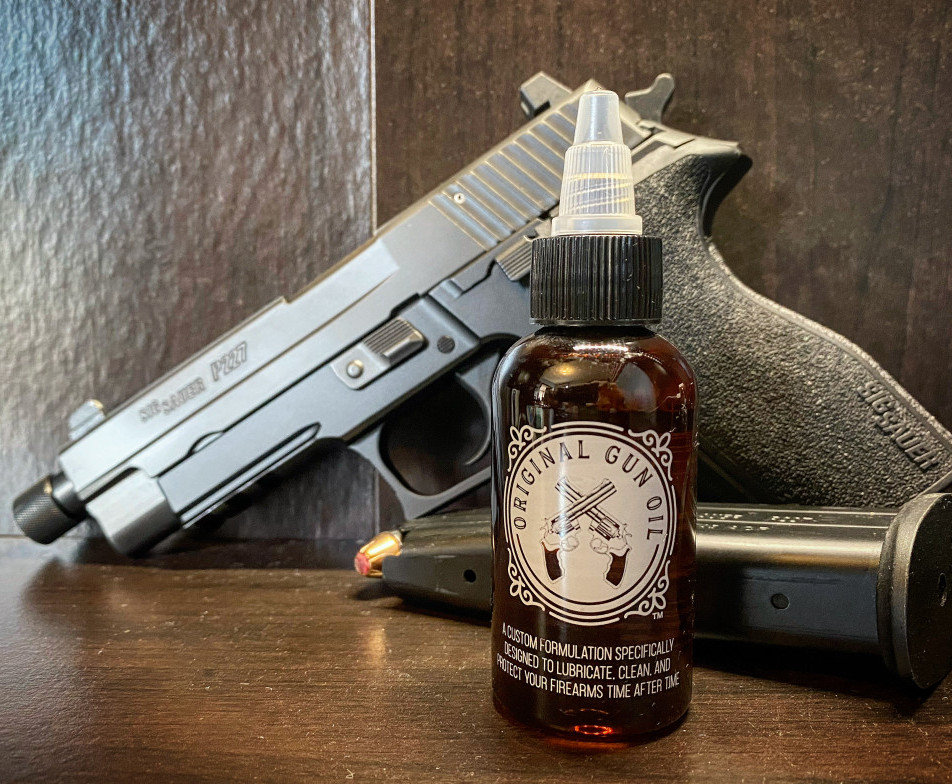 I recently started using a new gun oil that I had never heard of before. It is called Original Gun Oil and was brought to my attention by a good friend of mine. I like this CLP (Clean, Lubricate and Protect) gun oil so much I decided to do a review on it so I can share it with all of you!
Is it truly the best out there? Well, I believe that most gun oils on the market will do the job. I have used many over the years and I have been happy with most and even recommended some on this website and in my videos. Currently, I like this the best for the reasons you will read below.
What is Original Gun Oil?
Original Gun Oil CLP is one of the best gun cleaner lubricants available. First of all let me get something out of the way, this stuff quality so it is not cheap. I mean it's not terribly expensive but it is a little more than Hoppes No. 9. You use it sparingly, so it will last a long time if you do not over-oil your firearms.
Original Gun Oil is not only a lubricant, but it can also be used to clean your firearm. It is also an excellent protectant for your stored or displayed guns. Non-Toxic and non-staining are also great attributes of this quality lubricant.
In my mind the biggest thing that makes it worth the money is the fact that the company was founded & owned by a Veteran. He uses some of the profits from the sale of original gun oil to help support Veterans organizations.
Some of the organizations that they have helped are listed at the end of this article.
Features of Original Gun Oil CLP
Non-Toxic
Non-scented
Non-Staining
Safe for all metal, wood, plastic and polymer parts of your guns and rifles.
Will not harm the Kydex of your holster
Works in extreme temperature ranges (-47°F to +497°F)
Unbeatable rust & corrosion protection (4x longer)
This product can be use not only to lubricate but also clean and protect your firearm. And is formulated to penetrate and assist in the removal of lead and copper and carbon fouling on the surface and in the bore of your gun. See my article How to Disassemble and Clean an M&P Shield 9mm Pistol.
When I received my first bottle of Original Gun Oil, I used only this product to clean and lubricate and coat my 1911 Kimber Pro Carry II after a day at the range and was thrilled with the results.
This stuff does everything the company says it will do.
This lubricant is NSF H1 rated, meaning that it is safe for accidental food contact. This means that if it gets on your hands or anything else it is not going to cause any issues. You can clean your gun at your kitchen table and not worry about accidentally having food or other kitchen items come in contact with this lubricating oil.
Cleaning an M&P Shield 9mm using ONLY Original Gun Oil CLP Video:
Video using Original Gun Oil to clean, lubricate and protect Kimber 1911 ProCarry II:
Why Buy Original Gun Oil?
I am always trying to support our Veterans so this is why I buy Original Gun Oil. It is a very high quality synthetic gun oil made in the USA and yes, it is not cheap, but it does what it says it does and I am satisfied with that! Look at the Pros below for all the great reasons to buy this product.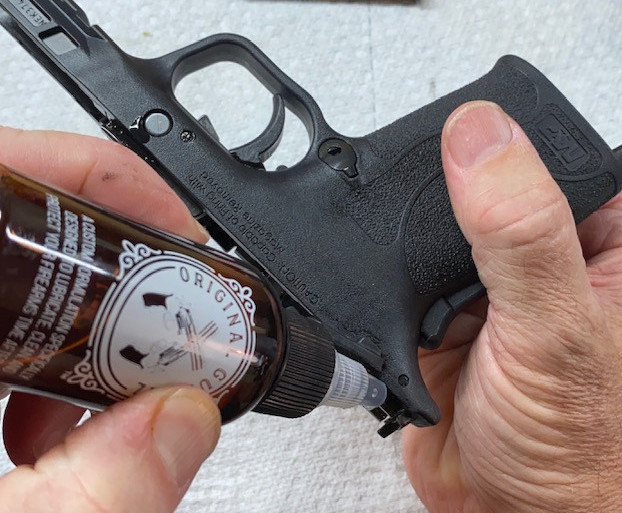 Listed below are some of the Veterans Organizations that Original Gun Oil has already helped.
Original Gun Oil makes a great gift for any gun lover. For more great gift ideas, see my article on Gifts for Gun Lovers.
Money Back Guarantee
When you buy Original Gun Oil CLP, you are protected by their money back guarantee. The makers want you to be satisfied with the product, so right on the website is stated, "If you are not 100% satisfied we will buy it back no questions asked – Guaranteed."
Everyone that owns a gun is eventually going to have to clean, lubricate, and protect it and they're going to need some high quality oil to do so!
Perfect to use on kids toys and around the house since it is non-toxic.
Pros and Cons
Pros:
Cleans, Lubricates AND Protects
Great Gift
High quality
Made in the USA
Supports Veterans Organizations
Non-Toxic
Non-Scented
Non-Staining
Cons:
Expensive, but quantity discounts are available. (again, great gift for all your friends!)
Where can I buy Original Gun Oil?
Click the button below and it will take you to the website. Use the coupon code: SAVEWITHDAVE and save yourself 10% and always FREE Shipping!
Also check out the discounts for multiple bottles.
Other Uses For Original Gun Oil Video
Here are the Some of the organizations that original gun oil supports:
Stars and Stripes Honor Flight is a Milwaukee based company that honors veterans by providing a trip for them to visit Washington, DC and see all the memorials and experience a day of honor and thanks.
Dogs 2 Dog Tags is an organization that matches rescue dogs with veterans in crisis
Patriot Paws is an organization whose mission is to train service dogs at no cost and give them to disabled American veterans to help them with her physical and emotional independence.
Thanks for visiting my Best Gun Oil review article! Please leave a comment or question in the comment section below!