Top Rated Concealment Holsters
Dave Gun Tips are short articles based on my 15+ years of experience with home defense, daily concealed carry and many defensive and advanced handgun training classes.
I am not suggesting that my tips are right or wrong, I will simply be sharing the things that worked for me, and some of the things that did not.
Today's tip will be about holsters and why you should look for top rated, quality concealment holsters instead of cheap, nylon holsters that come in small medium and large.
I have about a dozen holsters in a bin out in the garage. Why? Well, when I bought my first gun, I thought a $10 holster would be all I would need. I was wrong. So I kept trying different "cheap" holsters that all ended up in a "worthless holsters" bin on a shelf in the garage.
Don't Buy Cheap holsters!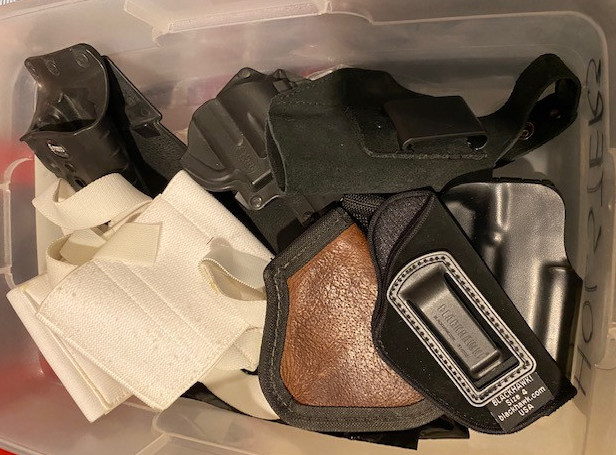 The first inexpensive holster that I bought was just a holster that was made to fit most guns of that particular size. The first gun I owned was an Astra Constable II in .380 which was a knock off of the Walther PPK used by James Bond. I bought it used and it really was a fine little gun and I just picked up the holster for something to put it in so I could keep it on my belt. It wasn't long before I became disappointed in the holster because the gun wouldn't move around inside the holster because it wasn't a proper fit, and it really wasn't all that comfortable when I bent over.
I quickly decided that I needed some kind of under the arm shoulder holster type situation so I bought one of those which is the white elastic band looking thing you see in the picture. This actually worked fairly well except that it was very difficult to put on and adjust properly and it really didn't look like something that was going to hold up for very long. As a result, I did not carry my gun very often because it wasn't secure, comfortable or durable.
It wasn't until 2011 that I started to carry concealed daily, after attending my first defensive handgun training course at Front Sight Firearms Training Institute. By that time I had a Kimber 1911 pro carry II. This is the gun I decided to take to the training class and one of the requirements was to have a good quality outside the waistband holster. For training do you want a holster that is extremely durable and stays open when the gun is removed so that you can safely re-holster without having to fiddle with the holster itself.
Kydex OWB 1911 Holster
After some research, I went with a Blade-Tech classic outside the waistband (OWB) holster. This holster was not cheap, I believe I paid in the neighborhood of $70 for it. Each Blade-Tech holster is made of Kydex and is built specifically for your make and model of gun so that your gun fits securely in the holster and yet is easy to draw from. To this day it is my favorite holster for training and it has held up through many training courses of which some involved rolling around on the ground in the gravel while firing over and under obstacles. It is the holster I still use when I go to the range to practice my shooting and malfunction drills.
Most comfortable Concealed Carry Holster
Although I carry a 1911 pistol, the holsters I use are available for most every common make and model firearm.
I currently use two different holsters for concealed carry, depending on what I am going to be doing. Most of the time I carry my 1911 Kimber in a Crossbreed Supertuck holster that I've had for over 10 years and it is by far the most comfortable concealed carry holster that I own. I carry my 1911 inside the waistband out about the four or 5 o'clock position on my right side hip. I practice my draw from concealment from this position often so that I know I can get my firearm out quickly safely and efficiently should I need to.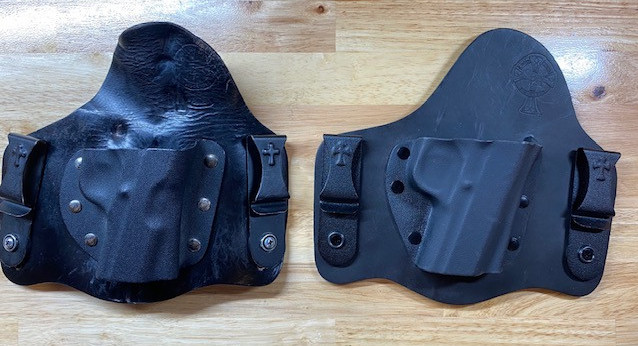 While I most often wear my gun on my Crossbreed Supertuck, I have recently been experimenting with appendix carry using the awesome Tier 1 Axis Slim appendix holster. I have found that drawing from an appendix holster is by far the quickest way to get your gun into the fight, however I have also found that it is not the most comfortable way to carry. It could simply be that I am trying to carry a gun that is too large for this type of holster. I would think that a smaller gun such as a Smith and Wesson shield or a Glock 43 would be more appropriate, however I currently do not own either of these fine firearms.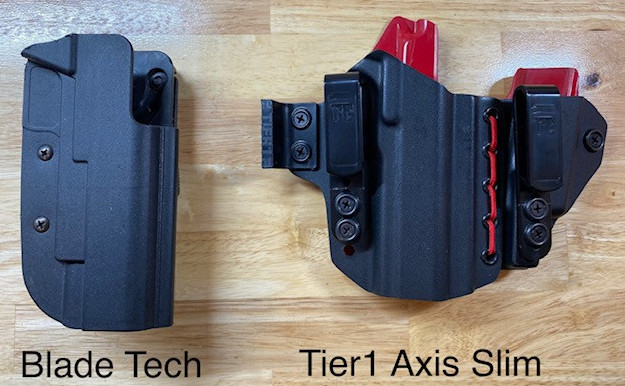 If I am going out and I know I am going to be walking around and or standing a lot, I will most definitely don my appendix holster for the occasion. However, if I am going to be seated and we're driving a lot, I will use my crossbreed super tuck in the four to 5 o'clock position as my preferred method of concealed carry.

In conclusion, I would highly recommend that when shopping for a holster, do your research and remember that when it comes to holsters you get what you pay for. For a holster to do everything you needed to do, you will need it to be fitted for your exact firearm and made of quality materials that are going to last and are not going to loosen up or fail over time. There are many great companies that create very high-quality holsters, and Crossbreed and Tier1 are just my favorites. These holsters will cost you between $60 and $140 depending on your configuration but they are worth every dollar.
If you have any questions or comments, please leave them in the comment section below and I will reply.